"Dear Steve,
I have been a government employee and/or public servant since 1991. I am now 45 and I hope to retire by age 72.
In or around 2002, I consolidated my law school student loans with my then husband into both a FFEL subsidized and unsubsidized loan. The total amount consolidated was roughly $42,000. As fate would have it, we divorced in 2012 and I was stuck with the balance of the consolidated loan.
I now owe roughly $32,000. Because I am a government employee, I applied for the loan forgiveness program, but I was denied because of the consolidation. Do you have any suggestions as to how I can make my loans eligible?
SupaMYLF"
Dear SupaMYLF,
Your question has nearly made my brain explode from hours of reading government fine print.
Here is what I've discovered. Yes, I can clearly see where the current FFEL spousal consolidation loans would not qualify under the Public Service Loan Forgiveness Program (PSLF). – Source
The PSLF says the following types of loans are eligible to be forgiven after 120 on-time payments after October 1, 2007. "However, only payments made on the Direct Consolidation Loan will count toward the required 120 qualifying payments."
Federal Direct Stafford/Ford Loans (Direct Subsidized Loans)
Federal Direct Unsubsidized Stafford/Ford Loans (Direct Unsubsidized Loans)
Federal Direct PLUS Loans (Direct PLUS Loans)—for parents and graduate or professional students
Federal Direct Consolidation Loans (Direct Consolidation Loans)
Then the program says FFEL Spousal Consolidation Loans may not be rolled into the Direct Loan program to consolidate them. However, I'm not sure that's an accurate statement.
Dealing with student loan issues is a lot like dealing with the law. There is a lot written but sometimes it winds up being conflicting or more than 50 shades of the color of your choice.
According to information from the Direct Loan program, your current FFEL Spousal Consolidation loan are both eligible and ineligible if we accept the PSLF statement. Direct Loans are no longer / not available for spousal consolidation loans and a whole bunch of people that fell into spousal consolidation loans have been left out in the cold. They are a nasty, lonely, castaway loan.
But here is where it gets interesting.
"A borrower in repayment who wishes to consolidate a FFEL with other federal
education loans (no Direct Loans) and has been unable to obtain a Federal
Consolidation Loan is eligible for a Direct Consolidation Loan."
"These borrowers are eligible to consolidate if they have at least one Direct Loan or have at least one FFEL and have been unable to obtain a Federal Consolidation Loan with a FFEL consolidation lender or have been unable to obtain a Federal Consolidation Loan with income-sensitive repayment terms acceptable to them." – Source
You'll have to explore this further but since you would be ineligible to consolidate your FFEL loans again, would that make them ineligible and thus eligible?
You are an attorney, I'd love to hear your interpretation of those statements. It seems the fact you can't consolidate the spousal consolidation loans again makes them eligible for the Direct Loan consolidation program.
But that's not all. The fine print of the Federal Direct Consolidation Loan application appears to say the spousal FFEL loans are eligible. – Source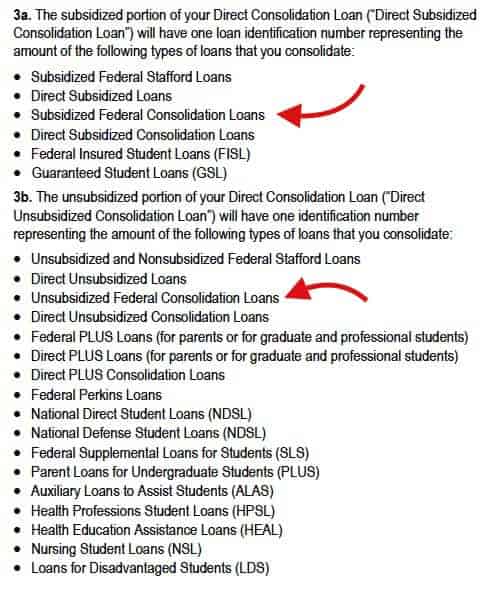 So it appears your loans are most likely eligible for consolidation into a Federal Direct Consolidation Loan and then you can elect to repay them under an Income Based Repayment Program and after 120 on-time payments the balance would then be eligible to be forgiven under the Public Service Loan Forgiveness Program.
The other issue that makes this interesting is that the new Direct Consolidation Loan would payoff the old loans and separate you from your spouse, so you would not be making a new loan with your ex-spouse and according to the application you can apply yourself since you are not filing a joint tax return. The application says spousal information is not required unless "You file a joint federal income tax return with your spouse and your spouse has eligible loans."
The bottom line is you are going to have to try to consolidate the current loans into a Federal Direct Consolidation loan, which you can do here, and demand to see specific proof that your loans can't be included. Once they are rolled into a new Direct Consolidation Loan they will become eligible for forgiveness in ten years.
Please post your responses and follow-up messages to me on this in the comments section below.
Sincerely,

You are not alone. I'm here to help. There is no need to suffer in silence. We can get through this. Tomorrow can be better than today. Don't give up.
Do you have a question you'd like to ask me for free? Go ahead and click here.

Latest posts by Steve Rhode
(see all)