I received an email asking me if I knew anything about a new website SelectSLHelp.com. I have to admit, I'm scratching my head about the website.
According to public domain records the domain name was created on July 1, 2015 but their testimonial page has testimonials that appear they have been around longer. One testimonial says, "SelectSLHelp.com was able to lower my payments from $345/month down to $35/month and I was out of default within 5 months!" How is that possible?
Another of the three testimonials says, "Their Teachers Loan Forgiveness program kept me from defaulting and eliminated my heavy debt load. Now I can afford to pay my bills and save money for my retirement." Which I find incredible since the site was only registered three weeks ago.
The third testimonial says, "Select Student Loan saved my credit and saved me money each month on my expenses." But since the site has been up less than a month, how is that possible?
The SelectSL.com site is silent about who they really are. There is no street address published or a real registered company name. A quick search of registered companies could not find a listing in California. Why California you might ask. Well the domain name is registered to:
John Bartel
8560 West Sunset Blvd 5th Floor
West Hollywood, California 90069
866-844-1101 (That number links to a BBB listing for a company with a consumer alert. Not sure if their is a relationship.)
info@goodebusiness.com
The SelectSLHelp.com website says their telephone number is 855-571-4161. That number is also the same number used by Select Doc Prep which is another student loan assistance website.
SelectDocPrep.com is registered to:
John Bartels
Select Doc Prep
5670 Wilshire Blvd #1800
Los Angeles, California 90036
310-402-2353
ericstudentloans@gmail.com
The telephone number for Select Doc Prep is linked to a help wanted advertisement looking for telemarketers.
WE ARE HIRING SALES EXECUTIVES WITH CLOSING ABILITIES TO SPEAK TO OUR EXCLUSIVE LEADS …………EXCELLENT OPPORTUNITY…. .. UNLIMITED EARNING POTENTIAL WITH LOTS OF REAL TIME EXCLUSIVE HOT LEADS . MAKE THOUSANDS OF DOLLARS PER WEEK …EASY SELL =)… WE OFFER MULTIPLE SOLUTIONS TO CURRENT MORTGAGE PROBLEM LITIGATION OR MODIFICATION & CREDIT CARD DEBTS.
WE ARE LOOKING FOR:
Proficiency in conventional and government EDUCATION loan guidelines
Focused, driven professionals and self starters.. – Source
So it appears they are a sales outfit.
I did reach out to AFSLR to see if there is any confirmation StudentSLHelp.com is a member. After all they are using the AFSLR logo as a consumer confidence booster.
The Association for Student Loan Relief said, "The website SelectSLHelp.com is using the AFSLR logo but we are not quite certain who the company is yet as that website was not registered by any of our current members. We've reached out to them to confirm they might be Select Student Loan who became a member with AFSLR last August. We have never had a complaint against this company. Select Student Loan registered their phone number as 866-848-4072 and their website as www.selectstudentloan.com."
Now that might just help explain some things. Check out the commonality the three websites have.
Care to guess who registered the domain name SelectStudentLoan.com?
John Bartel
8560 West Sunset Blvd 5th Floor
West Hollywood, California 90069
8668441101
info@goodebusiness.com
It appears the testimonials used on SelectSLHelp.com really came from the Select Student Loan Help website.

The State of California does have a listing for a corporation, Select Student Loan, that registered on 12-24-2014 and says they are located at 4201 Wilshire Blvd, #623, Los Angles, CA.
The BBB gives this company an F rating.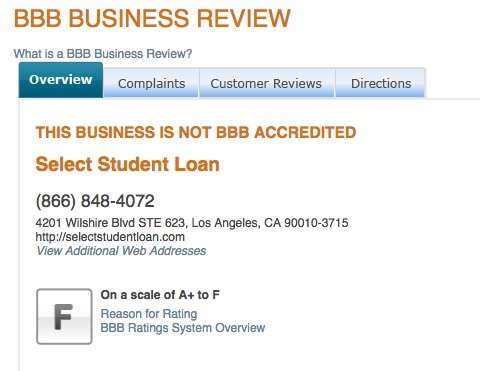 I suppose I'll have to fall back on my typical generic advice for these sorts of situations.
I would recommend that anyone considering using such a company should read the following free guides.
Just to save time in the future, here is a list of other domains reported to be registered to the same bloke.
Registrant (Owner) Exactly Matching "JOHN BARTEL" – Current Only
Reverse Whois Report PreviewReport Compiled: 7/24/2015
firstalliancetax.us
johnbartel.us
johnbartelfinancial.com
kandecapital.com
kandecapital.info
kandecapital.net
kandecapital.org
leadvirtuoso.com
lifeandknowledge.com
selectcreditrepair.com
selectsl.help
selectslaid.us
selectslhelp.com
selectslhelp.net
selectslhelp.org
selectslhelp.us
selectslhelps.us
selectsslh.com
selectsslh.net
selectsslh.org
selectsslh.us
selectstudentloan.us
sldocprep.org
sslhelp.net
sslhelp.org
student-loan-helpers.com
student-loan-repair.com
student-loan-repairman.com
studentdocprep.net
studentdocprep.org
studentloanhd.com
studentloanhelpconnect.com
tackleboss.com
tobeywestbeverlyhills.com
tobeywestcag.com
tobeywestdfi.com
tobeywestmortgageloans.com
tobeyweststateofwashington.com
tobeywestwa.com
tobeywestwashington.com
usselectstudentloan.com
usselectstudentloan.org
usslh.com
usslh.net
usslh.org
usslh.us
usslhelp.org
Sincerely,
You are not alone. I'm here to help. There is no need to suffer in silence. We can get through this. Tomorrow can be better than today. Don't give up.
Do you have a question you'd like to ask me for free? Go ahead and click here.
If you have a credit or debt question you'd like to ask just use the online form. I'm happy to help you totally for free.
Latest posts by Steve Rhode
(see all)