An amazing reader J sent in a new debt relief mailer through my I Buy Junk Mail program.
This mailer is for a purported student loan debt reduction or consolidation from U-Fi a Nelnet partnership.
The mailer says you can "Save with a Refinance Loan from U-Fi."
There are a couple of concerns I have with the mailer. While the offer is that you can "refinance your existing private and federal student loans" I have a big concern turning a federal loan into a private loan. You see private loans are not just a little less flexible when it comes to repayment plans, they are the opposite of flexible and a government backed student loan is the best type of loan you can have if you want to go for loan forgiveness, disability forgiveness, or elimination of your debt through income driven programs.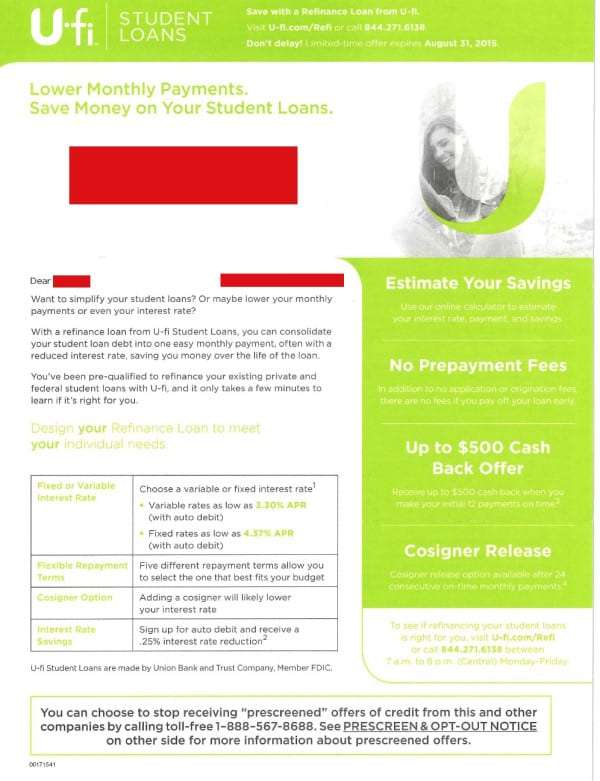 The mailer promises a cosigner release after 24 consecutive on-time monthly payments and has a nice little 4 next to that statement to direct you to the fine print. All sounds good but then there is the section, "The borrower must be current on their payments at the time of the cosigner release request and show the ability to assume full responsibility of the loan(s) by meeting certain credit criteria on their own at the time of the request, including, but not limited to, being a U.S. citizen or having permanent residency in the United States, being the age of majority in their permanent state/territory of residency, providing sufficient proof of income, and having no student loans in default."
Now that is quite a disclaimer that gives U-Fi almost a seemingly unlimited out card. The reasons for denial, as they say, are not limited to just these, you could have some other loan not included in default and that would be a problem, and you will have to have sufficient good credit to qualify on your own for the loans you just needed a cosigner for.
This cosigner release promise and reality is a big concern. Not long ago the Consumer Financial Protection Bureau (CFPB) released information on cosigner releases and said "90 percent of private student loan borrowers who applied for cosigner release were rejected." – Source
I'm not saying U-Fi has that high of a rejection rate. I'm saying if you are counting or hope to get a future cosigner release it would be a good idea to get an understanding of what the U-Fi actual chances of getting a release are. Ask them before you think a promised cosigner release is a sure thing.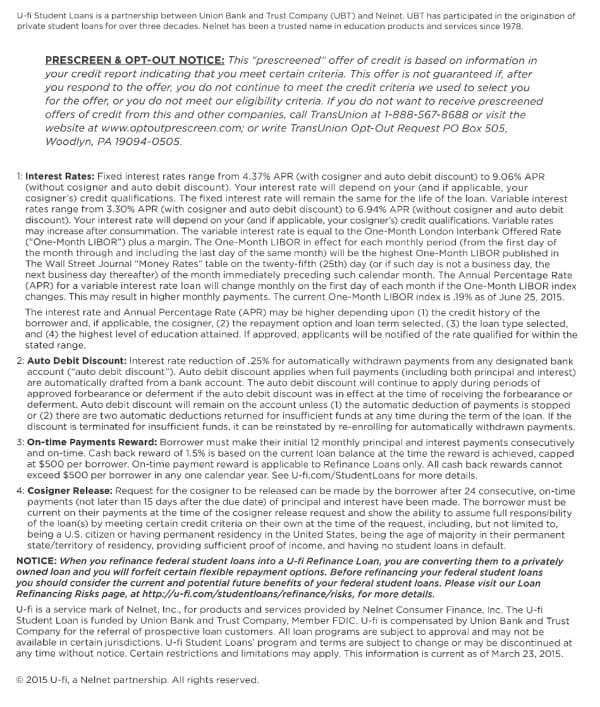 On the front of the mailer, which you can see above, the interest rate is promoted as low as 4.37% but when you turn the mailer over you see the rate without a cosigner or auto debit is 9.06%. A big difference and I can understand why. The variable rate margin for a similar borrower is 6.94% on top of the One-Month London Interbank Offered Rate (Libor). While LIBOR rates are low now, they have not always been. The one-month LIBOR rate was 5.4927% in September of 2007 and as high as 9.125% in November of 1990. I'm not implying rates will jump that high again, but they certainly could as the global economy improves. So in a few years you might be looking at a variable interest rate on your refinanced loans of 11% or more. You can see historical LIBOR rates here.
Again, this information is not intended to scare you from applying with U-Fi, I'm just trying to give you additional information to consider.
And, just reading the plain language of the back of the mailer, it could be assumed that interest rates might be even higher when it says, "The interest rate and Annual Percentage Rate (APR) may be higher depending upon (1) the credit history of the borrower and, if applicable, the cosigner, (2) the repayment option and loan term selected, (3) the loan type selected, and (4) the highest level of education attained."
That seems like a lot of uncertainty about what the final rate will be so be sure you completely understand what your approved rate will be before you agree to anything.
As an example, I went to the U-Fi site and used the refinance calculator. U-Fi says someone with "fair credit" has a credit score between 680-739. That seems to be non-standard based on what the typical credit score range is.
Here is the U-Fi Credit Score Range
And U-Fi is free to set whatever ranges they want. But typically a fair credit rating is 601-680. It seems like people might assume they would be eligible for a lower rate because they assume their credit score is better than U-Fi does. And a credit score of 730, which is typically assumed to be good, would be classified as a fair score and the borrower would require a cosigner.
But let's put this into more of a factual perspective about credit score distribution. According to FICO, one of the larger credit scoring agencies, people who are between 18-29, who may be interested in refinancing their student loans have a different average range of credit scores than their grandparents do.
According to this data, that demographic group predominately has credit scores in the 650-699 range and the second largest group is in the 700-749 range. That second group would only be in the good section of the U-Fi credit scoring model. Again, the 18-29 demographic most significant range would be in the 750-799 range and not qualify for the U-Fi best rates if U-Fi uses FICO scores.
None of this article is meant to turn anyone away from the U-Fi offer. The purpose is to raise some points to allow readers to make a more informed financial decision about what is best for them.

Get Out of Debt Guy – Twitter, G+, Facebook
This offer was able to be reviewed because a kind reader sent it in via my I Buy Junk Mail program.

If you receive a credit or debt relief offer in the mail, do some good and let me pay you for it. Click here.
Want to See More Mailers?
Want to see more mailers I've reviewed as part of this program? Click Here.

Latest posts by Steve Rhode
(see all)