All of a sudden, questions and concerns about a group called Howard Law have been landing in my inbox. You can read past articles about Howard Law, here.
Call me unsophisticated but whatever is happening to clients of the now shuttered Morgan Drexen, seems confusing or unbelievable.
A tipster (send your tips in here) sent me an interesting letter and said it came from south of the border from a friend-of-a-friend in a call center down there. So former Morgan Drexen client accounts are being managed south of the border?
Previously someone contacted me and said they had received a letter from Howard Law claiming they were now their debt settlement law firm. That seemed strange at the time. But this form letter appears to confirm the allegation.
Keep in mind I've emailed Howard Law in the past asking for information but it has been radio silence. I'd love for someone from Howard Law to come forward and provide some clarity and answers to what consumers are sharing with me.
The details of the PDF letter I received that tells people to not talk to Morgan Drexen representatives says it was created by a Justin Kruitbosch. Linkedin says Justin was a floor manager with Morgan Drexen.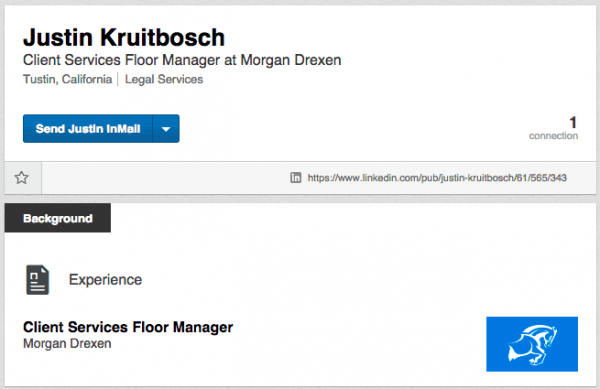 So it's interesting a former Morgan Drexen employee would send a letter to former Morgan Drexen clients telling them to not talk to Morgan Drexen representatives.
Here is the alleged Howard Law form letter sent out.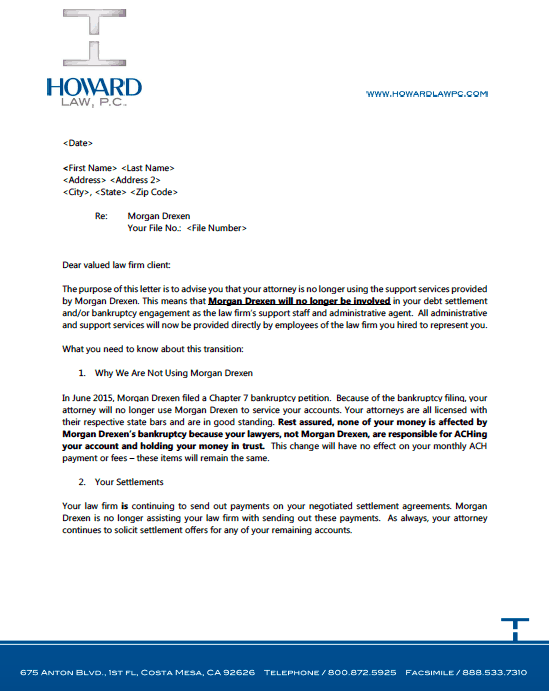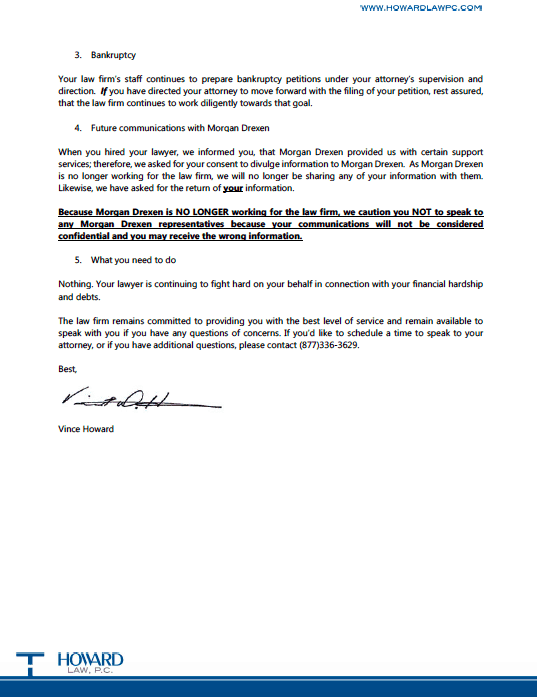 It might be just me but this section on page 2 of the letter seems especially confusing:
"When you hired your lawyer, we informed you, that Morgan Drexen provided us with certain support services; therefore, we asked for your consent to divulge information to Morgan Drexen. As Morgan Drexen is no longer working for the law firm, we will no longer be sharing any of your information with them. Likewise, we have asked for the return of your information.
Because Morgan Drexen is NO LONGER working for the law firm, we caution you NOT to speak to any Morgan Drexen representatives because your communications will not be considered confidential and you may receive the wrong information."
The letter clearly appears to be telling people to not speak with Morgan Drexen representatives but the current representatives of Morgan Drexen, I believe, are the trustee and/or Consumer Financial Protection Bureau who were appointed by the court to take over the operations of Morgan Drexen.
According to the current MorganDrexen.com website, "On June 19, 2015, Morgan Drexen shut down its business after a federal court ordered the company to stop collecting money for debt settlement work. The court ruled that Morgan Drexen broke the law. The company is now in bankruptcy."
The same website also says, "Morgan Drexen is no longer in business. There are no customer representatives and no office building. The company is being liquidated in bankruptcy. The bankruptcy trustee has a mailing address: Estate of Morgan Drexen, Post Office Box 2470, Costa Mesa, CA 92628-2470."
More information is provided on the FAQ page that says:
"Q: Why is Morgan Drexen going out of business?
A: Morgan Drexen was a debt settlement company. It is illegal for a debt settlement company to charge "upfront fees." A company cannot collect any fees from a consumer before reaching a settlement with the consumer's creditor.
The U.S. Consumer Financial Protection Bureau sued Morgan Drexen. It believed that Morgan Drexen was breaking the law by charging upfront fees for debt settlement services before reaching settlements. The lawsuit also alleged that Morgan Drexen broke the law with deceptive advertisements. On April 21, 2015, a federal court found that during the lawsuit, Morgan Drexen misled the court and falsified evidence in the case.
As a result of this misconduct, the court ruled against Morgan Drexen and for the Consumer Financial Protection Bureau. On June 18, 2015, the court ruled that Morgan Drexen could not collect any more money from its customers and could no longer charge upfront fees.On April 30, 2015, Morgan Drexen filed bankruptcy. On June 19, 2015, Morgan Drexen stopped doing business."
What is very interesting, to me, is how the letter purported to be from Howard Law mentions the Morgan Drexen bankruptcy but omits all the other material facts that led to the demise of Morgan Drexen.
To me, it appears that Howard Law has simply taken over some Morgan Drexen clients as if nothing happened. A kind of "of course you were always out client" letter. If this situation is confusing to me, I can only imagine how perplexing consumers must be in trying to figure out what the hell is going on.
If you have a credit or debt question you'd like to ask just use the online form. I'm happy to help you totally for free.
Latest posts by Steve Rhode
(see all)