Tragic is all I can think of to describe the subsequent events that happened to United Law Group and Brookstone Law.
United Law Group (ULG) was an Irvine California operation that was selling hope to avoid the loss of your home to foreclosure. You can click here for past articles on ULG.
In 2010, United Law Group filed bankruptcy.
In 2011 I wrote an article, Previous Employees of United Law Group Help Start Brookstone Law.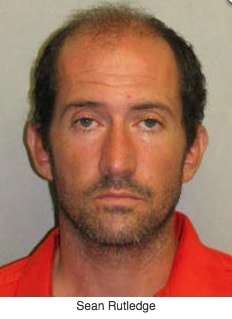 Brookstone Law seemed to specialize in the mass joinder movement of selling consumers participation in large lawsuits against mortgage lenders with promises of free homes and massive awards, among other things. But unfortunately the mass joinder efforts of a number of law firms led to the suspension or disbarment of a number of lawyers. The history of this debt relief effort is riddled a real cast of characters. At least one is now in prison.
Sean Rutledge was the guy associated with United Law Group that just recently was arrested and accused of stabbing his mother to death, in the back. Rutledge was an attorney who appears to have slid down a dark hole following his United Law Group efforts.
According to West Hawaii Today after the collapse of United Law Group, Rutledge moved to Hawaii and changed his name to Alan Frank.
"Rutledge stepped down in 2009 as managing director of United Law Group in Irvine, Calif., amid allegations of malpractice representing homeowners in California and other states who were in default on mortgage payments or in foreclosure proceedings."
According to Hawaii News Now, Rutledge was battling some demons. "Kymi Crewson says he became addicted to prescription pills and alcohol and lost his job. He made remarks that scared her and the rest of the family Tuesday just before the alleged murder.
"He said it was the day of reckoning that it was going to be the day that everybody died, it was time,"
Crewson says she and the rest of the family are worried that he will be released because he hasn't been arrested or charged, he's only being held for an unrelated warrant.
"I'm terrified, I am totally terrified, because he was supposed to move in below us, he was going to move in. And that's why he was mad at Nadean because he did not want to move in there. He wanted to stay in their old house," says Crewson."
Vito Torchia, Jr.
Following the emergence of Brookstone Law to promote the mass joinder lawsuits, things seemed to be going great. But evently that enterprise led to the tragic demise of yet another attorney and more consumers who wound up out of luck getting debt relief for their mortgage issues.
As of now, Torchia is not eligible to practice law in California or the U.S. Court in California. Troubles caught up to this guy who I always found to be nice.
A reader sent me a document that is dated August 6, 2014 that lays out a number of serious allegations and finding against Torchia. It paints a picture of Brookstone Law being seemingly out of control at times.
"Respondent is the managing attorney and sole owner of Brookstone Law, professional Corporation (Brookstone), in Newport Beach. When Respondent first opened Brookstone in 2009, Respondent had little, if any, law office management experience. Respondent's management of Brookstone over the past four plus years discloses that he still has much to learn about law office management and the practice of law.
According to Respondent, the size of Brookstone grew sharply once Respondent expanded the scope of Brookstone's practice to include mass-joinder litigation and related legal services necessary to postpone foreclosure sales on real property (e.g., bankruptcy). Mass-joinder litigation refers to lawsuits in which numerous (e.g., hundreds of) property/homeowners sue their common mortgage lender or servicer for alleged false, fraudulent, and deceptive lending and foreclosure practices.
In February 2010, when Brookstone filed its Wright v. Bank of America mass-joinder lawsuit, Brookstone had about 30 to 40 employees, which included 8 or 9 attorneys and 2 or 3 employees Respondent contends are "banking specialists." According to Respondent, Brookstone now has about 4,000 clients, many of whom are plaintiffs in one of Brookstone's mass-joinder lawsuits.
Before Respondent started Brookstone, he practiced primarily in the area of entertainment law and had no experience in mass-joinder litigation or mortgage lending. In light of Respondent's limited experience practicing law and complete lack of experience in mass-joinder litigation and mortgage lending, Respondent employed purportedly well-seasoned attorneys to advise him on and to supervise Brookstone's mass-joinder lawsuits.
In setting up Brookstone's operating procedures and office protocols, Respondent again claims to have been advised by the well-seasoned attorneys he employed and who Respondent claims are experts in law-office management and legal ethics. Notably, a number of the well-seasoned attorneys that Respondent employed and all but blindly relied upon when setting up and running Brookstone were then facing State Bar disciplinary investigations or federal government investigations.
As the seven client matters that are the subject of the present State Bar Court disciplinary proceeding clearly illustrate, Respondent lacked and continues to lack the law-office-management skills and basic knowledge of mortgage lending law and bankruptcy law necessary to adequately and properly represent some 4,000 mortgage loan clients and to adequately supervise a law office staff of 30 to 40 employees. The subject seven client matters also clearly illustrate that a number of, if not most of, the office procedures and protocols Respondent instituted on the advice of the well-seasoned attorneys he employed were and are either seriously inadequate or ignored by Respondent's staff or both.
Finally, even though it has not been charged, the seven client matters in this proceeding also clearly highlight Respondent's repeated failure to adequately supervise Brookstone's staff/associate attorneys and support staff. "While an attorney cannot be held responsible for every event which takes place in his or her office, he or she does have a duty to reasonably supervise staff, both by taking steps to guide employees and by reviewing client files to determine whether staff work has been appropriate."
But the court record on this matter is very depressing to read, click here. There are 43 pages of head-slapping examples of poorly handled cases and consumers who did not get what they thought they were purchasing.
Bloomberg Business recently wrote about the Brookstone misfortune. They said, "Casting itself as defending the little guys caught up in the subprime crisis, Brookstone, founded by a 41-year old attorney named Vito Torchia Jr., has represented at least 4,000 clients in a dozen mass joinder lawsuits against big banks, including Wells Fargo and Bank of America. Court documents indicate Brookstone's earnings during 2011 and 2012 could be in the tens of millions of dollars. Yet the firm has yet to win a single one of these cases on the merits."
"At United Law, Torchia said, he had nothing to do with the company's main lines of work. Instead, he claims he helped with defamation lawsuits United Law filed against large banks, the ones warning consumers that United Law was "a scam." Whatever his reservations about United Law, they didn't stop Torchia from forming what would turn out to be a lasting business partnership with the firm's chief operating officer, a man named Damian Kutzner. Torchia claims they stopped working together earlier this year, but said that he and Kutzner started Brookstone and designed its business model together."
"Torchia and Kutzner had been working together at United Law Group for seven months when the U.S. Postal Inspection Service and F.B.I. raided its offices on March 11, 2010. The affidavit for the search warrant prepared for the raid claims that United Law charged clients $1,500 to $12,000 for loan modification services but did nothing to help them. United Law Group ended up in bankruptcy, where it remains today. Its original president, Sean Rutledge, surrendered his license to practice law in California. Rutledge's successor, Robert Buscho, was disbarred."
And in slips another "in the news" debt relief company, Morgan Drexen. "United Law's business didn't die altogether. In addition to mortgage modification, the firm also offered debt settlement services, consolidating bills from credit cards to car loans and working out payment plans for clients. Before the raid, those services had been farmed to an outside company, Morgan Drexen, which was allowed to keep running its clients from United Law after the bankruptcy. The debt settlement business continued to generate income—$40,000 to $50,000 a month, Torchia once testified in court."
In the Bloomberg article, Torchia said he is still licensed to practice law in Florida and New York.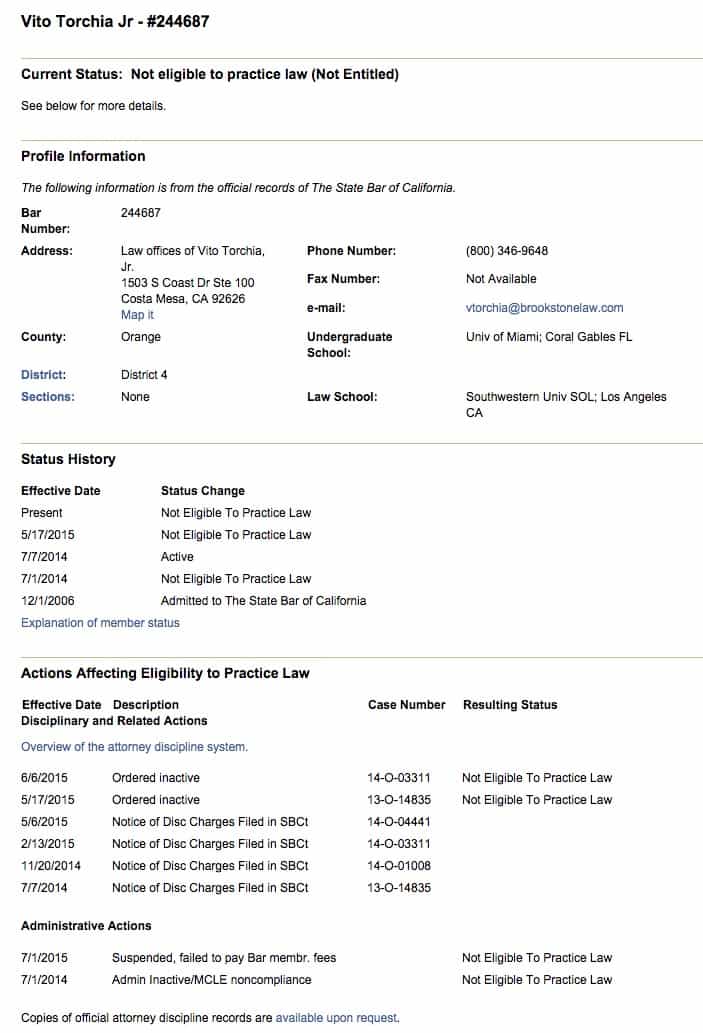 It is quite possible the underlying case that Brookstone filed, Wright v. Bank of America may continue to wind its way through the courts. But you have to ask yourself, was the cost of all the lives involved in this effort, made better by it?
Someone got rich off all of this, but who?
Sincerely,

You are not alone. I'm here to help. There is no need to suffer in silence. We can get through this. Tomorrow can be better than today. Don't give up.
Do you have a question you'd like to ask me for free? Go ahead and click here.
If you have a credit or debt question you'd like to ask just use the online form. I'm happy to help you totally for free.

Latest posts by Steve Rhode
(see all)