The court battles drag on in the ex-Morgan Drexen case that subsequently involved successor law firms and attorneys. Specifically, Vincent Howard, Howard Law, Lawrence Williamson, Williamson & Howard, and the Williamson Law Firm are still battling the Consumer Financial Protection Bureau (CFPB). The CFPB thinks these people should be held in contempt and pay monetary sanctions for some ongoing issues.
What caught my eye was the recent filing by the Howard and Williamson crew in which they completely object to the CFPB allegations. One section in particular made me curious to know more. The Howard and Williamson side said: "These pages refer to individuals who were allegedly former employees of Howard Law, P.C. The suggestion in the declaration is that these employees have sought employment with a new law firm, called the "Seila Firm," and that the latter firm is seeking to provide debt-settlement services to former clients of the Howard Firm. Respecfully, this does give rise to a contempt case.
The relevant facts, insofar as the Seila Firm is concerned, are the following. None of the Law Firms own any interest in the Seila Firm and one of the Law Firms control any aspect of the Seila Firm's business. In sum, the latter firm is simply another law firm that may or may not be interested in providing services to former clients of the Law Firms, and that may or may not be employing former employees of Howard P.C. This does not state, never mind prove, a contempt case." – Source
I previously wrote about Seilia Law, here. In that article, Mr. Aiono, the attorney behind the form, provided me with a comment and said, "I am not affiliated with Howard Law in any form. I worked for The Williamson Law Firm specializing in personal injury and medical malpractice prior to opening my own firm."
So imagine my curiousness when I saw the following today on the Seila Law website.
"Williamson & Howard, LLP attorneys offer representation to clients facing an array of such legal issues related to collegiate and professional sports." – Source, Source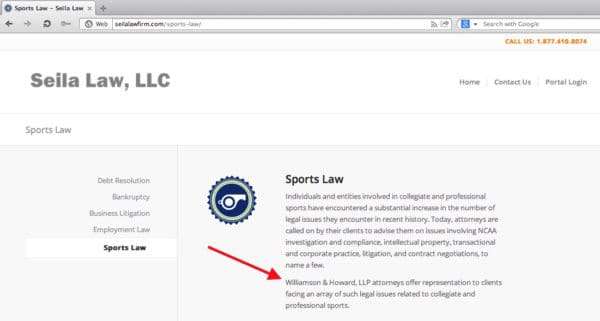 I take Aissac Aiono at his word but the multiple promotions of Williamson & Howard on his law firm website are either a clumsy oversight or may reflect some other reasoning why they are mentioned.
And here is another oddity or coincidence. According to the State Bar of California, Mr. Aiono is not admitted to practice law in California where Morgan Drexen was located.
The operations of Morgan Drexen and the Howard Law operation were centered in Orange County California. So why is the Kansas City, Missouri Seila Law looking for "Settlement Officers" in Orange County, California? – Source
Seila Law, LLC was registered in California on December 30, 2015 and reports it's main office as being in Kansas City. The California registered agent is Ammon Aiono of Lynwood, California.
I have no idea where any California office for Seila Law is located. The registered agent address is a small house and certainly not the hub of a growing debt resolution operation in Orange County. If anyone knows where the office is located, please click here and let me know.
In the meantime, I'll email Mr. Aiono and ask him where his Orange County office is located.
Update 2-24-2016
I have not heard back from Mr. Aiono by the time I'm posting this update but I did receive the following unverified information from a reader. "Seila Law is located at 2099 State Collage Blvd Anaheim CA. They basically had some of Howard Law employees, temps they hired to flip ex Morgan Drexen clients over from HL to Seila Law, same employees are now under Seila Law. Desmond is still running the settlement dept they just did the same as Howard Law did when they took over MD clients."
That street address appears to be the same as Howard Law. – Source

Latest posts by Steve Rhode
(see all)