One of the few people I know that consumers can go to for independent debt advice is Damon Day. He takes a very different approach to helping consumers by offering a fee based consultation service where he truly can remain independent, provide straight forward information, protect you from getting ripped off and answers to nobody but his clients.
This Video Explains Why Most Free Consultations Cost You A Lot Of Money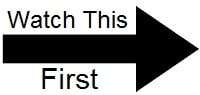 Since consumers are given so much conflicting information by various debt relief sales people, I asked Damon if he could possibly offer a few quick free consultations to site readers in addition to his normal in depth paid consultations. He agreed to set time aside to offer 2 or 3 Free 15 min consultations per day.
Given the time constraint, these free consultations will not be diagnostic consultations where he would review your entire financial situation and tell you specifically what you will need to do to best resolve your situation.
What to Expect during the free 15 MINUTE consultation?
Answer specific questions about Credit Counseling, Debt Settlement, and Bankruptcy.
Correct any false or misleading information you have been told by someone trying to sell you a specific program or strategy.
Recommend a trusted program for you to compare against the other programs you may be considering.
Click Here To Schedule a Free 15 Minute Consultation
What if you want more help than is provided on the free consultation?
I highly recommend that all consumers struggling with debt and looking for assistance to schedule an in depth paid consultation with Damon. During a 1 hour consultation, he will be able to review your financial worksheets and get a full understanding of your overall financial picture. Then he can go over all feasible options in detail and help you put together a specific plan to move forward with.
Either way, I feel it is important that you speak with him and learn what most sales people don't want you to find out.
Click Here For Information About a More Detailed Consultation