I delayed for years writing an about me page. But after several recent requests, I thought I'd finally break down and do it.
My Life Philosophy
Life trumps debt. Happiness trumps sorrow.
Kindness trumps evil. Good wins. Practice Safe Debt.
I try to live my life and conduct business by a simple mantra, "If you do good things, good things happen." I have lived that philosophy and spent nearly all my adult life helping others.
Now the Debt Stuff
In 1990 I went bankrupt after the economy tanked and my real estate company failed.
After living through challenging money troubles in 1994, I founded a non-profit organization to help people find a path through their financial situations and solve debt problems.
At that time, the group was called Debt Counselors of America. We later changed the name to Myvesta. It was amazing how many people struggled with spelling both debt and counselors.
During my time there, the organization grew from two employees to seventy. Unfortunately, the larger the group got, the less fun it was. Not long after my cross-country motorcycle tour, where I interviewed people about credit and debt, I decided life was more important than working myself to death.
So in early 2004, I stepped down as president of Myvesta for a year to enjoy life and my family more. My daughter was getting ready to graduate from high school, and I wanted to make up for all the time I had missed by working far too hard.
I remained the board chairman and returned a year later as president. However, in 2006 I closed the organization down when our big office lease expired. I learned from the experience that I loved helping people but hated managing a big organization. It just wasn't fun.
During my time at Myvesta, we created the first organization of its kind with a wide range of help and support for people with money troubles. We had staff psychologists, lawyers, mediators, employment specialists, CPAs, tax experts, etc. We even opened the first inpatient treatment program for compulsive spending issues. Our work got a lot of positive press. We did extraordinary things.
I had a syndicated Q&A advice column that ran in 50 papers, and I guess that's where I got the writing bug. I also wrote three books during that time. You can download them here.
You May Have Seen Me On the News
I also did a lot of television and radio appearances as a consumer debt expert. I've been on FOX, CNN, ABC, NBC, MSNBC, and many local stations. I also had my radio show as well. I was constantly interviewed by newspapers.
Here is a recent Fox News appearance.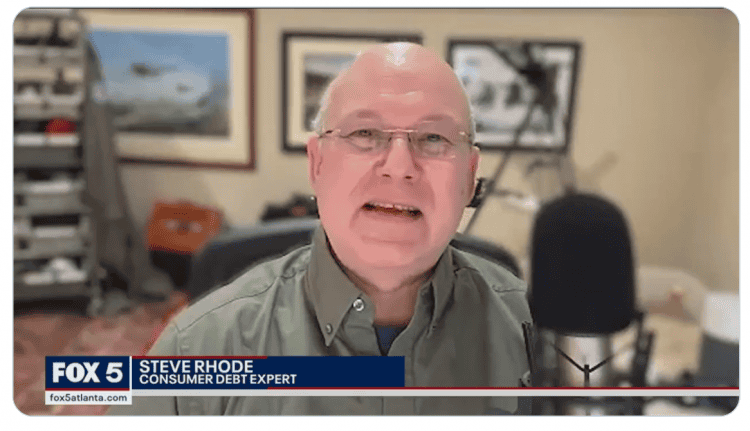 Easiest way to listen – Say "Hey Siri play Get Out of Debt Guy Podcast" or "Hey Alexa play Get Out of Debt Guy Podcast"

Easiest way to subscribe – Say "Hey Siri subscribe Get Out of Debt Guy Podcast"

I am now an investigative reporter and journalist specializing in covering consumer debt and debt relief.

I'm also the author of two top-six personal finance books on iTunes.

During my years helping people, I've also worked with some celebrities that had money troubles as their coach, and I appeared as a money coach on the television reality show Starting Over.

After my Myvesta days, I started a global social enterprise, the Myvesta Foundation, to help people in other parts of the world with financial troubles. In 2006 and 2007, I lived outside Liverpool, England, where I worked to create solutions to help UK residents with debt problems.

I've been invited to Parliament to offer advice on financial literacy. I also assisted in creating debt help groups in Ireland, South Africa, and the Netherlands and traveled extensively in Europe, studying other countries' different debt assistance approaches. In 2007 I was a guest speaker at a conference in Berlin.

Here are some debt interviews I shot outside the Tower of London one day while I lived in England.

In 2008 we came back to the United States on a trip. The cool part was taking the helicopter from JFK to Manhattan at night.

During that trip, we spent three weeks driving from New York to San Francisco, and during that trip, I fell in love with America all over again and got homesick. It also reminded me how much I missed being a pilot. As a result, I obtained my private pilot license in 1988.

Not long later, we moved back to the United States. I started to spend my time helping people for free with debt problems through the GetOutOfDebt.org site.

I think testimonials speak louder than any words I could write; for me, they are more important. If you'd like to read some about me, click here.

So Who am I?

First, let me get the non-debt stuff out of the way. My favorite thing used to be long road trips on my motorcycle. My wife and I have had some big adventures on the bike and rode down the East Coast to Key West, FL. I also rode across the United States from Maryland to California.

I am a firefighter and Chief Pilot with a local fire department, responsible for drone and Unmanned Aircraft System operations for search & rescue and emergency services. My callsign is Fire Demon 1.

My love of aviation got me back in the airplane again, and I've since obtained my licenses as an instrument and commercial pilot. I now fly the airplane as a firefighter pilot in search and rescue and law enforcement operations.

Dogs are excellent, and as a dog lover, I've done a lot of dog rescue flights to save the lives of dogs. Most of my flights are from kill shelters down South to rescue up North who have people waiting who can adopt these dogs.

I also am a scuba diver, although I have not been diving in many years. In high school, I started a small company cleaning the bottom of racing sailboats in Annapolis, Maryland. I had fantastic experiences as a scuba diver, everything from being shot at and doing a crystal clear deepwater dive on a moonlit night to one day surfacing in front of a naked lady standing on the bank.

My favorite aircraft I have flown were the significant two-engine WWII-era C-47, an open cockpit Stearman biplane, and one sizeable full-motion commercial aircraft simulator of an Airbus A-320.

My other interest is photography. I studied photojournalism in college and have done freelance work for news services and Rolling Stone magazine. These days I shoot stills and videos primarily for fun, while I have some stock work for sale.

The broadcast quality version of this clip of mine was used in a travel show.

I also happen to rescue and digitally restore WWII original 16mm gun camera films. I've had the pleasure of meeting many fighter pilots that flew Mustangs and Thunderbolts primarily over Europe in WWII. Amazing guys.

My hobby grew into a business where I rescued and restored thousands and thousands of rare aviation flight and pilot manuals. I sold those manuals online through my aviation site to researchers and people that restore rare aircraft.

"Recently Steve Rhode came to speak to our group at the Smithsonian National Air & Space Museum. Our members loved his restored films and strongly support his important mission of saving aviation history and making it available to everyone. For those of us who love aviation and aviation history, his is a unique site that everyone must visit."

As far as my working life. I went through the Georgetown University Medical School ophthalmic technology program and became an ophthalmic ultrasonography and photography expert.

During my medical days, I did routine eye care and was on-call for emergency eye care for extensive practice in Florida. Later in Maryland, I became an ophthalmic surgical assistant and participated in many surgeries.

The strangest was probably the removal of a live wiggling parasite from inside the eye of a teenage girl. I also happened to be involved in developing intraocular lenses for dogs to help restore vision and performing the first ophthalmic ultrasound to measure the proper lens needed for canine surgery at Duke University.

I was the co-editor and wrote chapters in my book Ophthalmic Technology which Raven Press published. After that, my ophthalmology life expanded, and I traveled around the country, teaching classes and speaking at national conferences. I went on to manage a medium-sized ophthalmic practice in New York.

In 1989 I decided I wanted to do something different with my life. Hence, I left my successful ophthalmology life behind and moved back to Washington, DC area to start a real estate development company, The Great Virginia Land Company, that specialized in developing property in the country. And eventually, that led to my bankruptcy and the story's beginning.