Consumer Statement:
In 2018, we signed on with a timeshare in Cabo, Mexico. Realizing it was a bad deal, I met with Reedhein & Associates (also known as the Timeshare Exit Team) and signed on with them in April 2018 after they agreed to work on my behalf in securing my exit from the timeshare.
From the beginning, it was an ordeal getting them to respond to emails and phone calls in a timely manner. It took them 6 months to assign me a Client Manager to me. He started off by sending me an email asking me to file complaints against the timeshare company with the Attorney General, FTC and BBB which I did. Within a few days, I was contacted by the resort timeshare company who agreed to let me out of the timeshare. To do so, I would have to pay an additional $2700 to them. Reedhein/Timeshare Exit Team advised me to keep haggling with them and ask to be let out of it at no cost to me. Again, I haggled and exchanged numerous emails with the resort timeshare company. I then realized that I was doing all the work and Reedhein/Timeshare Exit Team were doing nothing on my behalf.
After weeks of going back and forth with the resort timeshare company and filing more complaints against them, they sent me an email that they would not be relenting and that their original offer stands. This is part of what I received from Reedhein/Timeshare Exit Team:
Important Reminders:
-Don't let them know you are working with Reedhein Timeshare Exit, it could jeopardize your exit.
-Don't agree to anything over the phone, if they come up with an offer, its okay to say that it sounds agreeable, but that you need it in writing.
-I just need to reiterate that we are not financial advisers, so the specifics of the negotiation are up to you and what you determine is best for your financial situation.
So, Reedhein does not work on my behalf and even told me in the email to not mention them. What company takes your money but doesn't even show their name???? Again, I'm doing all the work while they sit back and take my money.
Reedhein/Timeshare Exit Team offers a 100% Guarantee Refund if they are unsuccessful in obtaining an exit from our timeshare. I solely secured this exit. On no emails from the resort company is Reedhein copied. The correspondence is strictly between me and resort timeshare company.
I have asked Reedhein/Timeshare Exit Team to produce letters, emails, or any documentation of work they have done on my behalf and they are unable to do so. Their simple advice of filing complaints with the AG and BBB does not warrant the $6995.00 they are charging me. Per the contract, they did not secure my exit and are not entitled to this money.
Consumer Action Taken:
I have asked Reedhein/Timeshare Exit Team for a refund to which they have decline
Date This Problem Happened: November 20, 2019
State You Live in: WA
Race/Ethnicity: White
Age Range: 36-50
Total Amount of Fee Paid: $6,995
Company Name: Timeshare Exit Team
Company Address:
220 120th Ave NE
Bellevue, WA 98005
Company Telephone Number: 855-733-3434
Website of Company: TimeshareExitTeam.com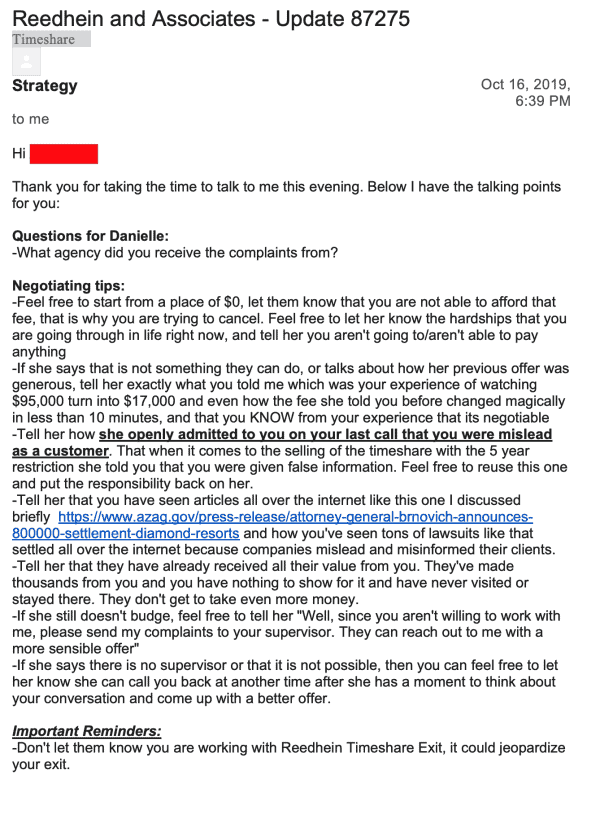 ---
If you feel you've been financially hurt by a debt relief company and deserve a refund, read these step-by-step instructions on how to proceed to attempt to get your money back.
If you do get your money back, come back and leave a comment about it. I'd love to praise companies that step-up and do the right thing for people.
Scam reports are submitted by consumers like you. If you would like to file a scam report, please click here.