The Sun Sentinel out of Florida is reporting on the rapid grown of a debt relief company I have written about before, Reliance Inc.
The article was sent to me by a tipster (send in your tips here) and it wasn't till I went back and read my last post on Reliance Inc and read the comments that I then remembered how Richard from the "faith based" Christian debt relief company was trying to blackmail me to remove the post. See the comments over on the other post.
Excerpts from The Sun Sentinel article are below.
Richard Rodriquez, chief executive officer and founder of Reliance Inc., worked in the mortgage industry with Michel Telson in the bad old days a few years ago when mortgages were being churned out with little concern for borrowers' ability to repay the loan.

The company's business exploded as the economy fell into recession, following the collapse of the mortgage and housing markets in South Florida and elsewhere. Revenues in 2009 were $2.9 million, up from $375,543 three years earlier, for a growth rate of 663 percent. For next year, the partners say they expect to hit $5 million. That earned the firm the rank of 452 on the Inc. 500.

Both men say their Christian faith guides their business goals. And they make a point to advertise on a Christian radio station.

To continue on its growth path, Rodriguez, who financed the startup with his own money, says the firm has a plan for relief for underwater mortgages – those in which the borrower owes more than the home is work. He's raising capital and seeking investors to fund a $10 million plan to buy mortgage notes from banks at a discount and use a combination of mortgage modification and refinancing to reduce the principal or the amount owed by the borrower. And he has hopes of opening a broker-dealer unit that would sell insurance, annuities and securities. – Source
If you want to read the full article and see the pictures of Chief Executive Officer, Richard Rodriguez and the Chief Operating Officer, Michel Telson, click here.
I was surprised to see the following information on the bottom of Reliance, Inc's site.
The issue is the debt settlement claims seem to run afoul of the FTC telemarketing sale rules which warn against such claims. I was also surprised to see the AADMO logo, an association that closed.
And I see they are still using the same misleading comparison chart I talked about in my last article about them. – Source
It appears since my last article on Reliance, Inc they are no longer an accredited business by the BBB and their rating has moved slightly from a B to a B-. It appears that since March 30, 2010 the company has only accumulated five additional BBB complaints. – Source
It wasn't till I looked at the BBB listing that I saw this group is also affiliated with christianinfoondebts.org. Christianinfoondebts.org is owned by Enrique Rodriguez as Frontier Trading Corp, Inc, 3940 10th Avenue N, Lake Worth, FL 33461. The same address used by Reliance, Inc.
Frontier Trading Corp says it is a medical supply company.
Frontier Trading Corp, Inc. was established in 2001. Our goal is to provide quality medical supplies at discounted prices. We work hard to keep our customers happy, and it shows. – Source
Christianinfoondebts.org claims "We Are Your True One Stop Shop For Your Financial & Debt Services Needs. We Believe That Thru Ethical And Godly Principles We Can Help Make A Difference In Our Client's Lives." – Source
It seems the bottom of the Christian site is making similar problematic debt settlement claims and has the defunct AADMO logo.
It's nice to know that while they are claiming to cut your payments in half and get you out of debt in 12 to 36 months, they are also praying for you and sending you Godly inspiration.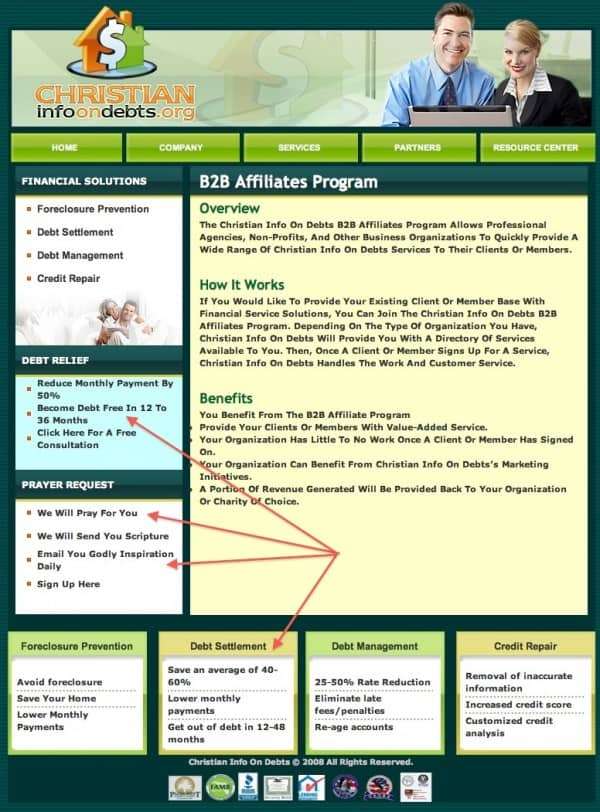 Let the blackmailing begin.
Sincerely,
You are not alone. I'm here to help. There is no need to suffer in silence. We can get through this. Tomorrow can be better than today. Don't give up.
Do you have a question you'd like to ask me for free? Go ahead and click here.
Reliance Inc Archive
Christian Debt Management Archive
I can always use your help. If you have a tip or information you want to share, you can get it to me confidentially if you click here.
Latest posts by Steve Rhode
(see all)