I just published a story about Legal Helpers Debt Resolution being hit with a class action suit in Washington.
And then in my inbox lands an email with the Legal Helpers Debt Resolution marketing pitch. I've covered something like this before and I'd pass writing about it again but in light of the new class action suit I decided to take a look at the participants in the agreement to see if I can make sense of the who the players are.
The email that went out was the one below and it contained a number of attachments and a link to LegalHelpers-DR.com.
The attachments are shown below and you can click on any image for a larger view.
Let's See if We Can Figure This All Out
Legal Helpers Debt Resolution says it is the is the law firm of Macey, Aleman, Hyslip & Searns.
An apparent employee of the law firm LHDR, Jordan Abele sends out an email to attract marketers.
The marketing agreement is actually not with the law firm. It is with a company called Legal Services Support Group, LLC. – Source
Legal Service Support Group, LLC is a Nevada corporation that is owned by three companies: Lynch Financial Solutions, JEM Group, and Century Mitigations. – Source
The attached spreadsheets refer to TFG receiving money as part of the added on up-sell financial coaching program. I believe TFG refers to Financial Strength Builders, see this article, which is really owned by Joanne Garneau and Arthur Garneau. – Source
The Association of Settlement Companies (TASC)
At the time this marketing email was sent out Joanne Garneau was listed as being on the executive board of TASC. – Source
Dave Leuthold was the former executive director of TASC.
In August of 2010 TASC came out with a public statement they supported the up-front fee ban and embraced the performance model. – Source
The Legal Helpers model is not the performance model and charges advanced fees as evidenced by their spreadsheets shown above.
So it appears that at the same time TASC was saying they were not in favor of advanced fee debt settlement, executive member(s) of TASC were actually engaged in working with Legal Helpers Debt Resolution to market and support advanced fee services.
Nationwide Support Services and Century Negotiations are still listed as accrediated TASC members. – Source
Before My Brain Explodes
Unless I'm reading the marketing documents and attachments wrong it certainly appears that LHDR, a law firm, is directing affiliates and marketers to work with an enterprise that is not a law firm and benefits Joanne Garneau and Arthur Garneau since their involved enterprises of LSSG and TFG seem to make a good chunk of the money paid by the consumer in advanced fees. as shown in: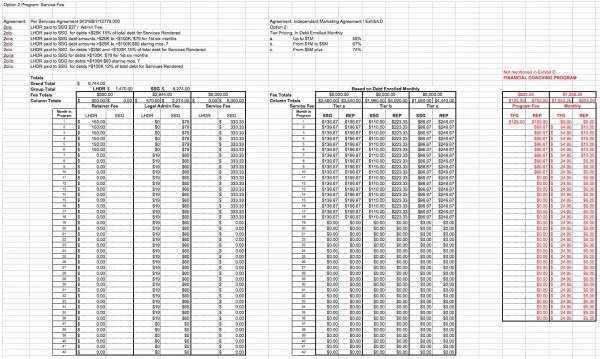 Layers and layers.
I can always use your help. If you have a tip or information you want to share, you can get it to me confidentially if you click here.
Latest posts by Steve Rhode
(see all)