TransUnion just release its latest credit card delinquency numbers showing that 90 day lates are down 32 percent, year on year. "The ratio of bank card borrowers delinquent has flattened out considerably," says TransUnion.
This furthers my hypothesis that the reason demand for debt relief services is decreasing across all the major niches of debt relief, i.e. debt settlement, credit counseling and bankruptcy, is because the pipeline of consumers in trouble has been significantly cleaned out.
Recently I published evidence of search trend data that showed a significant decline for people searching for debt relief solutions.
If you compare the combined charts above you can see there is a correlation between the 90 day late trends and the search volume trends for debt settlement. The bankruptcy trend matches similarly.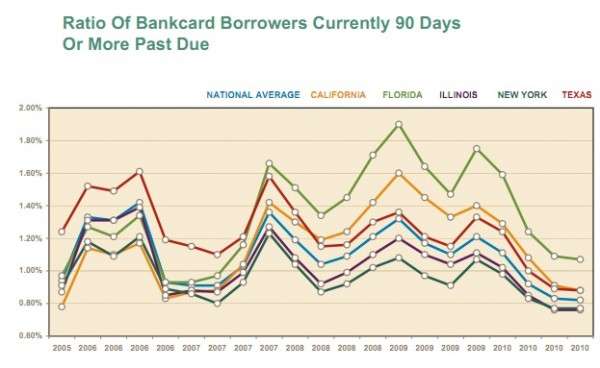 TransUnion and others feel the decline in 90 day lates is the result of an improving economy. But from my vantage point I'm not sure that is what I see. I still say the wave or rush to debt relief solutions in 2009 had a major impact in the demand for services now.
Without an increasing or steady rate of borrowers in trouble as they were in 2008-2009 then the demand for debt relief services is going to be less.
One similar debt relief event was the rush to file bankruptcy ahead of the 2005 bankruptcy reforms. The pipeline of people wanting debt relief services was significantly cleaned out by the rush.
I project that debt relief providers in debt settlement and bankruptcy areas will continue to suffer from a declining demand until creditors begin to issue massive amounts of credit again. Without new credit to cause consumers to become over-indebted there is no stimulus to fuel demand for services.
On the credit counseling front, their demand for services continues a steady decline year on year. But that's not a function of consumer demand. My opinions is it's a direct function of the DMP product being broken which results in not providing many consumers with payment relief when they need it most.
Sincerely,
You are not alone. I'm here to help. There is no need to suffer in silence. We can get through this. Tomorrow can be better than today. Don't give up.
Do you have a question you'd like to ask me for free? Go ahead and click here.
I can always use your help. If you have a tip or information you want to share, you can get it to me confidentially if you click here.
Latest posts by Steve Rhode
(see all)