For a while we've been playing our little game of "Do They Comply" where we review marketing material from debt relief companies to see if it looks acceptable to you.
A tipster (send in your tips here) sent in the following mailer and said:
My brother got this and we called the company. They said their name was Reliant Support Services. They alo said they were a TASC Member, whatever that means. This seemed to be very deceptive and Reliant doesn't even do the work. The company that does the work is a law firm called Bay View. Seemes to good to be true.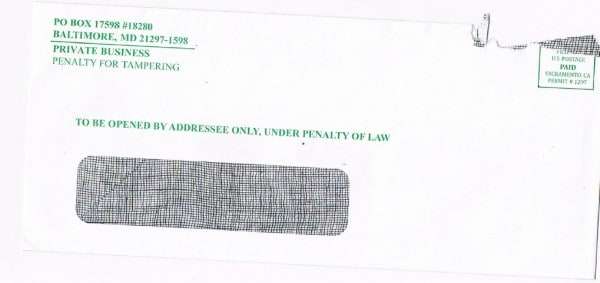 PO Box 17598 #18280
Baltimore, MD 21297-1598
The mailer looks very familiar to those of us that have followed the debt settlement world over the past few years. The wording however is slightly different.
The official looking program promoted is the 11-RFL Credit Card Balance Reduction Opportunity and the mailer makes mention of the 2011 Debt Reduction Plan. People are told to call 888-593-9424.
The pending benefits mentioned are:
Immediate Reduction of Payments
Reduce Credit Card Debt in as Little as 24 Months
Avoid Bankruptcy in Some Cases
Reduce Interest Rates from Enrollment Start Date
Enjoy One Convenient Monthly Payment
Avoid Over Limit and Late Fees
Reduce Harassing Creditor Calls
One interesting note, if you look at the fine print it says this program is available in all states and "Company may be generating leads for national law firm."
So what is your opinion, does this mailer pass the sniff test and seem fine to you or do you think the Federal Trade Commission might find this deceptive and not complaint with marketing rules?
Post your feedback on this mailer in the comments below.
I can always use your help. If you have a tip or information you want to share, you can get it to me confidentially if you click here.
Latest posts by Steve Rhode
(see all)