"For the first time in my married life I was scared. We had never been rich but we had never been afraid before."
In 2008 Melody Page, a resident of Rocky Mount, North Carolina and her husband found themselves in financial disparity along with many citizens as the American economy took a turn for the worst. It only took about 60 days for their life to go from "great" to have fallen flat when her husband was laid off from his job. This was right at the same time that the housing market started to fall and "you could see the fear in people" Melody explains. In just two months 60% of their income fell and the number of people in their house rose to five mouths to feed. Times were tough.
Melody explains that "we had never been rich but we had never been afraid before." And for the first time in their marriage fear inundated their bank account instead of income.
To make ends meet Melody turned to alternative methods of saving money that she hadn't tried before, like couponing. At first she didn't see the big deal of couponing and couldn't understand how people, like Kate Gosselin on the show "Jon and Kate Plus 8" were walking out of grocery stores saving hundreds from coupons. But when she noticed the packaging on products shrinking while the price stayed the same (if not rising) she decided to give couponing a try.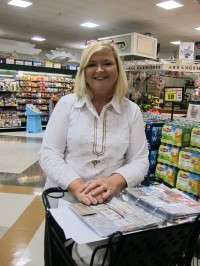 She asked a friend of hers to show her the ropes. It was then that it clicked in her mind how to make couponing work, how to save hundreds, how to feed her family on little income. Shopping at the right time (sales) and at the right places (stores that double coupons or offer rewards) made all the difference in the world. Little did Melody know this new couponing lifestyle would change her life forever.
Once she started clipping and saving Melody was hooked. Even after her husband found new work and their income started to rise once again she swore she would never pay full price for groceries knowing that she didn't have to.
Friends started coming to Melody asking for couponing help and advice. Soon enough she started hosting small get-togethers showcasing her style and method of couponing. In the years to come these small get-togethers would grow into classes, lectures, seminars and an eventual local television show.
What I love about Melody is she is not a crazed hoarding couponer but instead shops and buys only what she needs. If she happens to pick up deals that she wouldn't personally find useful in her household she will donate them to charities or pass them along to friends and family.
Melody now teaches others how to coupon full time. She still refuses to pay
full price for items and generally sticks to a 70% discount rule. The 70% discount rule is her goal for buying an item: if it's over 70% off of the suggested retail price she will usually buy the item. She explains that there are some items you'll never get that low in price but after couponing for a while you start to learn how low you can get a price on certain products.
We recently met up for a grocery shopping excursion where I followed Melody about the store, carefully analyzing her shopping style. Here is what I learned:
Get coupons.
Go to grocery store.
Find deals.
It's really as simple as that. Melody prefers to walk the store looking for deals as she goes instead of spending time at home working up a list based on sales. A lot of times you don't get to see the unadvertised specials on the ad-flyers you get at home so this method of couponing works well for finding all available deals. This can be time consuming though. Melody explains that she can sometimes spend hours upon hours meandering around the store finding deals.
In one of her recent trips to Harris Teeter she found some amazing deals and started to stock up on snack foods for a month at the beach (a family tradition). Since grocery prices are often higher at vacation destinations the Page family actually stocks up before a trip to save even more money when vacationing.
Melody got the following for $70.39 with a savings of $107.48 in coupons and savings. She mentioned it was a 65% savings which isn't as high as she would like it to be but all of these finds were the best deals around. Especially since she got 13 lbs of meat in this transaction – apparently the Page family loves some bacon … who doesn't? ::drools::
2 packs of Hefty cups (30 count)

2 boxes of veggie Kraft Mac-n-Cheese

2 cans of Folger's Coffee

3 boxes of Keebler Granola Fudge Bars
3 boxes of Kleenex Tissues

2 boxes of Frosted Flakes

2 boxes of Fruit Loops

2 boxes of Apple Jacks

2 boxes of FiberPlus Caramel Pecan Cereal

5 bottles of Wishbone Salad Dressing

6 microwaveable cups of Chef Boyardee

20 lb bag of Tidy Cat Litter (not beach related)

2 8pks of Lance Crackers

2 bottles of Organic Honest tea

2 boxes of Fruity Pebbles Marshmallow Treats

1 Lint Roller Brush

4 lbs of lean beef stew meat 
20 oz. pack of ground turkey

1 loaf of wheat bread

3 lbs of turkey bacon

5 lbs of Smithfield bacon

4 Nivea lip balms w/ sunscreen

Melody's website (Extreme Ways To Save) offers a plethora of information as does her Facebook page. Be sure to head over to the Facebook page and "like" it if you want to see some grade A sales tips show up in your news feed!
To watch one of Melody's local Rocky Mount, NC tv shows see the embedded video player below.
Latest posts by Amanda Miller
(see all)