A debt industry professional tipster (send in your tips here) sent me the following email from a Paul Paquin who is promoting an attorney based debt settlement company.
The email says:
Why Are You Still Doing the Face-to-Face Debt Settlement Model?

There's NO "Face to Face" Necessary! | You'll Close 50% More Business!
Our Multijurisdictional Law Firm Does All the Work. | Just take the Application!
Our Technology Partnership with All Credit Bureaus Automatically Displays All Unsecured Debts! No Need to Pull Credit Reports!
We Have an "A+" Accredited BBB Rating! | Credibility Goes a Long Way, and when Your Agents say right off the bat that this is their BBB rating, they'll Close Substantially more Business!
You Receive 2/3 of Your Total Commissions in the First 9 Months! | Great for Cash Flow!
Your CRM is Setup for You and All Your Agents. | No Charge!
View Your Deal Flow, Client Payments, Commissions, and Reports with Your CRM. | Web Based
Easy Training | Easy Script | One Call Close | A+ Accredited BBB Rating – 9 Years!
Average Commission – $3,500

Visit – http://Debt-Affiliates.com – Complete the form and Call me.

Thank you.

Paul Paquin – Affiliate Director
GFS – Financial Services Company
+ 888.505.1792
This is a new take on their recruiting pitch that I covered before, here, or this one here.
Seems very problematic to me. Especially the part about commissions earned from the sale of attorney debt settlement services in light of the claims it might be illegal fee splitting. At least that was part of this lawsuit recently filed. See Consumer Law Group Sued by Florida Attorney General as a Debt Settlement Loopholer.
The recruiting statement, which does not openly identify the company, states no face-to-face meting is necessary and it is implied the fees, or at least the commissions are front-loaded. "You Receive 2/3 of Your Total Commissions in the First 9 Months! | Great for Cash Flow!"
I easily tracked down Paul Paquin at Golden Financial Services where he says he is in charge, president and/or a principal. – Source, Source
Apparently he's the affiliate director as well.
The recruiting email that went out linked to this site.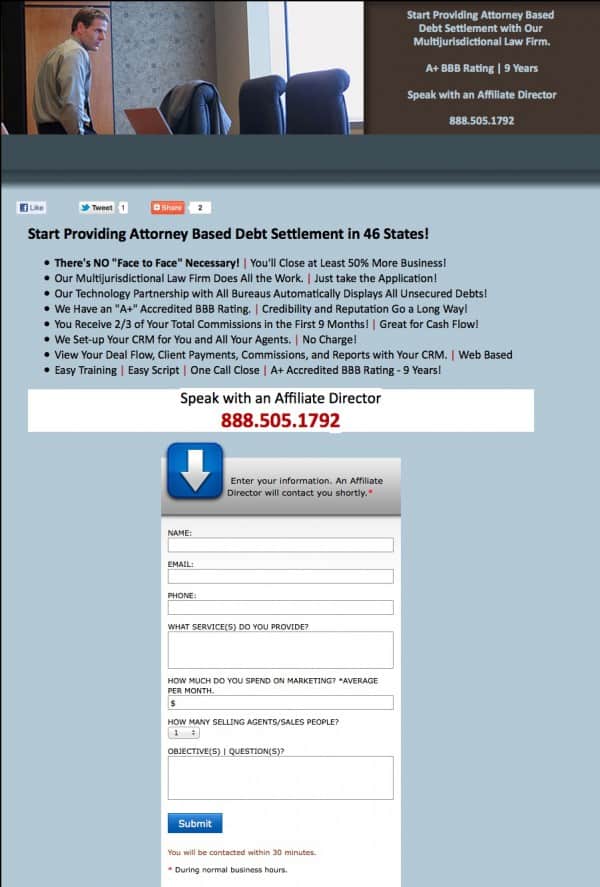 I must admit it's hard to get a good feeling about this offer when it proudly promotes "Easy Script | One Call Close." I doubt consumers are getting a well rounded and impartial review of their situation with that type of emphasis.
According to the Better Business Bureau, Golden Financial Services is located at:
Golden Financial Services Debt Settlement Corp. (Headquarters)
Phone: (866) 376-9846
Fax: (866) 823-4741
2954 Kirk Rd.
Lake Worth, FL 33461
According to Google Maps, this is a picture of that address.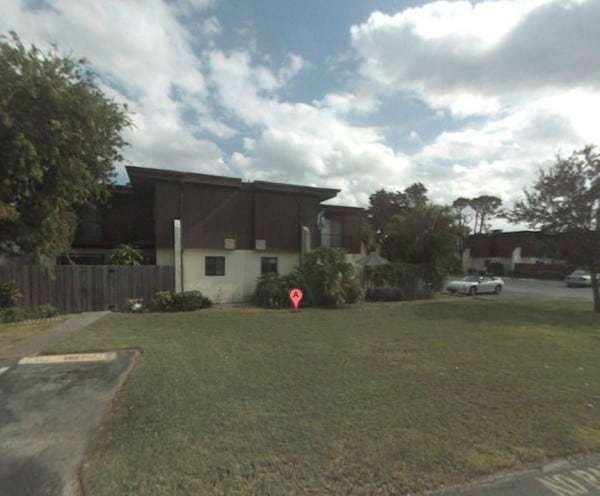 The location is listed as a 1303 square foot condo home with 2 bedrooms and 1.5 bathrooms. – Source
A visit to the Golden Financial Services website does in fact represent they are a law firm, GFS World Law.
GFS World Law

Welcome to GFS WORLD LAW

Legal Advice Worldwide

Use the power of a global law firm! Legal advice and help 24 hours!

Over 400 leading lawyers online, 26 countries, 7 days a week!

Legal solutions worldwide

Legal Debt Solutions Advice

Use the power of a global law firm. Legal advice and help 24 hours.

Over 400 leading lawyers online, 7 days a week.

Our attorneys use their diverse legal backgrounds to look at every customer on an individual basis. We discuss all available debt resolution options and develop a unique plan for your needs. We recognize that at times bankruptcy is an option for many people; however it is not the best answer every time. Our attorneys work with you to find the best solution to your individual needs. We have many options for every client and look at solutions like debt settlement, debt consolidation, consumer credit counseling, and any other viable solution.

Our attorneys and legal assistants have years of experience with positive results in the debt reduction / debt relief field.

World Law Debt Client Privileges

State and Federal Attorneys work with you to determine the best path to becoming debt free

24/7 access to legal advice

Protection from the harassment of debt collectors

Take back control of your life

Clients work directly with our lawyers and legal assistants – Source
The name World Law reminded me of another recent lawsuit in Kansas that I covered.
in that case, "The allegation is that Orion Processing was doing business as World Law Direct ("World Law") and "purports to be a law firm, and has no attorneys working for it that are licensed to practice law in the state of Kansas." If that is true, then that is a troubling finding.
The claim made by the Plaintiff is that despite the claims made by World Law, she found herself with increased debts and late fees and was eventually sued by two creditors for recovery of the debts. This left the Plaintiff is a worse position than she would have been in if she had not used the services of World Law.
Paul Paquin
According to public records, Paul Paquin is more than just the affiliate manager, he's also the owner of the Golden Financial Services domain name goldenfs.org. The domain records say the company is located at:
445 Island Ave
#610
San Diego, California 92101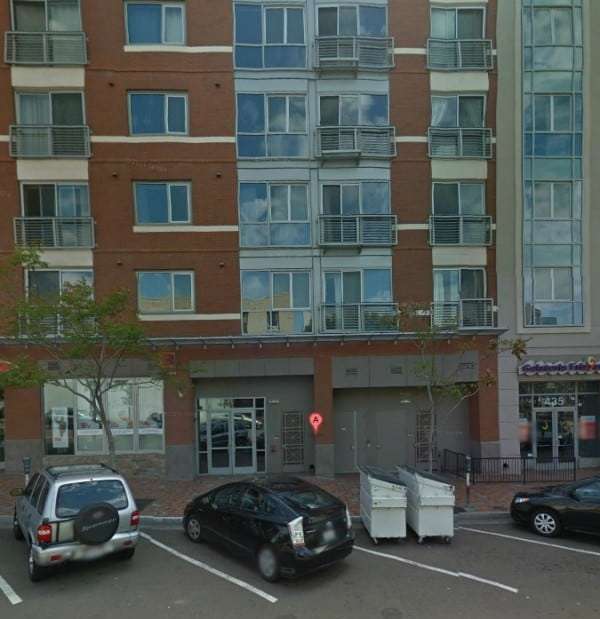 That's a long way from the companies address with the BBB which is listed in Florida. The State of Florida also list the company under president Paul Paquin. – Source
Speaking of the BBB, their information is interesting as well. While the GFS website and recruiting pitches rely on the A+ BBB rating, there are more offices listed than just the one. Not all are accredited.
The BBB says other office are located at:
1283 E. Main Street, Suite 200
El Cajon , CA 92021
600 Palm Avenue #223
Imperial Beach, CA 91932
100 NE 6th Street Suite 9
Boynton Beach, FL 33435
3920 Max Place # 203
Boynton Beach, FL 33436
Debt XS1 II cd
Frisco, TX 75034 – Source
For me, a lot of this sizzle in the recruiting pitch just doesn't add up or is entirely problematic. Are potential affiliates being told the whole story about liabilities, current related suits, and carefully instructed in licensing, bonding, and compliance requirements?
And if everything is on the up-and-up, then what is the point of hiding behind a title and separate recruiting website? What not just say it is Golden Financial Services in the email? Is their something to be concerned about to make us hunt down this information?
Finally, the claims of global reach are huge on the site and in the sales pitches. And all of that happens out of a 1303 square foot condo in Florida. Must have really small cubicles.
And then to add another bit of mystery to this situation, the GFS statement, "Our Customer Service department has a membership with the USOBA!" is interesting. You see, according to USOBA, "Unless they are using a member company for processing, they are not providing accurate information. USOBA does not have members that are segmented parts of companies and we do not allow affiliates of members to make claims about us at all."
This all leaves potential recruits to decide what they can believe.
Sincerely,
You are not alone. I'm here to help. There is no need to suffer in silence. We can get through this. Tomorrow can be better than today. Don't give up.
Do you have a question you'd like to ask me for free? Go ahead and click here.
I can always use your help. If you have a tip or information you want to share, you can get it to me confidentially if you click here.
Latest posts by Steve Rhode
(see all)