A reader posted a comment about a company called Pro Debt Solutions in California. While this initially sounded like the same debt restructuring B.S. we've heard about and covered before, this might actually be a different approach.
The reader said:
The company I used in place of the settlement company is called Pro Debt Solutions.This company negotiates settlements with the creditors (in my case 50%), and pays them off entirely. The client then pays back Pro Debt Solutions. In essence, it is a hard money loan used specifically to pay off debt. Andrew Bloom, who runs the company, negotiates the settlements with the creditors. The loan is interest free, and Andrew charges 10% of the total debt that is settled, which becomes part of the loan. This program may not be for everyone, but so far it has worked for me and it paid off my creditors, one of which was preparing to sue me. The company's website is Pro-debtsolutions.com. This is an interesting, hybrid approach to debt settlement which does not require a person to build up a trust fund balance over time as is the model for most debt settlement companies.Instead, a person's credit card debt is paid in full, and the client only has to pay back Pro Debt Solutions, like a bank loan.
I thought for sure that the company would not be a registered lender in California, but I was wrong, they do hold a lender license. Now that's a refreshing change.
Pro Debt Solutions is located at:
Pro Debt Solutions, Inc.
314 S. Melrose Dr., #200
Vista, Ca 92081
A search of the address located a Pro-Net Financial, Inc. at the same address.
Pro Debt Solutions, Inc was registered to do business on July 17, 2008. Pro-Net Financial was registered in California on September 28, 1988. The website attributed to Pro-Net Financial (howtowipeoutdebt.com) does not appear to be operational. – Source
It appears Pro Debt Solutions is under the control of Andrew Bloom and Marisa Bloom of Vista, California.
It is a bit perplexing to look at the BBB record on this company. The BBB gives them an F rating and lists the owner as Michael Scott Moore. They also list an alternative name for the company as Consumer Debt Relief Program. – Source
I also found an unusual comment that allegedly linked the street address of Pro Debt Solutions to a bogus debt relief mailer I've warned consumers about before. Many others were associated with the same National Debt Relief Plan mailer as well. – Source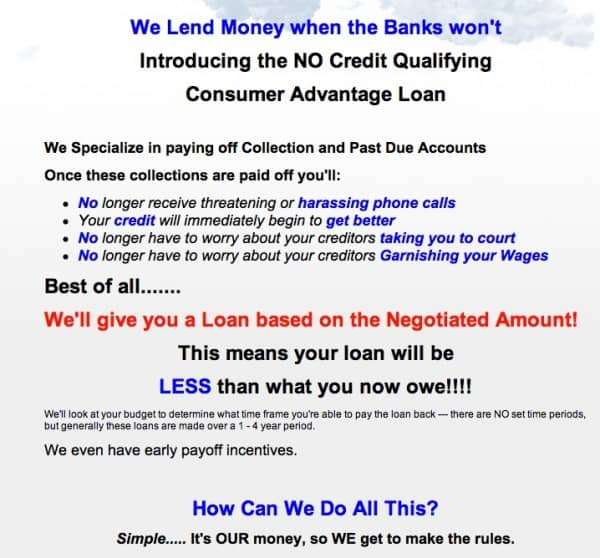 I contacted Andrew Bloom from Pro Debt Solutions to ask him about his approach. He stated he extends 0% interest loans to debtors but adds on a fee, typically a percentage of the total debt. The surcharge he said was variable, "I, of course, have my formulas, but there is no hard and fast rule as to the amount."
Apparently this approach is crafted for each client. "it really depends upon the debt situation (lawsuit to be paid off / payday type loan / difficult creditors / easy creditors). It's all based on what I can get the settlements at. Then of course it all has to be balanced with the consumer's monthly income/expense," said Bloom.
Bloom states that he only assist consumers in California presently but has plans to expand in the future. I did notice that Pro Debt Solutions is registered to do business in a number of states already.
The commenter stated their debts were paid in full when Pro Debt Solutions extended the loan to them.
Bloom states the approach is superior to other debt settlement companies. He said, "No one else is lending in this space, which is why I am. Superior results for consumer (pay back less than originally owed, credit begins to get better and of course it eliminates any collector calls and lawsuits since the accounts are paid off). And yes, I do make a good profit, which the borrower knows exactly what I make upfront."
I do have to be a bit critical of Bloom's comparison chart on his website.
It would be nice to see it include consumer bankruptcy in the matrix and update or qualify the credit counseling "major damage to credit" line. The reason bankruptcy should be included here is that if the claim is going to be made that the Consumer Advantage Loan provides the "Best Overall Results" then consumers should be fully informed what their options are.
While this approach might run into trouble in UDMSA controlled states the fact a loan is actually extended on the front end and no advanced fee is collected seems to avoid the TSR all together.
We'll have to wish Andrew luck with this approach and keep our eyes on it to see how it unfolds.
Sincerely,
You are not alone. I'm here to help. There is no need to suffer in silence. We can get through this. Tomorrow can be better than today. Don't give up.
Do you have a question you'd like to ask me for free? Go ahead and click here.
I can always use your help. If you have a tip or information you want to share, you can get it to me confidentially if you click here.
Latest posts by Steve Rhode
(see all)