Company Name
Nationwide Processing Center / National Student Loan Solutions
Address
14151 Newport Ave.
Suite 204
Tustin, CA 92780 – Source
Additional Contact Information
Email: info@my-npc.com
Website: www.nationwideprocessingcenter.com
Phone:
Toll-Free : 888-411-1919
Office : 714-734-1000
Fax : 714-734-6700 – Source
Company Description
Nationwide Processing Center is a full service Federal Student Loan Debt Consolidation company. We actively advocate for those with Federal Student Loan Debt and help everyone through the student loan debt crisis with positive results. Our team will work tirelessly through the Federal Bureaucracy until we alleviate your Federal Student Loan Obligation. – Source
Management
Unknown
Company Information
The company does not appear to be registered to do business either as a corporation or an LLC in California under the name Nationwide Processing Center or National Student Loan Solutions.
Services
"Streamline student loan debt through the U.S. Department of Education." – Source
Relationships
Unknown
Fees
Pricing :
Combined Federal Loan Balances Processing Fee
$5,000-$19,999 $395
$20,000-$49,999 $595
$50,000-$69,999 $795
$70,000-$99,999 $995
$100,000 and above 1% of loan – Source
Interesting Points
The company appears to offer a service that is available to consumers for free through the Department of Education using some of the resources below we have previously provided on this site.
The company claims to offer a 100% money back guarantee. – Source
A recent complaint from consumer says they have requested their money back and after contacting Hugh Adams they are still out $995.
The website uses official government looking logos which may fool consumers into believing this is some government program.
While the company offers two testimonials (source) there is no indication of the effectiveness or performance of their program in achieving the claimed goals.
Website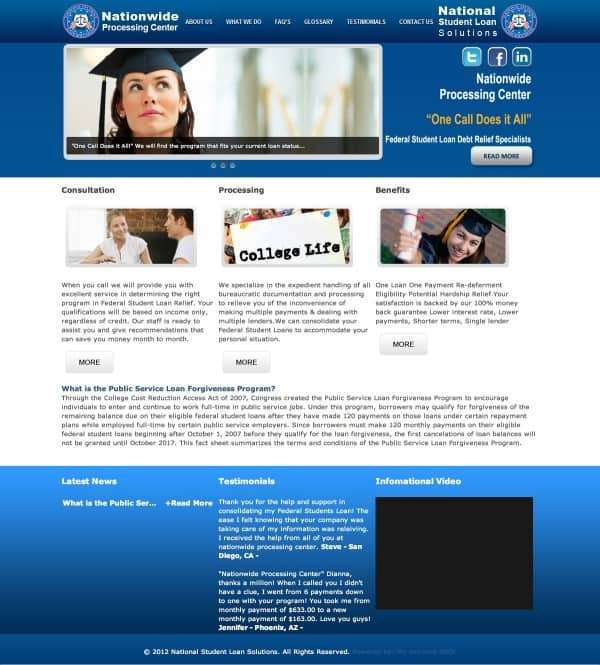 Domain Information
The domain name nationwideprocessingcenter.com was registered on February 3, 2012 by National Student Loan Solutions, Inc. and the administrative contact is Hugh Adam.
Scam, Complaint, Review or Praise

Consumers: If you've had experience with this company you would like to share, please post your comments below.

Owners: If this is your company, please read the site review policy and feel free to post information in the comments you would like to share about your company.

Latest posts by Steve Rhode
(see all)