Question:
Dear Steve,
Our mortgage adjusted to an obscene payment without prior notice As soon as we saw the new payment we immediately applied for a loan modification but were eventually turned down (with a nice offer to help short sell).
Long story short, we had a snag with our loan when we originally bought this house after we sold our previous home and before we settled on this one. So they jammed us into another type of loan with the caveat we'd refi a few months later with all fees waived.
We did and should have paid more attention as they skimmed over the 10 year balloon feature which hit and the payment shot up. When I called Wells Fargo they said they had mailed a letter (stress singular "a") about 6 months prior.
We have no recollection of this letter and they resent it too us (after the adjustment). It was in a letter similar to their marketing crap they always sent so its possible we just overlooked it. Regardless, we immediately applied for a loan modification as soon as we saw the new payment but before having to make one. We were turned down but offered help on short selling. The reason given was that our income hadn't changed much in total since we got the loan even though our payment shot up close to $2,000.
We were barely affording the previous payment as my business went under and I'm trying to start up a new one. The annual income they looked at included a large 1 time bonus, not a recurring monthly income.
We just attempted to refinance to a 5-1 arm (we hope to be out of here in 4 years, after the last kid graduates HS). The only issue is that our home values dropped as all others but our area has not bounced back as much.
To make it worse one neighbor dumped his house for about $75k less than market because he didn't want to deal with the whole selling process. Sold it in less than a week. And a second neighbor walked away and gave their house to the bank even though they owed significantly less than the homes value.
The bank sold it to an investor who immediately flipped it for a tidy $180k profit in less than 2 months. And he sold it for about $120k less than a conservative market value but turned a quick huge profit. Because of these sales our appraisal came in about $75k less than it would have 2 months ago (per the appraiser) effectively killing any chance at a refinance due to the poor LTV ratio.
Should we go back and reapply for a loan modification again (since that seems the best option as any traditional loan won't work due to the LTV)? Or should we contact one of the many firms that advertise services for loan modifications and foreclosure prevention? Are those firms even legit? Are they worth the expense? Any recommendations?
Signed "We just want to make it through 3 more years then sell and move". aka Chris
Answer:
Dear Chris,
While it is always possible to hire an outsider to assist you with the process, you have to be very careful. Many of those outfits are scams or are charging advance fees illegally. You should learn more about the MARS Rule so you don't get burned. If you did hire an outside entity to assist you I would look for a local real estate attorney who is licensed in your state.
You are in the worst spot right now. Whenever people feel they have to rush to make a decision, they generally make the wrong one when it comes to their finances.
I would suggest you consider two options.
First, the short sale isn't the worst option. You could get out of the house now and rent in the area till the kids finish school.
If you did a short sale you would want to get it completed before the end of 2016 to avoid any tax liability on the forgive debt. This liability has been waived for the rest of 2016 under the Mortgage Forgiveness Debt Relief Act. If you get a written agreement in 2016 for the short sale but don't receive the 1099 for the debt forgiveness till 2017, it will still be honored.
Second, you could take a second crack at the Wells Fargo modification. It's unclear exactly why they turned you down. Wells Fargo does provide some help online to help complete the paperwork they are looking for. And completing this stuff is important to allow the lender to tick off the boxes they need in order to grant a modification.
According to Wells Fargo, this is the current modification process.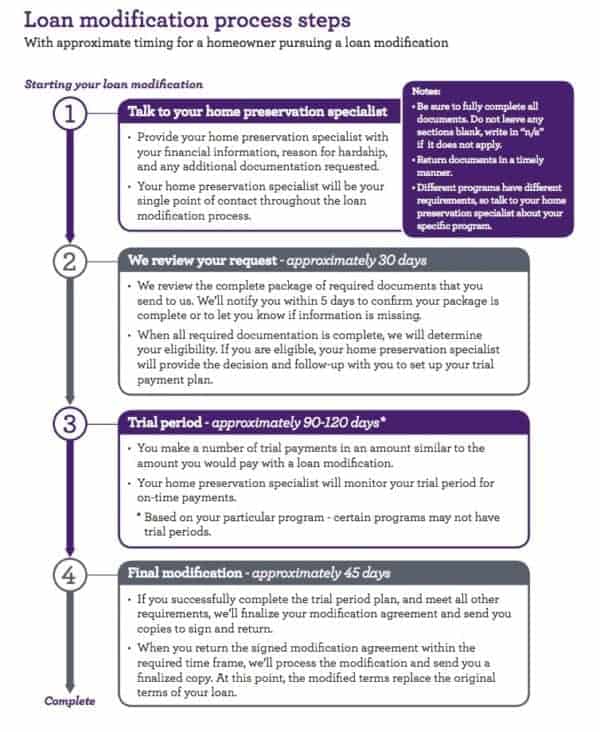 The big problem here is if your desire to achieve a goal os staying is even possible with the math and options available. Just don't make a bad situation worse by leaping at a solution that won't resolve the problem.
Sincerely,

You are not alone. I'm here to help. There is no need to suffer in silence. We can get through this. Tomorrow can be better than today. Don't give up.
Do you have a question you'd like to ask me for free? Go ahead and click here.

Latest posts by Steve Rhode
(see all)