Let's be clear. This list isn't based on any type of scientific poll. The very notion that some group of Americans who I don't even know could pick better bacon than me is preposterous. I know bacon, people. I eat a lot of it. Too much. I've even done some reporting on it, but really, "investigating" bacon doesn't make one an aficionado. You have to live and breathe it. You have to be the kind of person, who when he was a kid, used to play hooky from school by feigning illness, and as soon as his parents left for work, began cooking bacon, finishing off an entire package all by himself. Then when Sunday rolled around and there wasn't any bacon in the house, they'd say, "Hey, what happened to the bacon?"
"I don't know," that kid lied, and then he'd go to his room and laugh.
You have to be the type of person who, as an adult worries that he may be developing a legit heart condition because of his long, deep love affair with bacon (and fried chicken), yet can't seem to muster the will power to slow down, despite the warnings of both his GP and cardiologist, who seem like smart, well-meaning people … but really, isn't sugar the problem, not saturated fats? (And I don't eat chocolate covered bacon. The texture is gross.)
But I digress.
The following list is comprised of the most beautiful, delectable and, in some cases, interesting bacon I could find in every state – and I'm talking about both brands and dishes (it was originally published in 2018 and updated. And, no, I didn't actually try all of these. You think a bacon whisperer like me needs to try the bacon to know if it's amazing or not? I can feel the bacon… through the screen. And if you pay close enough attention to this slideshow, you will too.
Image Credit: Fudio / iStock.
Alabama: Bill-E's Small Batch Unsliced Bacon in Fairhope
Let's forget the fact that the internet loves this bacon. What's nice here (apart from how pretty this bacon is) is that you can buy it unsliced, which means that when you cook it, you can make it as thick as you want. I need to go to Fairhope.
Image Credit: Bill-E's Bacon.
Alaska: Alaska Birch Syrup Shoulder Bacon, Butcher Block No. 9, Anchorage
Though thinner than I'd normally like, this shoulder bacon really looks special. Given the cut, it's maybe a bit leaner than the traditional breakfast-style, pork belly bacon, but they've got that too and then some. Their selection of smoked meats in general looks amazing. I need to go to Anchorage.
Image Credit: Butcher Block No. 9.
Arizona: Fresh Jowl & Center Cut Bacon, The Meat Shop in Phoenix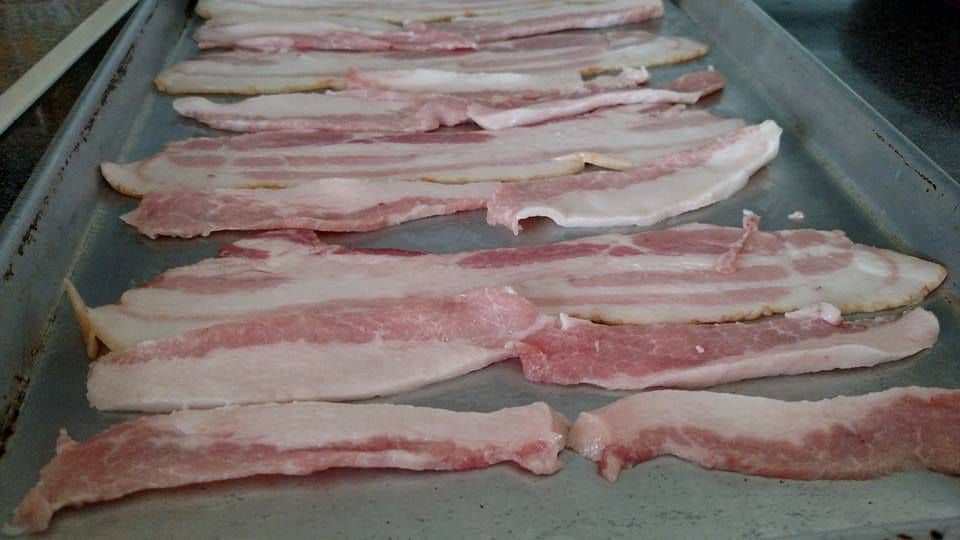 Named the best bacon in town by the Phoenix New Times, the Meat Shop has a bacon history. According to the New Times, "Bacon lovers around town practically weep at the sight of the porcine wonder food in all its glory from the good folks at The Meat Shop in south Phoenix. Who can blame them? The Wilson family has spent 100-odd years breeding and raising pigs, and it is clearly reflected in the caliber of their bacon." I need to get to Phoenix.
Image Credit: The Meat Shop / Facebook.
Arkansas: Bacon, Coursey's Smoked Meats, St. Joe
Bacon is serious business in Arkansas. There's even a signature variety in the state called Arkansas Peppered Bacon. I'm not sure if the folks at Coursey's ever make peppered bacon – they just have a Facebook page and this picture of their menu on Yelp shows no sign – but I can tell that their bacon is legit. People drive hundreds of miles just to go there for their fill of bacon, sausages, ham and sandwiches (which are supposed to be simple but incredible). I need to go to St. Joe.
Image Credit: Coursey's / Facebook.
California: The Bouquet of Bacon, Bacon Bacon, San Francisco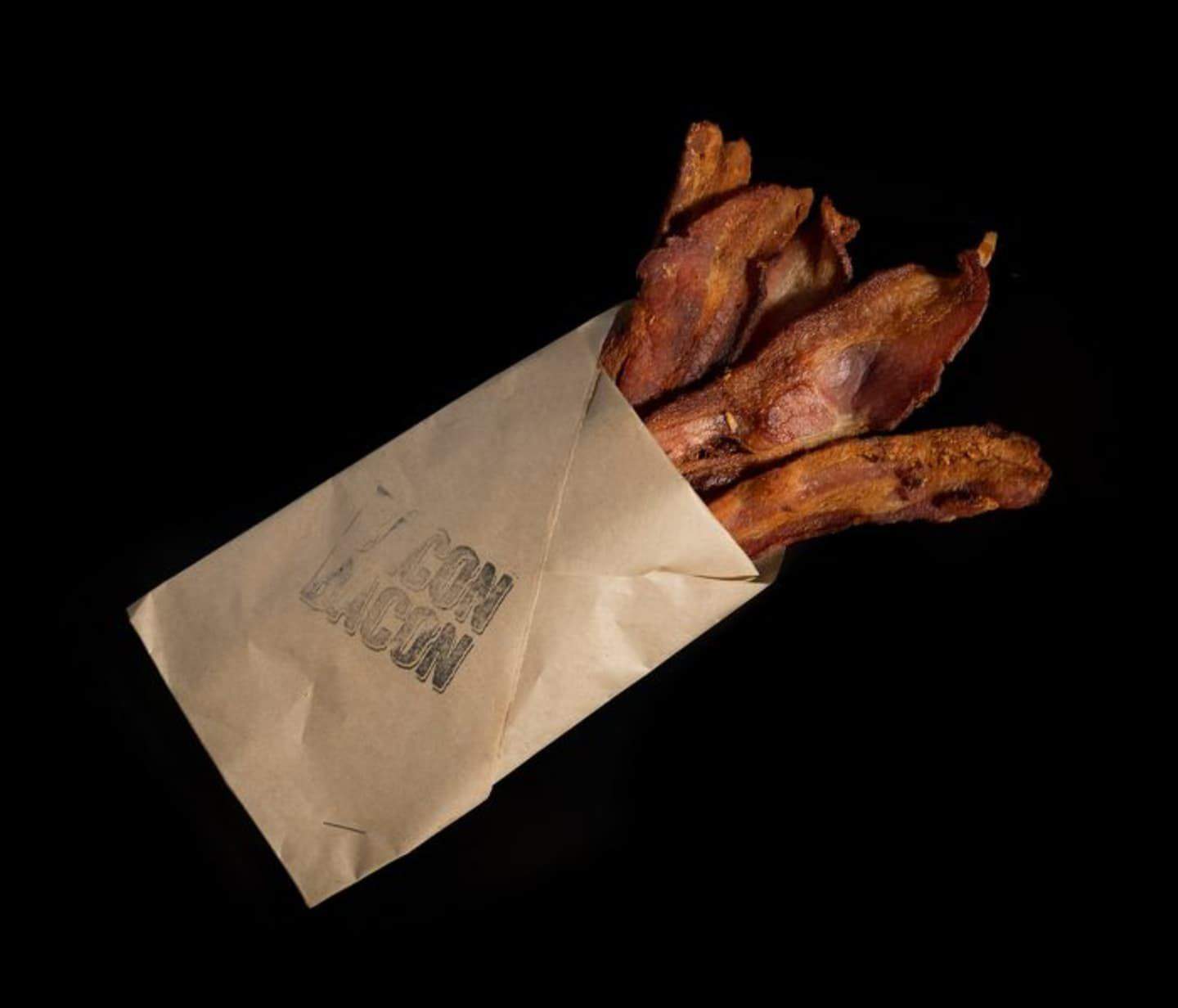 There's just something special about being able to walk into a restaurant and order a bunch of bacon, wrapped in brown paper, and then be able to leave, and wander around aimlessly, eating bacon. Bacon Bacon has no shortage of inventive bacon dishes – their Cuban sandwich looks excellent – but in the end what I really want is the bacon. I need to go back to San Francisco.
Image Credit: Bacon Bacon.
Colorado: Habañero Dry Rub Uncured Bacon, Tender Belly, Denver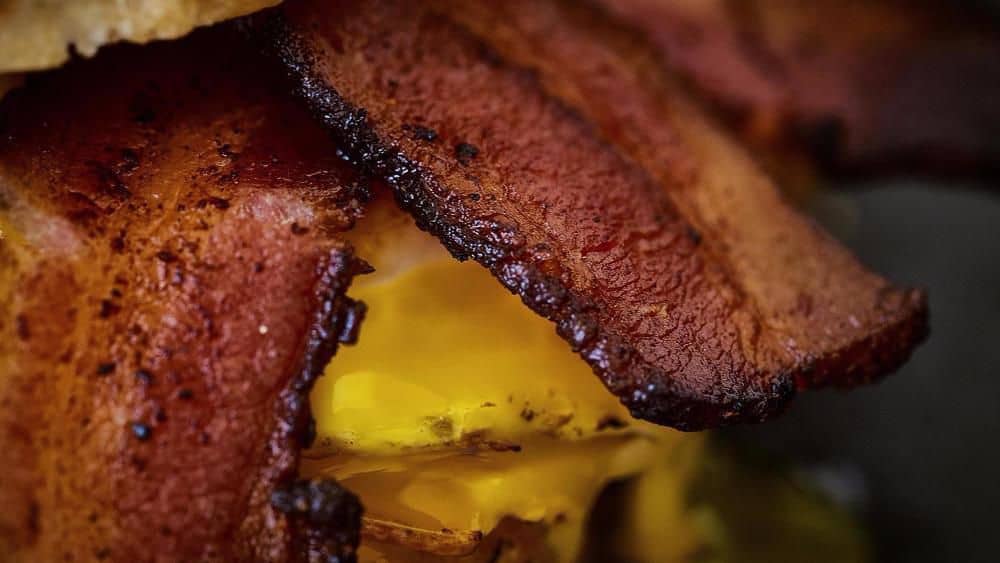 According to their website, Tender Belly gets their bacon from the "ultra-tender bellies of Certified Awesome hogs." They cure it for 12 days, and while I normally opt for bacon flavored bacon, I have it on good authority that a bacon, egg and cheese using the habanero bacon is something I need to try (as soon as I can find some gluten free bread… because I'm so health conscious). FYI, while these guys are based in Denver and are widely available in stores throughout Colorado and beyond, they also have a mail order business. Nevertheless, I need to get to Denver.
Image Credit: Tender Belly.
Connecticut: Juniper Smoked Bacon, Nodine's Smokehouse, Torrington
Apart from the obvious deliciousness here, the juniper smoked bacon at Nodine's has one of the best descriptions I've ever read on a bacon purveyor's site. "This Bacon has no equal in flavor. This is as close as we get to regular bacon and its anything but regular. Overcooking will ruin our good bacons. Cook Responsibly." Yes, ma'am. I need to get to Torrington.
Image Credit: Nadine's Smokehouse.
Delaware: Millionaire's Bacon, Deerfield Golf Club, Newark
So, yes, this bacon is at a golf club (which may or may not appeal to you) and yes, it's called "Millionaire's Bacon" (which, when combined with the golf thing, may or may not be further off-putting). But then there's the fact that it's crispy and infused with chili powder, cayenne pepper and brown sugar. This bacon is what many consider to be the centerpiece of the club's famous all-you-can-eat Sunday brunch – which occurs on select Sundays and is open to anyone, as photographer Richard Sun dutifully documented. I need to get to Newark.
Image Credit: RIchard Sun.
Florida: Mississippi Queen, The Sun Garden Cafe, Siesta Key
Lots of people go to Siesta Key for the beach (it's one of the best in the country), but I have family there and they rave about the bacon at Sun Garden. Now, this article is about bacon, but if there were one food that could elevate bacon, it's fried chicken. The Mississippi Queen dish combines their beloved bacon with their equally beloved chicken and waffles. After you eat, go for a long walk on the beach. I need to get back to Siesta Key.
Image Credit: Sun Garden Cafe.
Georgia: Old Fashioned Heritage Bacon, Pine Street Market, Avondale Estates (outside Atlanta)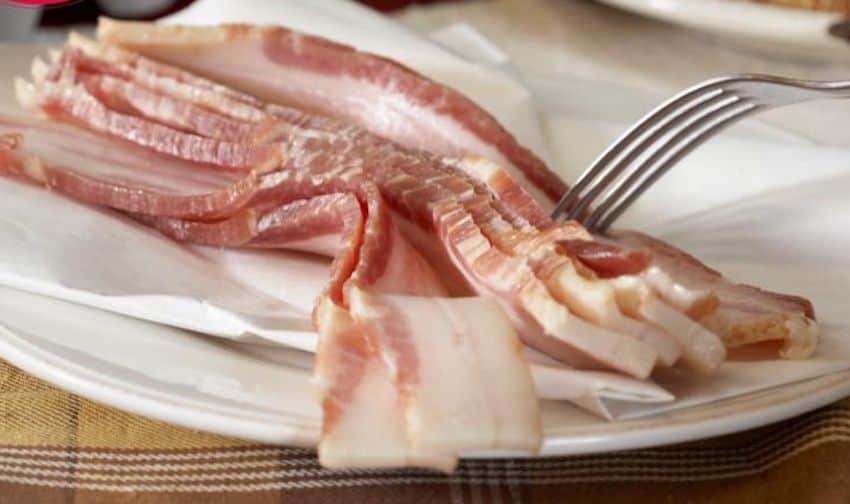 The Pine Street Market's Old Fashioned Heritage Bacon won the 2018 Flavor of Georgia prize. According to their website, "Rather than injecting our bellies with phosphates and curing solution, we use an old-world dry curing method that removes moisture and concentrates flavor." I need to get to Atlanta.
Image Credit: Pine Street Market.
Hawaii: The Bacon Steak, Pancakes & Waffles, Aiea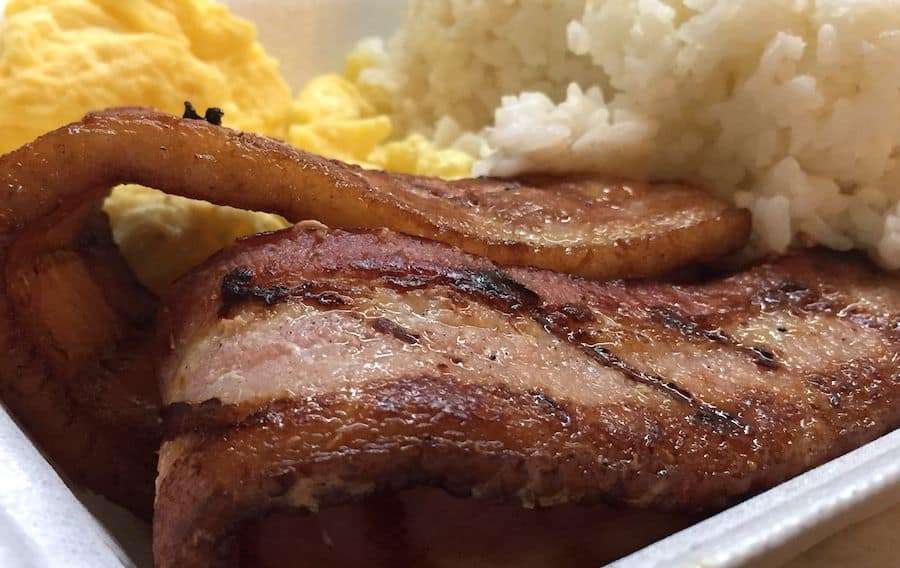 There are lots of reasons why I need to get to Hawaii – too many to list. Now one of them is the Bacon Steak at Pancakes and Waffles in Aiea. I couldn't find it on the menu, but Lee A. Tonouchi's article about it, "Attack of the 50 Foot Bacon" was enough to convince me. I need to get to Aiea.
Image Credit: Lee A. Tonouchi / Frolic.
Idaho: The Mac, Bacon, Boise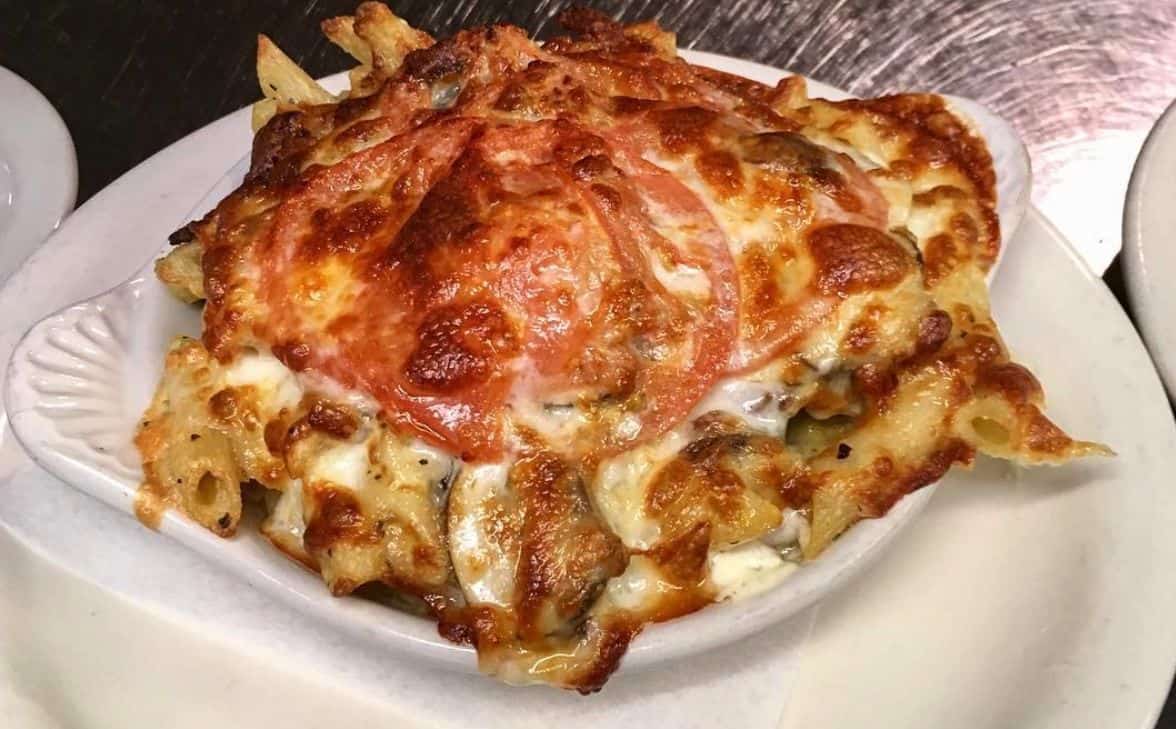 Mac 'n cheese with bacon is nothing new, but the version known as The Mac at John Berryhill's restaurant, Bacon, in Boise, is a cut above. Food & Wine rated it as one of the best macs in the country. I need to get to Boise.
Image Credit: Bacon Boise.
Illinois: Pub Bacon & Slab Bacon, Publican Quality Meats, Chicago
Publican Quality Meats is a butcher, cafe and market, and when it comes to bacon, there are two types: the thick cut pub bacon and the thinner cut slab bacon. You can't go wrong with either, and if you need to eat it immediately, you can always have an order in the cafe and take a package home for later. I need to get to Chicago.
Image Credit: Publican Quality Meats.
Indiana: Applewood Smoked Bacon, Smoking Goose, Indianapolis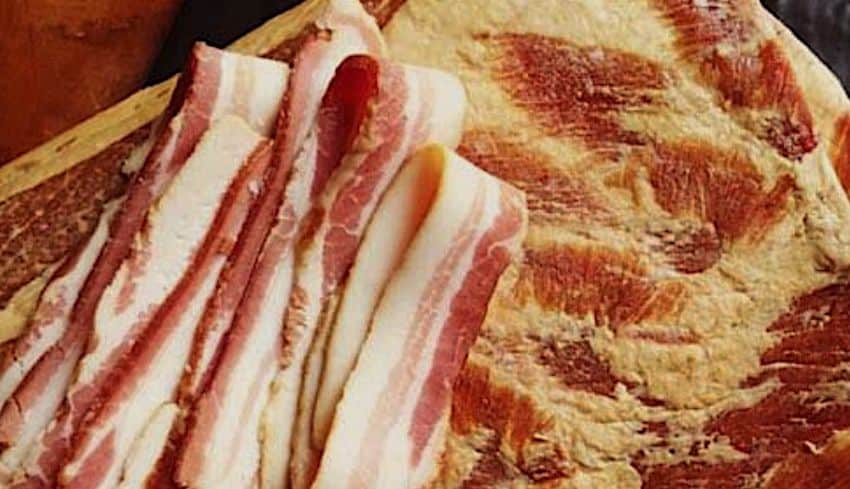 Smoking Goose's Applewood Smoked Bacon gets rave reviews across the country. Their Indianapolis-based "meat locker" is only open to the public once a month and you'll have to sign up for their newsletter to find out just when it happens. Fear not. Goose the Market is open to the public all the time and they've got the good stuff on hand (their bacon is also available through mail order and various stores across the country). I need to get to Indianapolis.
Image Credit: Smoking Goose.
Iowa: Applewood Smoked Bacon, Vande Rose Farms, Waucoma
Journalists have been raving about Vande Rose Farms' artisanal applewood smoked bacon for some time. One publication recently named them best bacon in America. Their bacon is available at butchers and markets throughout the country, or you can just call or email them. That's right. No fancy online store. Just call or email. It's right there on the website. Still, I gotta get to Waucoma.
Image Credit: Vande Rose Farms.
Kansas: Steve's Awesome Bacon, Steve's Meat Market, De Soto
Spend some time perusing the comments on Steve's Facebook page and you'll see posts from shoppers with adjectives like "famous." One local said, "I'm going through withdrawal," after the shop temporarily closed for a short period several years ago. They ship their bacon nationwide but still, I need to get to De Soto.
Image Credit: Steve's Meat Market.
Kentucky: Father's Grilling Thick Sliced Hickory Bacon, Bremen
I like the fact that the folks at Father's call this "Grilling Bacon." It seems appropriate. You certainly could grill it, though you could definitely cook on the stove or better yet, in the oven. I'd really like to sous vide their bacon. In any case, there's a real history at Father's. The farm has been in the Gatton family since 1840, though they began selling country hams – which is what they are also known for – in 1945. I need to get to Bremen.
Image Credit: Father's Country Hams.
Louisiana: Praline Bacon, Elizabeth's, New Orleans
As I mentioned earlier, normally I don't go in for the desert-type bacon. Elizabeth's praline bacon is the exception. This restaurant in the French Quarter knows what they are doing. They've been making this bacon for more than 20 years and the texture is perfect. And it's not really a desert thing. It's a whenever thing. Forget the hurricane's. There's nothing quite as nice as walking around New Orleans with a handful of praline bacon. I need to get back to New Orleans.
Image Credit: Elizabeth's Restaurant.
Maine: Bacon Burger, House of Bacon, Auburn
A bacon themed restaurant that doubles as a comedy club is a concept I can really get behind. But these guys take their bacon really seriously. Take a look at the menu. I'm particularly impressed with their bacon burger. I don't think I've ever seen quite that much bacon on a singe burger (now go ahead, internet … prove me wrong). I need to get to Auburn.
Image Credit: House of Bacon.
Maryland: Bacon on a Stick, Dempsey's Brew Pub and Restaurant, Camden Yards, Baltimore
I suppose if America had two pastimes, they'd be bacon and baseball. Which comes first? Well, if you head down to Oriole Park at Camden Yards, you won't have to choose. The bacon on a stick a Dempsey's, which is right in the stadium, is thick, Hungarian bacon, coated in Old Bay and a maple glaze, and it comes served in a six pack of empty beer bottles. I need to get to Baltimore.
Image Credit: Dempsey's.
Massachusetts: The Breakfast Burrito, The Bacon Truck, Boston
The Bacon Truck is practically a Boston institution at this point – so much so that they've actually opened a Bacon Truck Cafe. If you want to try out the original, it's a moving target but the locations are listed here. If you do go, might I suggest their breakfast burrito. It includes bacon (obviously), pork carnitas, scrambled eggs, tater tots, cheddar cheese, chipotle mayo, avocado and corn salsa. Bacon AND carnitas! I've got to get to Boston.
Image Credit: The Bacon Truck .
Michigan: John Drummond's Granddads Bacon, John Drummond's Smokehouse, Muskegon
John Drummond's Smokehouse has been around since 1913, and though they'll ship their signature Granddads Bacon (and lots more) anywhere in the US, this little corner of the bacon universe is a place I'd like to visit. They'll cut your bacon as thick as you want and as Jon Jakoblich points out in his 2013 review, it's just a few miles from the western shore of Lake Michigan. So, I think a lakeside bacon barbecue is in order. I need to get to Muskegon.
Image Credit: John Drummond's Granddads Bacon.
Minnesota: Steve's Smokey Acres Hickory Smoked Bacon, Steve's Meat Market, Ellendale
This is the second Steve's Meat Market to make the list – the other one is in Kansas. Unlike Kansas Steve's, Minnesota Steve's doesn't appear to do any online sales, which is killing me. People rave about this bacon and truly celebrate the founder, Steve Eaker, who died several years ago. And while they aren't selling online, they are charting new territory when it comes to sales. They are home to the first ever meat vending machine in the state of Minnesota. I need to get to Ellendale.
Image Credit: Steve's Meat Market / Steve's Smokey Acres.
Mississippi: BBB Bacon, Big Bad Breakfast, Oxford
According to the Big Bad Breakfast website, "Chef John Currence always had a love affair with breakfast." Lucky for us he's sharing that love affair with the world. Folks from near and far rave about this spicy, house-cured Tobasco and brown sugar bacon. Big Bad Breakfast now has five locations, including restaurants in Alabama and Florida . Still, I think I owe it to everyone to visit the original. I need to get to Oxford.
Image Credit: Big Bad Breakfast.
Missouri: Hickory Smoked Bacon, Woods Smoked Meats, Bowling Green
Among the cornucopia of smoked meats at Woods Smoked Meats, which has been around for 70 years, their Hickory Smoked Bacon is a real standout (though their Applewood Smoked Bacon is no slouch either). According to their websites. it's won more than 20 awards, and has been recognized as a "German Silver Medalist," and a "National Grand Champion." I need to get to Bowling Green.
Image Credit: Woods Smoked Meats.
Montana: Willie's Montana Honey Moonshine Bacon, Maddison Smokehouse, Ennis
Maddison Smokehouse's Honey Moonshine bacon gets it's name because it's brine includes a "generous helping" of Willie's Montana Honey Moonshine, courtesy of Willie's Distillery, which is also located in Ennis. According to the Maddison Smokehouse website, "The meat takes on flavor from the moonshine's three Montana grains, molasses and of course, honey. It comes out a little sweet with a spirited twist." I need to get to Ennis.
Image Credit: Madison Smokehouse.
Nebraska: Hickory Smoked Bacon, Frank Stoysich Meats, Omaha
The Stoysich family has been in Omaha since 1916, when Thomas Stoysich emigrated from Hungary and began working in the city's meat packing houses. He opened Tom's Market in 1949 before selling the business to his son, Frank, in 1960. When Frank Sr. died in 2011, Frank Jr. took over. The locals love the hickory smoked bacon and so much more. In fact, take a look at their testimonials page. You'll find plenty of adoring fans, and pictures of a number of deployed soldiers sporting Frank Stoysich t-shirts overseas. I need to get to Omaha.
Image Credit: Frank Stoysich Meats.
Nevada: Bacon, Egg, Cheese and Jalapeños on Toast, Blondie's Bacon Creations, Las Vegas (and beyond)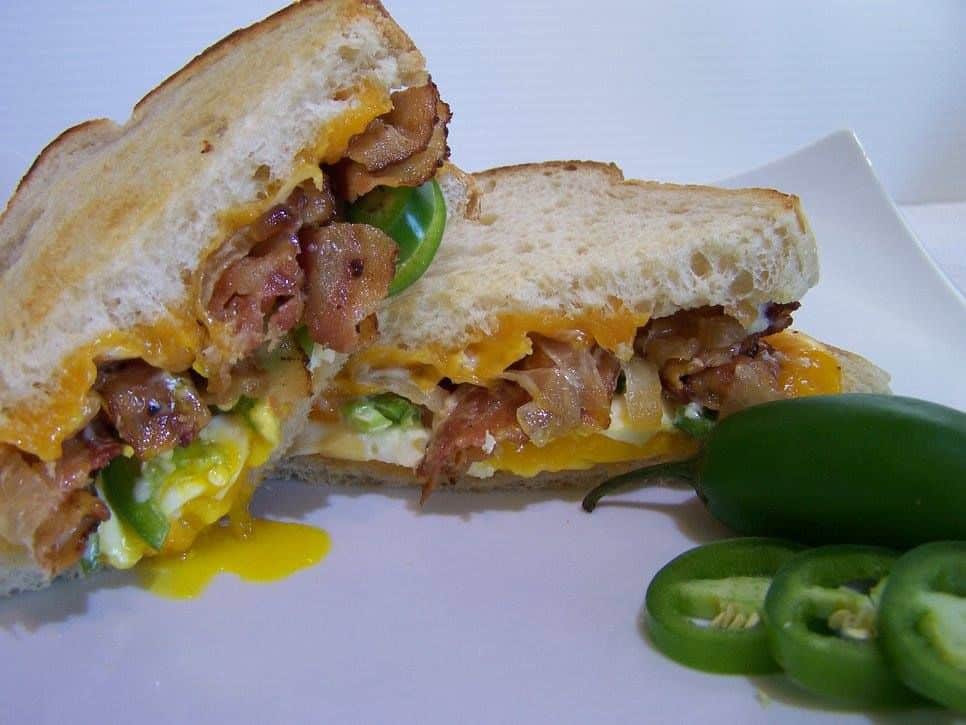 Blondie's Bacon Creations is a food truck that spends a good amount of time in Las Vegas, but they hit other spots too (people hire them for parties). They don't have a functioning website, but their Facebook page is full of pictures of their bacon creations. A good bacon, egg and cheese sandwich is a work of art and theirs, with a still dripping fried egg, not to mention fresh jalapeños, is the real deal. I've got to get to Vegas.
Image Credit: Blondie's Bacon Creation.
New Hampshire: Cob Smoked Bacon, North Country Smokehouse, Claremont
There are too many amazing bacons to choose from at the North Country Smokehouse. There's Applewood Smoked Bacon, Canadian Bacon, Cottage Bacon, Fruitwood Uncured Bacon, Pea Meal Bacon and Peppered Bacon. My pick, however, is the Cob Smoked Bacon. According to the North Country Smokehouse website, "In Northern New England, corn cob smoking was passed on to settlers by the area's native Abenaki people as a natural way to preserve meat. Each fall, farmers harvested rows of corn and piled them into tall, wire-meshed corn cribs where the sun and breeze would dry them. Then they built slow-burning fires in smokehouses fueled by the dried cobs, where they hung freshly cured pork from pigs they raised themselves." Now that's some bacon history for you. I need to get to Claremont.
Image Credit: North Country Smokehouse.
New Jersey: Mangalitsa Bacon, Mangalitsa by Møsefund, Branchville
They call Mangalista the Kobe beef of pork, and it's a well deserved moniker. If you've had the good fortune to try this stuff, you know what I'm talking about. If you haven't, go ahead and order some. The bacon is bananas, as is everything else. You'll find their meat for sale online as well as at regional farmers market and restaurants in the know. Møsefund Farm is in rural New Jersey, about 70 miles from New York and their Mangalista pigs "are raised without beta-agonists or hormones, are antibiotic free, contain no trans-fat, and are fed a natural diet." I need to get to Branchville.
Image Credit: Mangalitsa by Møsefund.
New Mexico: Bacon Cinnamon Roll, Bacon Jam, Albuquerque
I believe that in a manner of speaking, all diners are bacon themed, but Bacon Jam is a diner that is truly all about bacon. There are several bacon infused dishes. There's bacon batter pancakes, maple bacon french toast… and even something called the Defibrillator. Two strips of deep fried bacon with a side of bacon gravy. But the one that stands out to me is the bacon cinnamon roll. The perfect salty and sweet combo. I need to get to Albuquerque.
Image Credit: Bacon Jam / Facebook.
New York: Luger's Sizzling Bacon, Peter Luger Steakhouse, Brooklyn
This is an impossible choice for me. There are so many fabulous purveyors of bacon throughout the state, and equally amazing bacon dishes. But for me, the ultimate New York bacon experience is at Peter Luger, an old-world, Brooklyn steakhouse founded in 1887. Their bacon comes extra thick cut, broiled and sizzling on a plate. You order it by the slice as an appetizer before you get your huge and equally impressive steak. When I first ate there about 15 years ago, it was really the first time I experienced this kind of bacon appetizer. Just a big piece of bacon. It changed my life. There are other great New York steakhouses that do bacon like this, but for me, none will ever match Luger's. They were my first.
Luger's does sell bacon in packages now. You can order it through the mail and some grocery stores carry it. It's quite good, but it's not the same as the stuff in the restaurant. It seems thinner and you typically can't really cook it the way they do. Also, keep in mind it's hard to get a reservation at Luger's, which I recently learned … twice. You need to call weeks in advance. You can also opt for lunch (they serve the same stuff for lunch) or try to get a table at the Long Island location. Still, I need to get back to Brooklyn.
Image Credit: Peter Luger Steakhouse.
North Carolina: Smoked Bacon, Nahunta Pork Center, Pikeville & Raleigh
North Carolina is definitely bacon country. There's lots to choose from down there. But Nahunta Pork Center is like a pork super-store. It's like if Walmart just sold pork. They have every cut imaginable but their bacon is a standout. You pick your slab and then they cut it to order and box it up for you. I went to camp in North Carolina when I was a kid and I'm pretty ticked off that we never stopped here. They have two locations, in Pikeville and Raleigh, though sadly they don't ship products that require refrigeration. So, I guess I need to get down to Raleigh (or Pikeville).
Image Credit: Nahuta Pork Center.
North Dakota: Honey Pepper Bacon, Schweitzer's Gourmet Meats, Moffit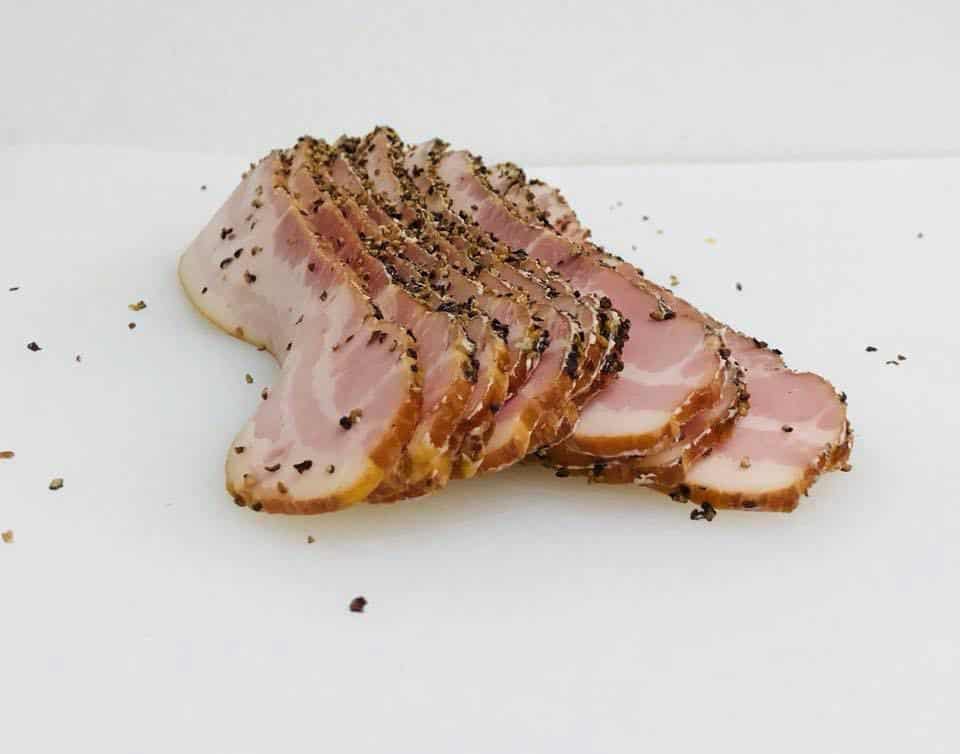 The honey pepper bacon at this family business comes thick cut and made with love. The Schweitzer family farm is relatively new but it represents a real dream come true. Their website notes, "From even before Travis and Trina Schweitzer were married in August of 1997, Travis had always wanted to open a butcher shop. For Trina, it never quite seemed like the right time, until they moved out to their 40-acre spread in January of 2015. Both Travis and Trina have always shared a desire to do something that would allow them to work side by side with their 7 children and teach them the values that they were given as kids." Sunday brunch at their house must be amazing. I need to get to Moffit.
Image Credit: Schweitzer's Gourmet Meats.
Ohio: Espresso Maple Bacon, 1803 Bacon, Columbus
This artisanal bacon company in Columbus was founded by four buddies who started making bacon in their backyard several years ago. Now 1803 Bacon comes in more than 30 flavors, both savory and sweet, including rosemary orange balsamic, maple bourbon and porter brown sugar, among others. According to their website, however, the number one flavor is maple espresso. Now, you might be wondering, why 1803? Well, 1803 was the year that Ohio achieved statehood. I need to get to Columbus.
Image Credit: 1803 Bacon.
Oklahoma: Homemade Dry Cured Tamworth Bacon, Bacon Acres Farm, Jay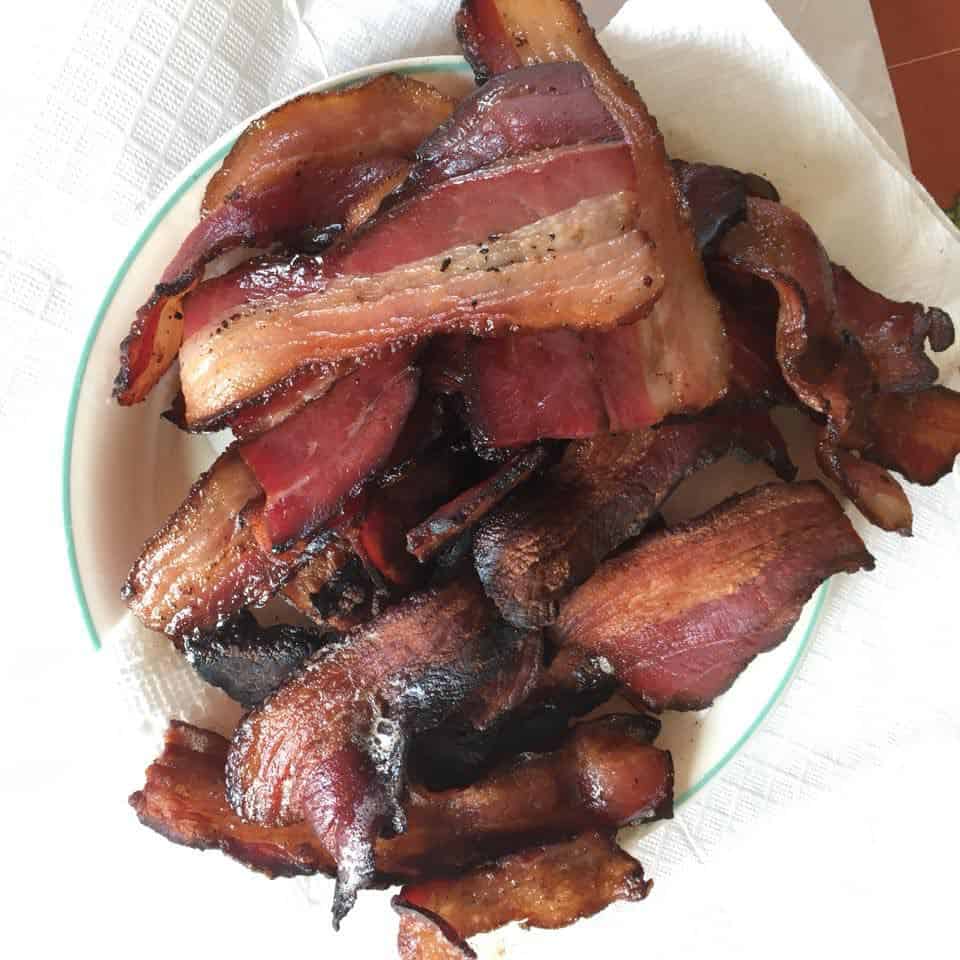 Bacon Acres Farm is a family farm in northeast Oklahoma and was founded in 2012. They raise Tamworth pigs exclusively – a rare breed that's known for being ill suited for typical factory farming environments. Bacon Acre Farms is far from typical. According to their website, "Workers do not use loud voices or strike animals. Electric prods are never used. Animals are migrated when moved rather than chased and allowed to self-load and unload on trailers when required. Piglets are minimally processed and needle teeth are not clipped and tails are not docked. At Bacon Acres Farm, animal quality of life is preferred over rapid growth and great taste over modern refinements." Check out their Facebook page for photos and videos. The resulting meat – the bacon in particular – has earned it's reputation as some of the best there is. I need to get to Jay.
Image Credit: Bacon Acres Farm.
Oregon: Alder Smoked Bacon, Otto's Sausage Kitchen, Portland
There's plenty of applewood and hickory smoked bacon out there, but alder smoked bacon is a bit more unusual. It tends to impart a slightly sweeter and more mild smoke taste, and the variety at Otto's Sausage Kitchen is quite well regarded. One of their fans commented on their Facebook page, "We decided to purchase some of your bacon when we stopped by yesterday. I cannot believe we took so long. Why did you not tell us- no, INSIST we buy some earlier?!" I need to get to Portland.
Image Credit: Otto's Sausage Kitchen.
Pennsylvania: Smoked Bacon, S. Clyde Weaver, East Petersburg
When I asked a friend from Philly for bacon recommendations in Pennsylvania, her response was, "Weavers at the Lancaster County Farmer's Market. Their bacon is THE BEST! No competition." Here's how Weaver's describes it on their Facebook page: "Smoked in-house to provide the best quality possible. A bacon that doesn't cook down and is not all fat. Once you try our bacon you and your family will not be able to eat any other kind!" Weaver's has two locations and is also for sale at eight farmers market locations. I need to get to East Petersburg.
Image Credit: S. Clyde Weaver.
Rhode Island: Three Little Pigs, Krakow Deli, Bakery & Smokehouse, Woonsocket
If you're unacquainted with the sheer awesomeness of the Polish grocery story, I suggest you address that. Having lived in Brooklyn for a while, I've visited no shortage of these shrines to pork. I've always loved smoked pork tenderloin, but the nice people at Krakow in Woonsocket have invented a new dish that's now on my bucket list. It's called The Three Little Pigs and it includes two types of kielbasa as well as bacon, sauerkraut, apples, brown sugar, and onions. If you go, be sure to call ahead to make sure they've made it. I need to get to Woonsocket.
Image Credit: Krakow Deli, Bakery & Smokehouse.
South Carolina: Pepper Coated Hickory Smoked Bacon, Four Oaks Farms, Lexington
People who love Four Oaks Farms REALLY seem to be devoted. "Just ordered some grits, bacon, etc. for us Carolinans-in-exile in Oregon. Wish we could order some of your fresh foods! Can't wait until we're back for our next visit," wrote one fan on their Facebook page. "These folks make an amazing 'pepper coated bacon.' When combined with fresh tomatoes and an above average bread the results are just amazing," wrote another. I need to get to Lexington.
Image Credit: Four Oaks Farms.
South Dakota: Smoked Bacon, Hudson Meats and Sausage, Hudson
Hudson Meats and Sausage prides itself in that their facility is "not only USDA inspected but also organically certified, and an animal welfare approved plant." In addition to processing meats that you bring in, Hudson sells its own line of meats and their bacon gets solid reviews. According to this write up in EnjoyingSouthDakota.com, "The flavor is mild and delicious. It is tender and almost melts in your mouth. This would be perfect in a BLT with fresh tomatoes right off the vine, my mouth is watering." I need to get to Hudson.
Image Credit: Hudson Meats and Sausage.
Tennessee: Hickory Smoked Country Bacon, Benton's Smoky Mountain Country Hams, Madisonville
Plenty of people make the pilgrimage to Benton's store in Madisonville, but they also ship anywhere in the U.S. They've been around since 1947 and they have plenty of devotees, like this commenter on their Facebook page: "We buy the bacon over the phone and have it shipped to California. Without a doubt the most delicious bacon on the planet…our last order was 40 pounds!" There are a few options, when you buy. Their hams and bacon are "available either unsmoked or hickory-smoked. Hickory smoking is performed in a small, wood stove smokehouse behind the business, imparting a distinct smoked flavor that many customers prefer." I need to get to Madisonville.
Image Credit: Benton's Smoky Mountain Country Hams.
Texas: Hatch Chili Bacon, Bear Creek Smokehouse, Marshall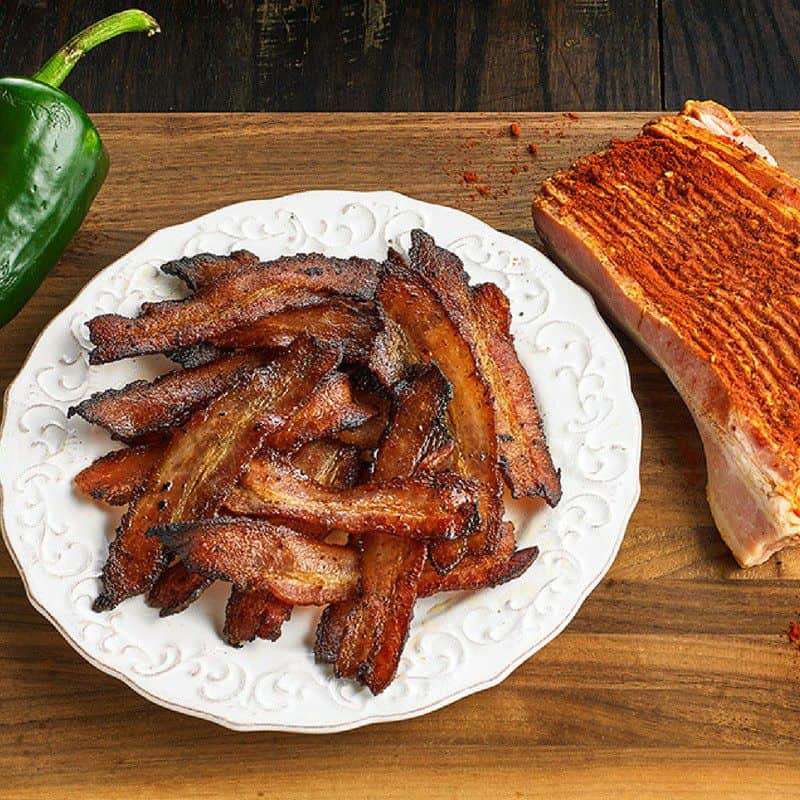 Starting in 1943 with just a few smoked turkeys, the Shoults family started Bear Creek Smokehouse. Since then, there have been a total of five generations of Shoults involved in the business, which has grown and now operates a 43,000 square foot facility, producing a wide array of products, including a few different types of bacon. They've been featured on a number of televisions shows, including The Rachel Ray Show and I'm interested in their Hatch Chili Bacon. Here's how they describe it: "With a hint of sweetness mixed with a touch of heat, this Hatch Chili Bacon is the perfect option when you want the familiarity of regular bacon but kicked up a notch!" I need to get to Marshall.
Image Credit: Bear Creek Smokehouse.
Utah: Sugar-Free Bacon, Christiansen's Family Farm, Fairfield
The people at Christiansen's Family Farm are passionate about pork. Here's how they describe the environment in which their Berkshire pigs live: "This may sound goofy, but our pork is an artistic expression of our passion for quality food. The combination of pig breed (genetics), premium GMO free feed, natural stress-free environment, and humane handling help create pork that is the finest available." What's nice is that they offer a sugar-free bacon, which also happens to be their most popular variety. They ship their bacon and have local pickup in Utah, Arizona and Las Vagas. I need to get to Fairfield.
Image Credit: Christiansen's Family Farm.
Vermont: Cob Smoked Maple Coated Bacon, Dakin Farm, Ferrisburgh
We learned about cob smoked bacon back in New Hampshire (it's a New England thing). Dakin Farm, a Vermont institution for more than 50 years (though the farm was originally settled by Thomas Dakin in 1792), takes it to the next level and literally sweetens the deal with their maple coated bacon. There's so much good stuff to eat at this place it will make your head explode. Just don't forget the bacon. I need to get to Ferrisburgh.
Image Credit: Dakin Farm.
Virginia: Smoked Bacon, Jeb's Meat Market & Diner, Carrollton
This was a tough one. Jeb the Butcher, as he's known on Facebook, is the proprietor of Jeb's Meat Market and Diner and he makes a few different types of bacon. His traditional smoked bacon is what I'd try first because just look at it. But he also makes a leaner cottage bacon, which is what they typically eat over in England. He's also got a ton of educational videos that are just great. I need to get to Carrollton.
Image Credit: Jeb's Meat Market.
Washington: Slab Bacon, Bavarian Meats, Seattle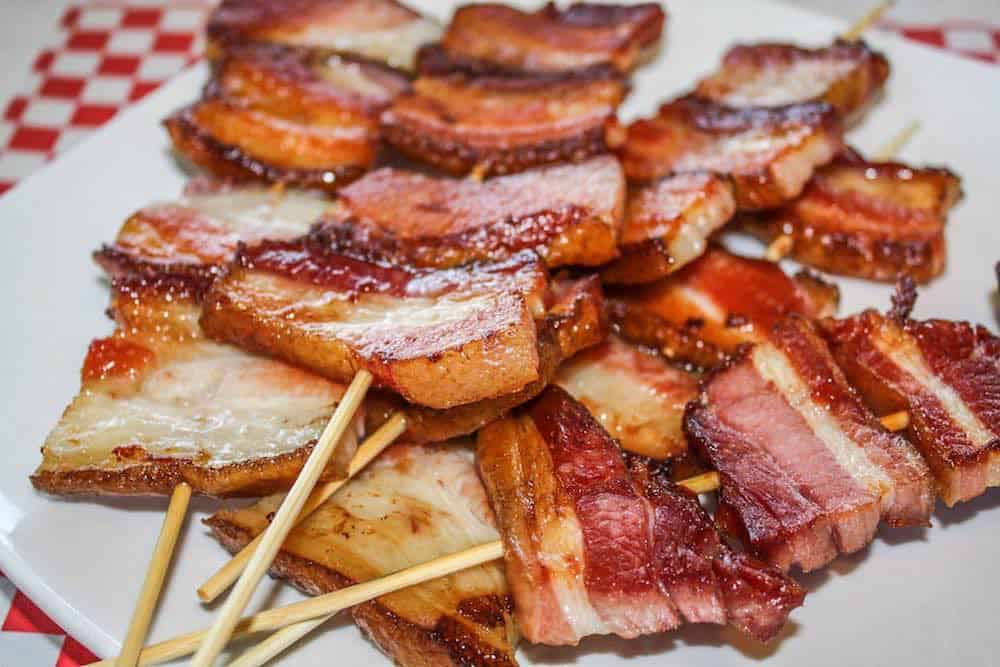 If you've ever been to Pike's Place Market in Seattle then you probably remember the abundance of smoked fish. But if you're paying attention then you'll notice that there is some pretty stellar smoked pork there too. Bavarian Meats says they've been "Seattle's Hometown Bacon Since 1961" and if there's really no reason to doubt them. When you visit, order up some slab bacon to go, but don't forget to get the bacon on a stick to eat while you wait. You should probably also order some bratwurst. I need to get to Seattle.
Image Credit: Bavarian Meats.
West Virginia: Jowl Bacon, Swift Level Fine Meats, Lewisburg
Jowl bacon comes from the cheeks of the pig and as you can see it tends to be a bit fattier. It's also often sweeter than pork belly bacon. The Italian variety of jowl bacon is called guanciale and can be quite pricey. The folks at Swift Level Fine Meats, which just opened for business in 2017, have both traditional and jowl bacon. Their jowl bacon looks particularly delectable though, and based on the overall reception they are getting on Facebook, it really seems like you can't go wrong there. I need to get to Lewisburg.
Image Credit: Swift Level Fine Meats.
Wisconsin: Hickory Smoked, Honey Cured Bacon, Nolechek's Meats, Thorp
Wisconsin is bacon country and Nolechek's has some serious competition (not the least of which, the high-end bacon powerhouse Neuske's). Nolecheck's won the 2015 grand championship for bacon for the state of Wisconsin and as the review BaconScouts.com notes, "It is a phenomenal bacon and you won't be able to contain yourself once you try it." Thankfully they ship because their hickory smoked, honey cured bacon looks just amazing, as do a few other things on their website. I need to get to Thorp.
Image Credit: Nolecheck's Meats.
Wyoming: Bacon, Wyoming Legacy Meats, Cody
There's just one type of bacon for sale on the Wyoming Legacy Meats website. It's simply called bacon. It just so happens that it's dry cured and applewood smoked for an entire week. Interestingly, the owners of Wyoming Legacy Meats (which opened for business in May of 2017) are both doctors. Dr.s Frank and Catherine (Caety) Schmidt – an orthopedic surgeon and anesthesiologist, respectively – said they started the company because they wanted more people to have access to naturally produced meats. "As a physician, I am deeply concerned about nutrition and how it affects the longevity of the human body. In my own family, we have had the ability to feed our children natural beef that we raised, and natural 4H raised pork and lamb …. The people of Wyoming have a very special gift to give the world." Frank is quoted on the Wyoming Legacy Meats website. Anyone who's been to Wyoming knows it's a special place, and at the risk of sounding cornier than the good doctor, this bacon looks pretty special too. I need to get to Cody.
Image Credit: Wyoming Legacy Meats.
In closing…
I want to thank you for joining me for this bacon journey. There's a ton of great bacon all over this country and we've only just scratched the surface. If you're overwhelmed by all this bacon (and I sure as heck am), check out this article we did about 13 tasty bacon substitutes. Don't worry, meat eaters, it's not all vegan stuff. There is some of that but there's also prosciutto. Until next time, bacon lovers…
This article was syndicated by MediaFeed.org.
Image Credit: joannawnuk / iStock.
The post The best bacon in every state appeared first on mediafeed.
Latest posts by Guest Post
(see all)