Julei sent me a mailer she received through my junk mail program.
She said,"
I usually don't fall for this crap but this one really got me because it looks so real. Theres a hand written note. The only reason I felt it was fake is that the "email" mentions my name way too many times. I hope this helps someone. I have no info besides its send from Illinois…its also hand stamped which seemed odd but you may know why."
So let's take a look.
The envelope is as plain as it gets. The address PO Box 5031 #49945, Evanston, IL 60204. That address is associated with the virtual mailing service, Earth Class Mail. They are a mail receiving service and have nothing to do with debt relief.
So besides the envelope not identifying the company, it is hidden further with the address.
The letter in the plain envelope seems to make the sales pitch for a debt settlement solution since it pitches a single payment with an apparent debt reduction.
The mailer is obviously attempting to create a limited offer connection with the reader but it really winds up not saying much at all.
It pretends to be an email by a Mike Allen at 877-289-2910 and even says at the bottom that it is an email.
The absolutely safest thing you can do if you receive an advertising mailer like this is following my guides below to check out the company and make sure you know who you are dealing with.
You have to ask yourself if a business will work so hard to hide their identity and facts when trying to sell you something, how honest will they be when you become a client.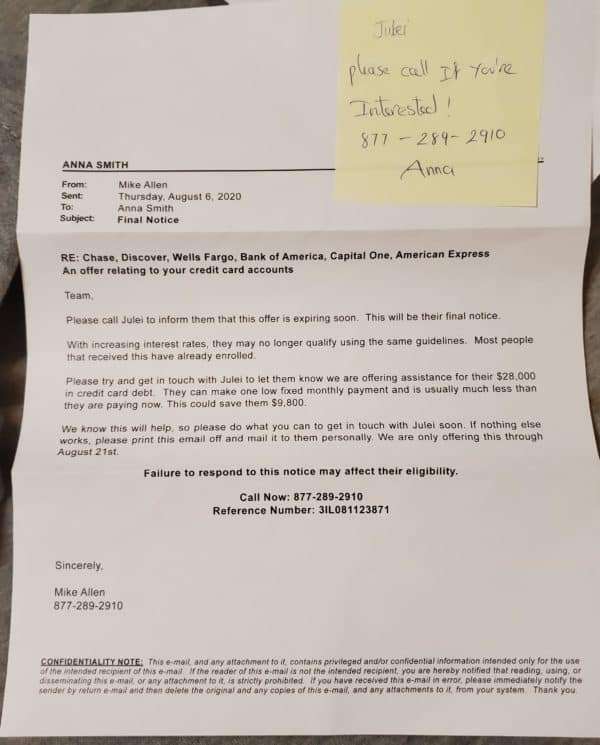 I would recommend that anyone considering using such a company should read the following free guides.

Latest posts by Steve Rhode
(see all)