Question:
Dear Steve,
Started a debt settlement program with a company called Option 1 Legal to settle about $25k in credit card debt.
The company claims they are a law firm and thus entitled to upfront fees in estimation of $7,530 for a retainer fee, monthly legal administration fee, and service costs that are deducted out of the monthly payments I make into a third party account totaling about $440 a month.
The company claims that first settlements happen between 7-9 months, and as of now, I have been in the program for a year, paid out a little over $5k, and have not had any settlements on any of my accounts.
Each month, they continue to take out the fees for their services, totaling over $4k to date, and I am afraid I have signed up with a settlement company masquerading as a law firm to collect upfront fees, and then hoping you drop out of the program for their lack of service.
I have been calling them for two weeks trying to see who is working on what, and so far it has been service reps who claim their "negotiations department" is working on getting me a settlement.
To date, I still have nothing except that they are trying to work something out with my largest creditor (Bank of America) because they say they are the most aggressive when I think it is a stalling tactic to keep me in the program longer.
Is there a best way to try to go about getting my money back? Is it a loss at this point and would I be better off trying to report the company to the FTC, my attorney general, and the BBB? What would you say the best course of action is?
James
Answer:
Dear James,
My first option is always to communicate directly with the company and attempt to work out any disappointment and dissatisfaction with any service received.
Sometimes problems are the result of company self-inflicted wounds like poor communication, not sharing information, and not explaining clearly to the customer what is going on.
I would suggest you look at my guide How to Get Your Money Back From a Debt Relief Company if You Feel Like You've Been Scammed.
You made an observation that it feels like the company is taking upfront fees. They might be. One of the loopholes or exceptions to take client payments as fees before settling debts is the attorney loophole under the Telemarketing Sales Rule.
So if that's the case let's see what we can learn about Option 1 Legal.
On the bottom of their website it does say "Option 1 Legal is a law firm." It also says, "Each of the lawyers on this site are either Managers, Members, Partners, Limited Partners or staff attorneys."
It is interesting that the menu options at the top of the site don't mention debt settlement. They are bankruptcy, FDCPA, real estate, and consumer litigation.
The site says the company is located at 10440 Little Patuxent Parkway, Suite 300, Columbia, Maryland 21044​. That appears to be a virtual office address. – Source
The owner of Option 1 Legal is Gardner Legal, LLC and Phiona Gardner. A Gardner Legal was named in this suit.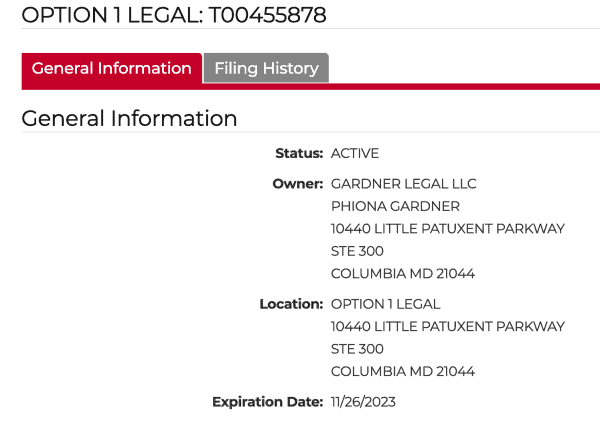 However, Option 1 Legal is not a company but a registered tradename in the State of Maryland. – Source
Phiona Gardner is a licensed attorney in Maryland.
I don't know what state you live in but keep in mind that an attorney can only provide you with legal advice and representation if they are licensed in your state.
Ask Legal 1 Legal who is the licensed attorney in your state that is representing you and feel free to raise your customer service concerns with them to see if they can help you resolve the issues.
I did find the BBB has raised some concerns about Option 1 Legal. The BBB says:
"Pattern of Complaints:
BBB files indicate that this business has a pattern of complaints alleging:
Lack of transparency when a potential client seeks information on the services Option 1 Legal provides (debt relief vs. debt consolidation vs. debt settlement)
In-home appointments are attended only by a notary public and not a representative of Option 1 Legal
Failure to provide copies of signed contracts or agreements at the time of or following the appointment with the notary
Failure to respond to phone calls/emails from consumers seeking assistance with their situation
Results were not achieved in the advertised timeframe
Complainant continued to be charged after cancellation."
Business Alert:
In June 2019, consumers began submitting complaints that allege misunderstanding of the company's business model (debt relief vs. debt consolidation vs. debt settlement). On 3/18/2020, BBB sent an email to the business with the following questions to better understand the business model.
Are there any DBA's (Doing Business As) of Option 1 Legal? If so, please list them.
On what date did your business serve its first customer?
Please list any websites affiliated with your business.
Please provide a copy of any advertising and or promotional materials used in any media at any time in the past 30 days (print, TV, radio, and Internet–including on social media such as Facebook or blogs).
Provide screenshots of all website pages containing representations regarding the credit restoration and debt settlement services the company will provide, used at any time in the past 30 days.
Provide sample copies of all written agreements with consumers used at any time in the past 30 days.
Provide all consumer disclosures that explain fees.
Detail the procedures in place to ensure that fees are not paid by consumers until they have achieved any promised improvements in credit ratings, scores, reports, or amount of debt.
Provide scripts for telephone operators and other employees or independent contractors used at any time in the past 30 days.
Provide names and contact information for any sub-contractors used at any time in the past six months in marketing and/or providing services to consumers, including a statement of each sub-contractor's role.
Complainants name (other businesses) in their complaints. Please describe your relationship with each of these companies.
Provide copies of the 10 most recent complaints received by the business from or on behalf of consumers as well as the business' response to those complaints. Personally identifiable information may be redacted.
Provide a copy of your license with the Maryland Commissioner of Financial Regulation (details about those requirements can be found at this website: http://www.dllr.state.md.us/finance/advisories/advisory11-08credit.shtml)
On 4/13/2020, the business provided the following responses to questions 1, 2, 3, and 5:
1. There are no DBAs of Option 1 Legal.
2. The first client was serviced sometime after 3/22/18.
3. The firm's website is https://www.option1legal.com
5. The answer for #3 speaks for itself.
The business declined to respond to the remaining questions.
Based on the information detailed above, BBB cannot state with confidence that we have a clear understanding of the business model and practices." – Source
Bottom Line
As I first mentioned, I always like to give the company in question the first shot at fixing their customer service problems before escalating things.
It appears from the BBB there are some concerns that are troubling and the reality is you may have to follow my guide How to Get Your Money Back From a Debt Relief Company if You Feel Like You've Been Scammed if Option 1 legal fails to address your issues.
The BBB currently gives Option 1 Legal and F rating and the complaints seem to be rolling in.
I have no idea what is going on with Option 1 Legal but it certainly appears that customer service issues abound.
As Mackenzie C said, "I tried this service. It was terrible, and I thought it would be fine, but when I tried to withdraw my money and get out of the program, instead of refunding me like the CONTRACT says it would, they took all of my money out of the account and are refunding me $125 instead of over $3,000. No one ever reached out to me to try to explain. This company is fraudulent. Do not sign up for this program." – Source
If you have a positive experience with this company after you try the steps above, please come back and post an update in the comments section below.
Sincerely,

You are not alone. I'm here to help. There is no need to suffer in silence. We can get through this. Tomorrow can be better than today. Don't give up.
Do you have a question you'd like to ask me for free? Go ahead and click here.

Latest posts by Steve Rhode
(see all)