A reader sent in this marketing mailer through my I Buy Junk Mail program and said, "I found this to be confusing and unclear as to what is being offered, and fine print regarding fees. Not planning to explore this one."
In fairness to the superhero-sounding lender "The Meridian Team of Supreme Lending" it appears when you wade through the fine print, they do spell out what they are offering. But from a debtor perspective and from my experience in writing about many shady debt relief mailers that pretend to be a loan but then turn into something else, it is confusing.
As I sat and pondered why it was confusing, my opinion is the $0 credit card debt sales pitch. It just feels as if it mirrors so many of those other offers out there.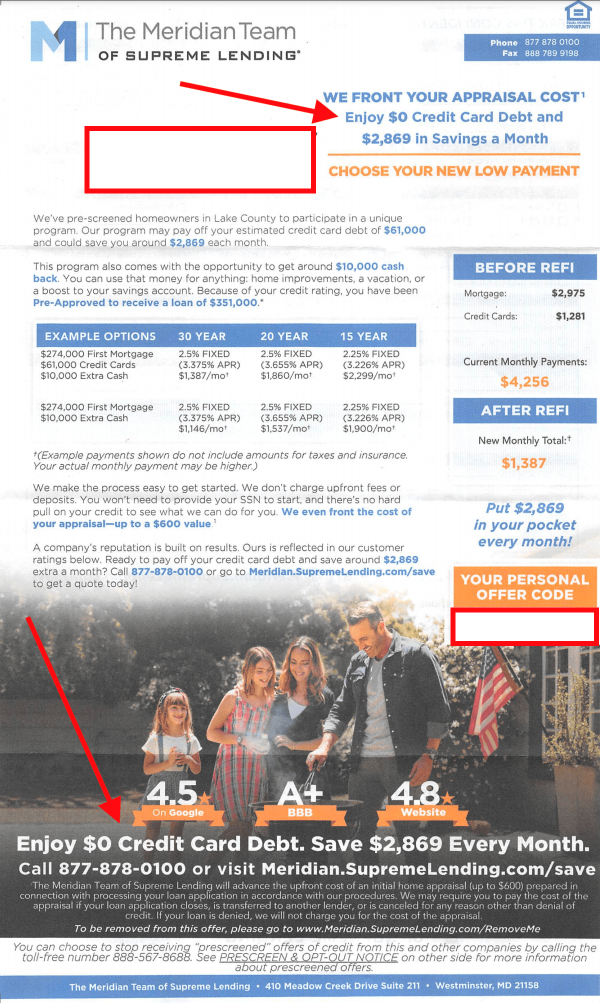 Once you weed through what I felt was a misdirection that unfortunately wound up looking like something scammy, the offer appears to be for mortgage cash-out refinance.
There are plenty of disclaimers on the mailer but not more than most.
The fine print says the example payment does not include taxes and insurance and it has the typical warning that says, "Pre-Approval is not a guarantee/commitment to lend. Subject to satisfactory property appraisal, verification of application information, satisfying all underwriting conditions and no changes to the borrower's credit rating or financial position. Interest rates may change or not be available at the time of loan commitment or lock-in. Example monthly payments do not include amounts for escrow (taxes and insurance). Actual monthly obligation may be higher. By refinancing your existing loans, your total finance charges may be higher over the life of the loan."
The offer to front the appraisal cost comes with this disclaimer, "The Meridian Team of Supreme Lending will advance the upfront cost of an initial home appraisal (up to $600) prepared in connection with processing your loan application in accordance with our procedures. We may require you to pay the cost of the appraisal if your loan application closes, is transferred to another lender, or is canceled for any reason other than denial of credit. If your loan is denied, we will not charge you for the cost of the appraisal."
So the potential gotcha here is if you submit the loan application, are not happy with the eventual interest rate available, and then cancel. It appears you could then be charged $600 for an appraisal. Interestingly, the fine print does actually say the appraisal has to be completed before you are on the hook for it. You would assume that the appraisal would have to have been done but I feel that's not clear on the mailer.
I'd have to give The Meridian Team of Supreme Lending Mailer marks for trying but I'm not sure their marketing people considered all the other scammy mailers out there people are getting and this might have fallen accidentally into that basket for the reader.
Latest posts by Steve Rhode
(see all)