Question:
Dear Steve,
Spring Legal Group, a debt resolution group. They are supposed to be helping, and about $4000+ has been automatically deducted from my checking account. It went to a "third party" holding financial institution. Today I reviewed the account (8/27/2021), and there is only $97 in that account. The review shows all kinds of fees.
What do you know or find about this law office out of Atlanta, GA? I think I got scammed. I am stopping any further ACH and asked for explanations.
Jim
Answer:
Dear Jim,
The first place to look to see if Spring Legal Group is doing what they sold you is to reread the client agreement you signed when you became a client.
The vast majority of these agreements from debt relief companies are very detailed in the way fees are earned, deducted, and the service the company is actually delivering.
The fine print can be lightyears away from what the person on the phone sold you. So often, I've heard from consumers who have been rushed through the client agreement and really did not read it first.
What I'm Inferring About Spring Legal Group
It sounds like you entered into a contract with Spring Legal Group for some debt resolution assistance. You appear to have deposited into your escrow account, and that account has had a series of deductions for fees. Your debt remains unresolved.
If my assumptions are incorrect, please let me know.
Stopping Your Payments to Spring Legal Group
You are certainly within your rights to discontinue any service to any company you want. There may be consequences.
Before terminating your account, it seems what you really need is information from Spring Legal Group.
It would be best if you were given an explanation and answers to all your questions. You can and should ask for an explanation for any issue.
If you would like a process to follow to attempt to resolve your concerns and customer service issues you can read this guide I wrote.
Who is Spring Legal Group?
You stated Spring Legal Group might be located in the Atlanta, Georgia, area.
The website for Spring Legal Group appears to be springlegalgroup.com.
The website says the company is located at 1201 Peachtree St NE, Ste. 200, Atlanta, GA, 30361. This address appears to be a virtual office by a group Spaces. – Source
Facebook lists a different address for the group at 3379 Peachtree Rd NE, Ste. 555
Atlanta, GA, GA 30326.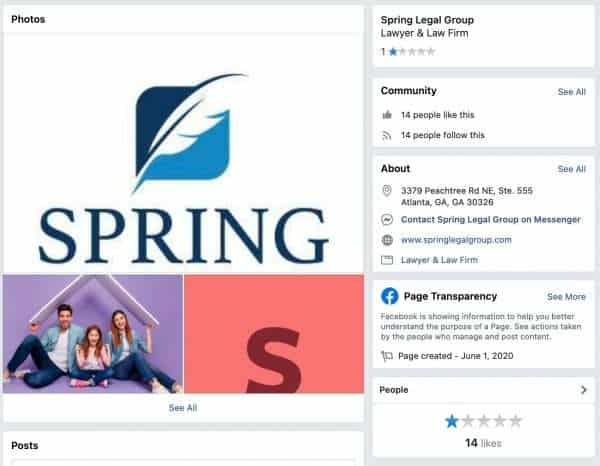 The site also says the "attorney responsible for the content of this Site is Melissa Michel licensed in Georgia." I don't know what state you live in, but if it is not Georgia and there is no attorney licensed to practice law in your state supervising your account, you may not be represented by an attorney.
However, the site does say Andrew Carroll represents new Jersey consumers and has offices at 285 Chestnut St., Hammonton, NJ, 08037.
The BBB rating for Spring Legal Group shows as in the process of being updated.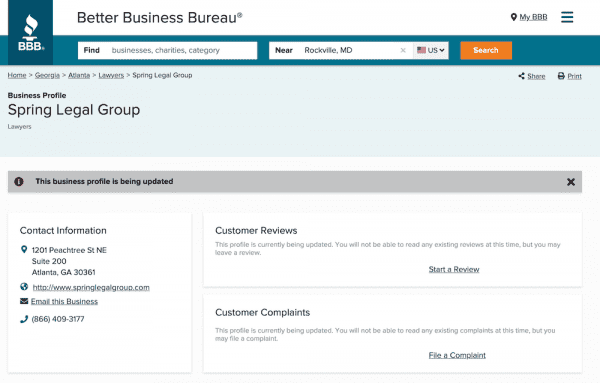 Attorney Melissa Michel
As I mentioned above, the site says a Georgia licensed attorney is responsible for the content on the debt resolution site for Spring Legal Group.
What is interesting is the website for attorney Melissa Michel doesn't mention debt resolution as one of her practice areas. It says:
Traffic Citations / DUI
Criminal Defense
Corporate & Business Matters
Immigration
Personal Injury
The attorney site for Melissa Michel says her office is at 66 Lenox Pointe NE, Atlanta, GA 30324. – Source
The State Bar of Georgia shows that only one attorney named Melissa Michel is licensed to practice law in the state. It says her office is Michel Law Firm LLC.
I've Given You Solid Guidance on Addressing Your Situation
From all the information and links I've put together for you in this post, you should have enough information to start attempting to resolve your issues with Spring Legal Group in an organized way.
Please come back and post a comment and let me know what the result is.
Sincerely,

You are not alone. I'm here to help. There is no need to suffer in silence. We can get through this. Tomorrow can be better than today. Don't give up.
Do you have a question you'd like to ask me for free? Go ahead and click here.

Latest posts by Steve Rhode
(see all)