Question:
Dear Steve,
I had many personal issues happen at one time that caused me to get into $60K of credit card debt.
I ended up getting connected to a company called Spring Legal Group. Their business model was taking my $63K of debt and reducing it to $45K by making monthly payments at 0% interest for 48 months.
They were upfront and said that the first six months to a year was a building an escrow account (and, of course, charged their fees), and they use Global Holdings LLC as their financial institution to process my autopay.
They have an official website that looks perfectly legit. In addition, they connected us with Global Holdings LLC as their financial institution to make automated payments.
They have been $920 per month for about six months. First, I had to file a budget, then have a legal call that seemed seriously legit. Then they sent a notary to my house to notarize a power of attorney document to allow them to negotiate on my behalf.
I looked them up on trustpilot.com and had 84 positive reviews and two negative reviews.
They told me a bunch of lawyers started the company, and they were upfront and honest and said to me that it would take some time to build up enough capital to start the negotiation with the credit card companies.
I just started to get worried a few days ago as I called their number and spoke to an operator, but they could never get an attorney to answer my phone calls, and they don't answer my emails.
I have so many questions that I was hoping we could speak by phone. Is that possible?
Alan
Answer:
Dear Alan,
We need to peel all the distracting issues aside and deal with the core concern.
It appears the lack of what you would consider the lack of expected and prompt assistance has led to nervousness and stress. That has nothing to do with the debt situation.
But it is a situation that needs to be addressed.
When working with a debt company, you want to feel like you matter and are important to them. The last thing you want to feel like is a number or someone whose situation does not count.
I would recommend that anyone considering using such a company read the following free guides.
Here is a previous post that might provide additional information on Spring Legal Group for you.
I can't say I've overly in love with TrustPilot. I've found inconsistencies with reviews that have left me wondering if they can be easily manipulated. Here is a site that claims to sell TrustPilot reviews.
I'm not suggesting the reviews about Spring Legal Group are fake, but I am saying that reviews alone should not be the critical factor to selecting a company. Unfortunately, the BBB information on Spring Legal Group is vacant.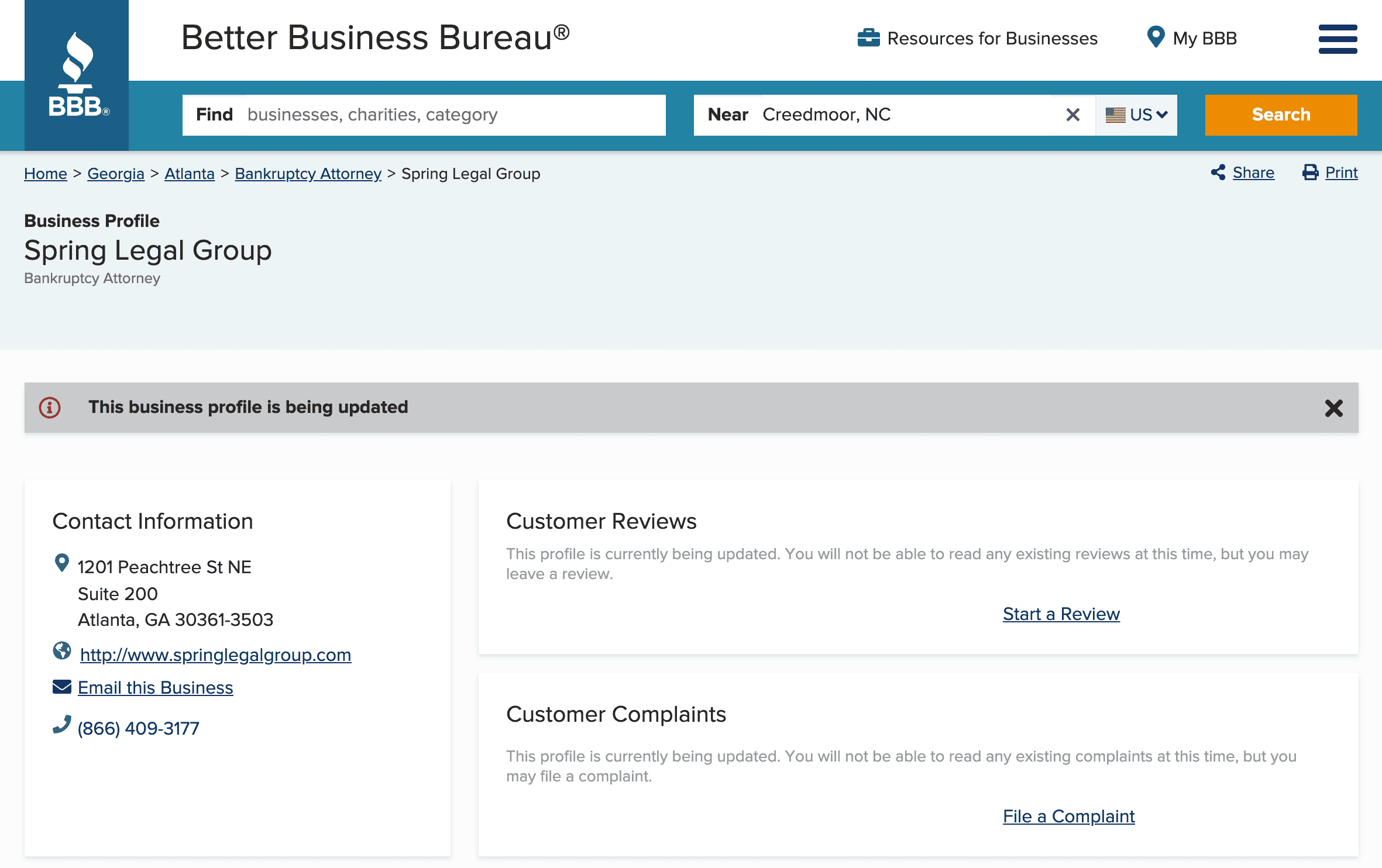 It sounds like they sold you an advanced fee attorney model of debt settlement. To be represented by an attorney, you would have to be a client of a licensed attorney to practice law in the state where you live.
You should identify who that person is and have as many conversations with them as you need since they are your legal advocate.
Everybody else is an administrative person or potentially a supervised employee of some attorney. Maybe not the attorney that is representing you.
All of the above concerns are process or customer service concerns. However, the most crucial question is whether the debt relief solution they sold you is appropriate for your specific situation.
For the most part, I've observed companies that try to sell people their product even if it is not an excellent fit for the situation at hand.
If you feel nervous and not treated as a valuable customer, you should get answers for those perceptions.
I think it is always helpful to get a second opinion and talk through the issues and concerns in situations like this. If you want to be represented by an attorney, you should look for an attorney licensed to practice law in your state to represent you as a client.
If you'd like to talk over the situation with someone I trust, consider speaking with Damon Day since I no longer do individual consultations.
Sincerely,

You are not alone. I'm here to help. There is no need to suffer in silence. We can get through this. Tomorrow can be better than today. Don't give up.
Do you have a question you'd like to ask me for free? Go ahead and click here.

Latest posts by Steve Rhode
(see all)