A great reader sent in two mailers they received recently from a company named Brice Capital.
The return address on the envelope was PO Box 7356, Bloomfield Hills, MI. That rang a bell. There have been quite a few debt targetted loan mailers out of Bloomfield Hills under various names. Click here to see them.
This mailer was sent to me through my I Buy Junk Mail program. If you have junk mail you'd like to sell, click here. To see other mailers, click here.
The two offers are mailed from different locations and potentially other advertising vendors. Look at the zip code on the postal permits.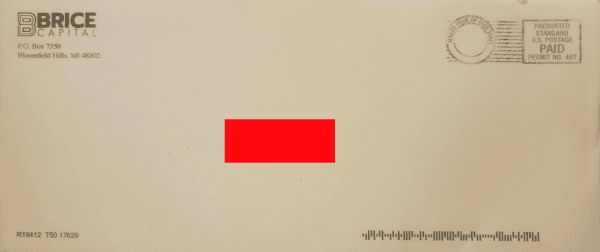 Let's Compare the Offers
But first, let's look at these statements Brice Capital makes on their website:
"Brice Capital is not a lender in any transaction and does not make loans, loan commitments, or lock rates. All credit decisions, including loan approvals, and the conditional rates and terms you are offered, are the responsibility of the participating lenders and will vary based upon your loan request, your particular financial situation, and criteria determined by the lenders to whom you are matched. Not all consumers will qualify for the advertised rates and terms."
It says, "Brice Capital is not an agent of you or any lender. Brice Capital services are only administrative. Brice Capital is a paid marketing lead generator."
Now that you know Brice Capital says they are NOT a lender, look at the two offers the reader received and see if you could tell that by looking at each mailer.
Michigan Corporation Search
The State of Michigan, where Brice Capital says they are located, has no company registered to do business under that name.
How Can These Testimonials Be True?
Knowing that Brice Capital says it is not a lender and is a "paid marketing lead generator" makes me wonder how the testimonials on their website can be authentic?
Do Your Own Research
If you get this or another similar offer, be a savvy consumer and research before giving up personal information to any company that gives all outward appearances of being one thing but is, in fact, something different.
Latest posts by Steve Rhode
(see all)