This review is the result of a question from a reader about Preferred Financial Services.
Address:
300 Brickstone Square,
Andover MA 01810
Website:
pfsdebtrelief.com
They own their domain name and it was registered on June 25, 2008. The administrative contact is Wayne Ahlquist.
Description:
I am assuming they are a debt settlement company. They have a link to their about us page but it just sends you back to the home page which does not specifically say what they are.
Management
The official company name is Preferred Financial Services Corporation
Wayne A. Ahlquist is President. Lamont L. Milton serves as an additional corporate officer. – Source
Contacts
866-992-7400
Keith Koltunowicz, General Manager – Source
Relationships
Wayne Ahlquist is also an officer of the following debt relief companies:
Click image to view larger.
PFS1.net came up in my research and is actually Preferred Financial Services Corporation. – Source
PFSDebtSolutions.com was also found to be yet an additional web site for this company. – Source
Interesting Points
In my opinion it is a big red flag for me is when one individual is involved in so many similar debt consolidation and debt settlement companies at one time. Most of the related companies were formed relatively recently. I find it very odd.
I was shocked to see this statement below made by this debt settlement company. In my opinion it is a gross misrepresentation of the fact that when participating in a debt settlement program your debts will become delinquent and that will most certainly appear on your credit report.
Debt reduction is for consumers who want to pay back their creditors but either can't afford the minimum payments or simply cannot justify paying such ridiculous finance charges. Bankruptcy is a way for a consumer to completely eliminate their debts and, in some cases; the creditor would not receive a penny. Bankruptcy laws, however, are very strict and most consumers may not be eligible now. Also, a bankruptcy reports as a completely separate note line on your credit report.a debt reduction program does not. – Source
There was also no information I could find on the site regarding the tax consequences of settling debts, the possibility of being sued by creditors while settling, or anything about their fees and charges for the service. – Source http://www.pfsdebtrelief.com/
At the time of this review Preferred Financial Services is still under investigation by the New York State Attorney General. – Source
BBB Reviews & Ratings
At the time I wrote this review the BBB had no rating for this company. It was interesting that the BBB had yet another variation of the name, Preferred Financial Services, Inc. – Source
Complaints
The company was started by Wayne Ahlquist and Lamont Milton, both of these characters along with the Manager Keith are crooks. Wayne is convicted felon from Lynn, MA who has an extensive criminal record both as a juvenile and currently. He is only concerend with his pockets. Lamon Milton is the most egotistical person that I've ever met. He does not care about his customers nor does Mr. Ahlquist and in fact less than 5% of their clients ever finish the program. – Source
An additional allegation was made that the officers of this company are felons:
Stay away from this company. They have a long list of convicted Felons running the place. Preferred Financial Services rip off!! Wayne Ahlquist Felon, Lamont Milton Felon, Chris Carter Felon. Debt settlement can be done yourself save your money and join a local credit counseling Company that charges no more than $75 in fees up front and no more than $20 a month. – Source
I did not check it out but if you want to search the Massachusetts Criminal Offender Record Information (CORI) you can do so here to confirm the above allegations.
To check for more recent complaints on RipoffReport.com about this company, click here.
Videos
Public videos made available by the company. – Source
[flashvideo file=/wp-content/uploads/pfs1.flv /][flashvideo file=/wp-content/uploads/pfs2.flv /]
[flashvideo file=/wp-content/uploads/pfs3.flv /]
Memberships
United States Organization for Bankruptcy Alternatives (USOBA)
Picture of Web Site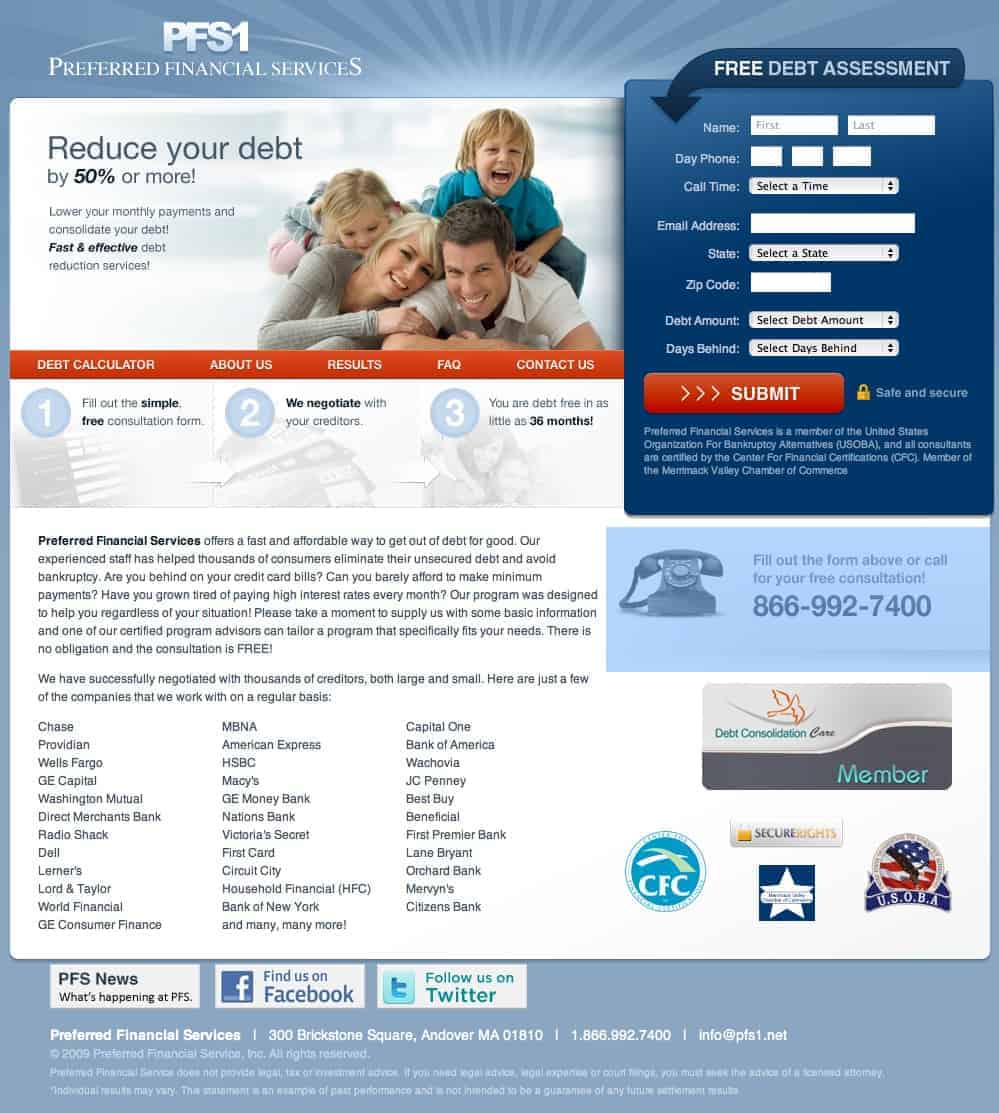 Is This Your Company?
If this is a review is about your company and you would like to respond to the information I've presented here to possibly put it into a broader context or make a correction, please feel free to post your response in the comments section below. I invite you to read my Debt Relief Company and Site Review Policy first.
Latest posts by Steve Rhode
(see all)