Here is a video of a guy that is selling debt settlement services that includes ESP software.
[flashvideo file=/wp-content/uploads/DebtCollectorAffiliates.flv /]
His initial assertion is that debt settlement is a new solution that has emerged in the last year and a half.
The video is a classic example of what consumers are being told about why they should buy in to debt settlement.
The presenter says, "There has never been a better time to be involved in the debt settlement industry."
They say they provide services in all 50 states. Interesting. I'm sure a few states would like to hear about these guys.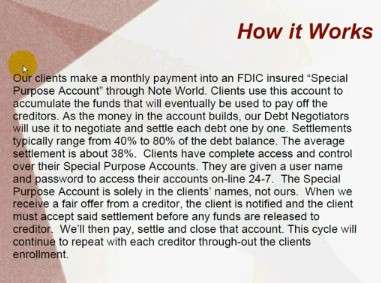 The video presents that the ESP software will be used in connection with a NoteWorld account and settlements will typically range between 40% to 80% but the average is 38%, huh?
If typical settlements range between 40% to 80% then how in the world can the average settlement be 38%?
The presenter says that even though the payment in the program will be the same as what they are paying now, if they can just keep struggling with the payment for another couple of years they can be out of debt faster. That's a lousy approach.
We learn in the video the job of the sales rep is to:
Find the clients.
Sell them on the idea.
Calculate their payment
Get them enrolled.
GET PAID!
The sales commission structure works like this.
The sad fact is many people believe the sales program and call people and sell them debt relief just like it shows in the video. Sad.
Sincerely,

You are not alone. I'm here to help. There is no need to suffer in silence. We can get through this. Tomorrow can be better than today. Don't give up.
Do you have a question you'd like to ask me for free? Go ahead and click here.
I can always use your help. If you have a tip or information you want to share, you can get it to me confidentially if you click here.

Latest posts by Steve Rhode
(see all)