Now here is an ironic turn of events, with so much crap going on inside of FH Financial Services it has turned on itself. Debt settlement gone bad.
A comment was previously posted by Alex Fender indicating there was some trouble-a-brewing between the guys involved in FH Financial Services.
So today Alex brings to my attention a site he has created, ShameOnFHFinancialServices.com.
The BBB is reporting, "On May 20, 2009 the Texas Attorney General charged in the District Court of Travis County that F H Financial Services, a Dallas based debt settlement company, violated the Texas Deceptive Trade Practices Act.
The charge alleges that company web sites and company representatives overstate the success of the debt settlement program, misrepresent debt settlement alternatives, and falsely state the company has a good record with the Better Business Bureau to persuade consumers to pay a fee for debt settlement services.
The Attorney General asked for an order that requires F H Financial to discontinue the practices, restitution of money paid by consumers and civil penalties. This action is pending. – Source"
The Texas Attorney General did previously issued the following statements about FH Financial.
HOUSTON – Texas Attorney General Greg Abbott today charged four debt settlement companies with orchestrating fraudulent debt settlement schemes. The defendants' Web sites promised that they could eliminate their customers' unsecured debts – such as credit card accounts – in as little as three years. According to the state's enforcement action, the defendants unlawfully misrepresented and overstated the nature of their services.

The following debt settlement companies are named in today's enforcement action: Dallas-area based BC Credit Solution, LLC and FH Financial Service; Scottsdale, Ariz.-based Four Peaks Financial Services; and Louisville, Ky.-based DebtORSolution.

"At a time of economic hardship, these defendants are charged with orchestrating unlawful debt reduction schemes," Texas Attorney General Abbott said. "Texas law provides important protections that prevent debt settlement firms from misleading customers about their services. Today's enforcement action cites four defendants for materially misrepresenting the nature of their services – and misleading customers about the protections they are guaranteed by Texas law."

Court documents filed by the state indicate that the defendants misrepresented the availability and consequences of bankruptcy, made misleading credit repair claims, and misstated the effect of entering a debt settlement program. For example, the defendants misrepresented the time frame within which customers would complete their debt resolution program. Because each debtor's individual circumstances are unique, it is impossible to honestly guarantee a specific settlement type or time frame.

Defendants FH Financial and Debtor Solution also are charged with misrepresenting their affiliation, or positive standing with the Better Business Bureau (BBB), which constitute additional DTPA violations. – Source
What is ironic is that Alex Fender was named in the suit by the State of Texas against FH Financial Service / FH1 Financial Services. Click here to see the suit.
According to the State of Texas, Alex Fender is still listed as a director for this company.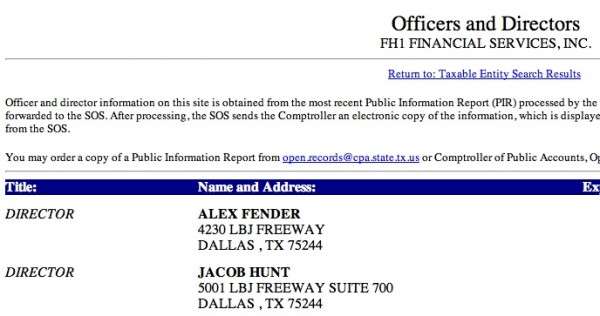 Keep us all posted in the comments Alex. This should an interesting story to watch unfold.
Update: September 14, 2010
Well as I predicted the crap between the FH Financial Services guys is heating up. FH1 Financial Services went and got a temporary restraining order against Financial Planning Counselors of America and Alex Fender prohibiting him from making any additional public claims or statements about this situation. He is also required to take down the site he created. – Source
I can always use your help. If you have a tip or information you want to share, you can get it to me confidentially if you click here.
Latest posts by Steve Rhode
(see all)