Not long ago I was having a conversation with someone and we were talking about the big refunds debt settlement companies may face from having charged consumers advanced fees for services but not delivered them.
The point was also mentioned that for debt settlement clients that enrolled in and paid fees for debt settlement services that later filed bankruptcy, for whatever reason, created a huge gaping liability for debt settlement companies.
Bankruptcy trustees can reach back in time and recover money paid for debt relief services within two years of the debtor's filing for bankruptcy.
This case was brought to my attention as an example of this actually happening. The case resulted in a default judgment against Legal Helpers Debt Resolution for $6,500. – Source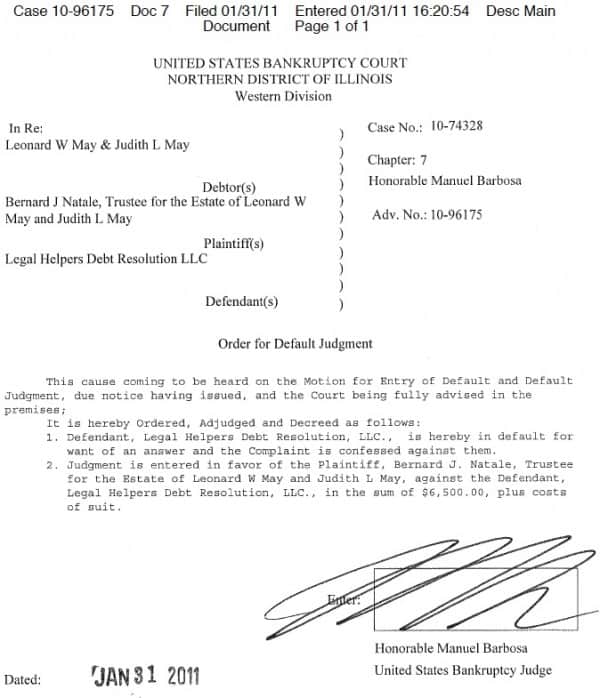 Here is the story of how this happened from the lawsuit filed by the bankruptcy trustee.
On August 30, 2010, LEONARD W MAY AND JUDITH L MAY, hereinafter "Debtors", filed a petition for relief under Chapter 7, Title 11, United States Code, Case No. 10-74328.
BERNARD J. NATALE has at all times been the duly appointed, acting Trustee in said cause.
This Court has jurisdiction over this adversary proceeding pursuant to 28 U.S.C. Section 1334, and 28 U.S.C. Section 157. This matter is a "core" proceeding.
The debtors disclosed in their Statement of Financial Affairs under Paragraph No. 9, under payments related to debt counseling or bankruptcy, that between February 2010 and June 2010 they had paid Legal Helpers Debt Resolution, LLC., approximately $6,500 for credit counseling services.
The debtors engaged the services of Legal Helpers Debt Resolution, LLC., on or about February 15, 2010 by signing a retainer agreement.
The terms of the retainer agreement provided for a $500 retainer fee plus 15% of the total debt scheduled as the Defendant's fee for representation in this matter.
The Defendant debt resolution performed no services in consideration for the $6,500 in fees that it received prior to the debtors commencing their bankruptcy.
The Debtors received less than a reasonably equivalent value in exchange for the payment provide to the Defendant.
The $6,500 payment occurred within 2 years of the filing of the debtors' bankruptcy.
The $6,500 payment occurred while the Debtors were insolvent.
The $6,500 payment is recoverable by the Trustee as a fraudulent conveyance and should be turned over to the Trustee to administer for the benefit of creditors.
Here is a similar recent action against Freedom Debt Relief that resulted in a default judgment and the repayment of all monies paid. – Complaint, Judgment
The consequences of charging consumers in trouble for services and not delivering them has far reaching consequences and while you may feel the client is long gone and so is the risk, that's not true as I've shown.
The best course of action is to only take on clients you can positively assist, do an excellent job, and deliver on the promises made. In this environment, anything less is a ticking time bomb.
Sincerely,
You are not alone. I'm here to help. There is no need to suffer in silence. We can get through this. Tomorrow can be better than today. Don't give up.
Do you have a question you'd like to ask me for free? Go ahead and click here.
I can always use your help. If you have a tip or information you want to share, you can get it to me confidentially if you click here.
Latest posts by Steve Rhode
(see all)