Date This Problem Happened: November 29, 2010
State You Live in: Arizona
Age Range: 66+
Total Amount of Fee Paid: $1,500
Company Name: American Residential Law Group
Company Address:
6245 N. Federal Hwy., #401
Fort Lauderdale, Florida 33308
Website of Company: arlgnow.com
Domain owned by:
Rick Stetkar
beaugsburger@gmail.com
6245 N Federal Hwy # 401
Fort Lauderdale, FL 33308
This site is sitting on the same server with:
arlgnow.com
billpal.com
brianaugsburger.com
caseclose.com
clientticketsystems.com
daveaugs.com
domenicspub.com
drycleanohio.com
homesteadlegal.com
quickmodpro.com
stephenslistings.com
urbity.com
wealthdesignpartners.com
whiteswanohio.com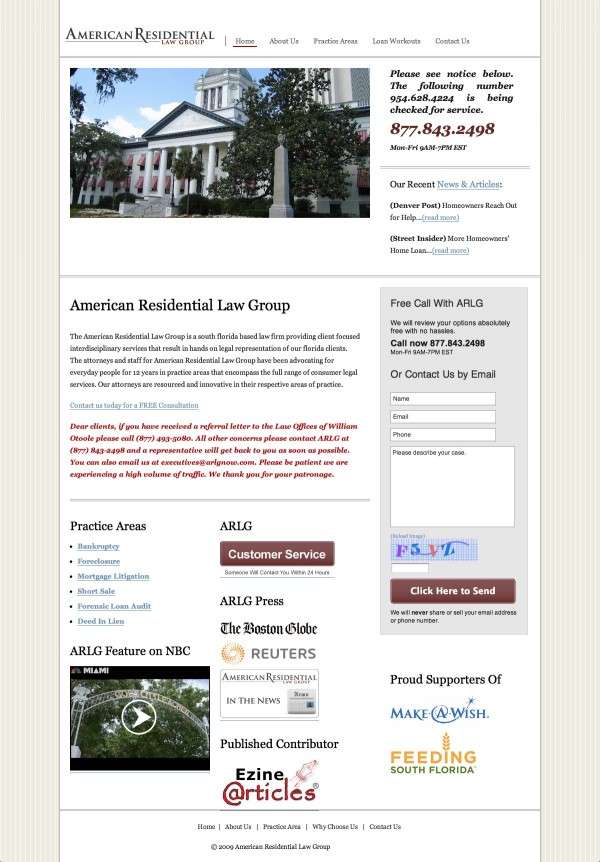 Consumer Statement:
I paid for a mortgage modification in advance in November of 2010.
American Residential Law Group did not do anything to help me but kept assuring me that they were working with my file. They stalled me by asking for documents that I had submitted before and they supposedly had not received. I asked them for a refund. Approximately four months later, I received a letter informing me that they could not do business in Arizona because of changes made to federal regulations. I was referred to another law group that was to take over. The telephone number that I was given to contact the that firm was not a working number. I cannot make contact with ARLG.
Note:
My advice at this point would be for you to follow my refund process and if you still don't get any satisfaction then come back and post a comment.
Sincerely,
You are not alone. I'm here to help. There is no need to suffer in silence. We can get through this. Tomorrow can be better than today. Don't give up.
Do you have a question you'd like to ask me for free? Go ahead and click here.
---
Scam reports are submitted by consumers like you. If you would like to file a scam report, please click here.
Latest posts by Steve Rhode
(see all)