A few weeks ago Steve came to me and said, "hey, do you think you could find the cheapest cell phone service for someone that talks less than 120 minutes a month using the site ConsumerCellular.com?"
"Of course," I thought. CHALLENGE ACCEPTED!
I started my search by heading over to ConsumerCellular.com where they provide a service to find affordable plans and rates for cell phones.
First I took a look at the phones that they offer. For many people what type of phone they have is very important to them. The ongoing battle between iPhones and Androids seems like the newest competition form of keeping up with the Jones'.
On their "Phones" page all I saw were six different phones to fit different lifestyles ranging from free to $165 (including one Android phone). All of these prices were after an instant rebate and activation fee of $35. Only two phones had variations in color and only three of them would be deemed "smart phones." It became apparent that this service with these phones was not for someone trying to keep up with the latest trends in cellular technology but rather for someone just looking to make a call or two. Something that did catch my eye was the senior friendly "Specifically for Seniors" telephone that was showcased at the bottom of the page. Upon further inspection of the site I found them to give AARP discounts showing that their target audience may just be that 50 and older crowd.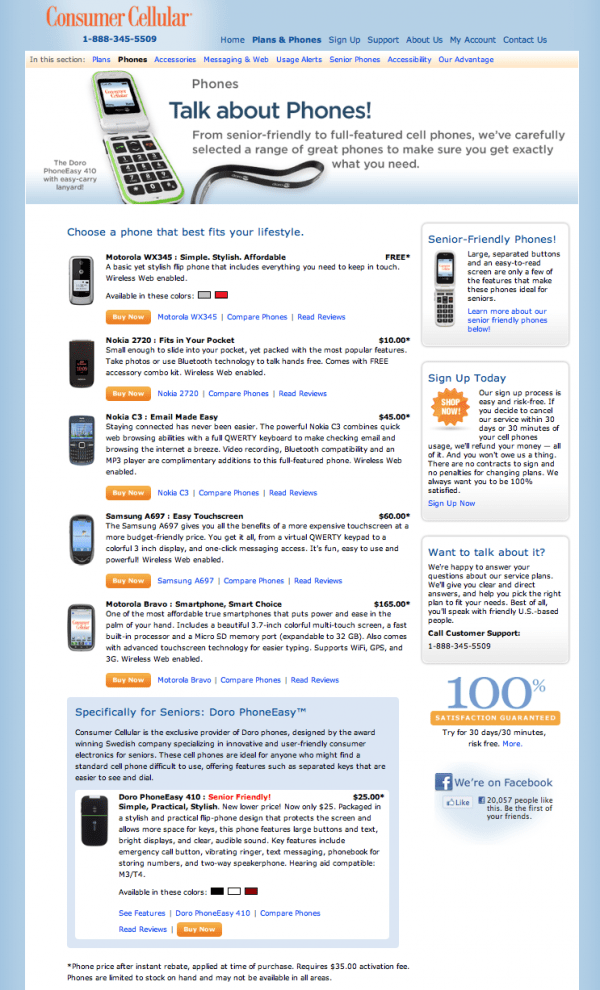 Next I moseyed on over to their "Plans" page to have a look at what they offered. It seemed pretty straight forward; all of their plans were no-contract and ranged in monthly fees from $10 to $60 and included plan minutes from 0 to 2,400, respectively. For all of the plans, if you were to go over your minute usage you would then pay $0.25 a minute (except on the 2,400 plan where you'd pay $0.10 a minute).
This freaked me out.
You see, I like to talk… A LOT. I don't have a landline so my cell phone is my only form of telecommunication with others. However, for someone that doesn't use their phone that often one of these plans may come in handy. You see, for someone using 120 minutes or less a month a plan for $20 a month doesn't sound so bad.
One could get the 100 minute plan for $15 a month and pay the extra $5 for those added 20 minutes or pay the same amount of money for the 300 minute plan. I can see this plan coming in handy for those trying to pinch pennies on their cell phone service or for senior citizens that may not use a cell phone as much as younger citizens (I know my grandparents hate their cell phones!).
With these plans you can actually share minutes on a Family Share plan which essentially means one person gets a plan with minutes and share them with someone without minutes who only pays the $10 a month fee. The website also claims that "you can change your plan at any time—no hassles, no penalties, no ifs-ands-or-buts or surprises." They also offer automated Usage Alerts that help consumers avoid unnecessary overage charges. "It's your plan, so it should always fit your needs and pocketbook. That's our policy."
Coverage looks reasonable as you can see on the map below showing coverage in the orange colored areas.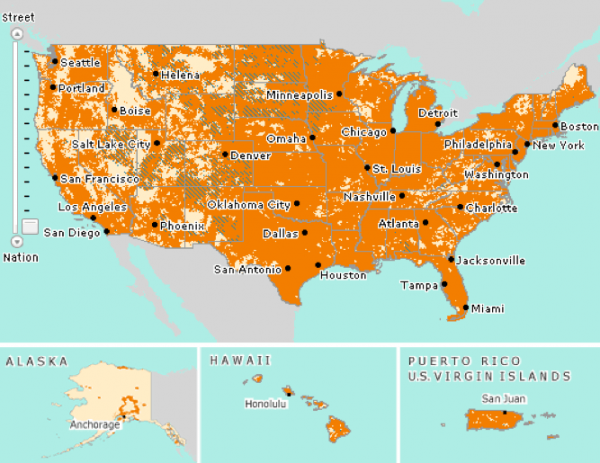 From what I've seen so far it looks like an alright deal for someone only using their phones strictly for making short and infrequent calls (messages and data are extra) throughout the month. I do not recommend the $10 a month plan though. $0.25 a minute may sound cheap but without any included minutes using 120 minutes in a month on this plan will cost you $40 (the $10 monthly fee and $30 for the 120 minutes at $0.25 a minute). For that price you could have 1,200 minutes a month (10 times the minutes you'd be using).
I personally wouldn't use this service because I'm a message, data and minute fiend so my current major network contract plan works just fine for me, but, for someone looking to pinch pennies and only use a limited amount of minutes per month on their cell phone $20 doesn't sound too shabby. I would strongly recommend this service to a senior citizen who is eligible for an added discounts through an AARP membership.
I should mention that for those looking to use more than 120 minutes a month there are other no-contract services like Cricket that offer unlimited minutes for $35 a month (and also exclude the activation fee like ConsumerCellular). You can view Cricket's basic plan details below.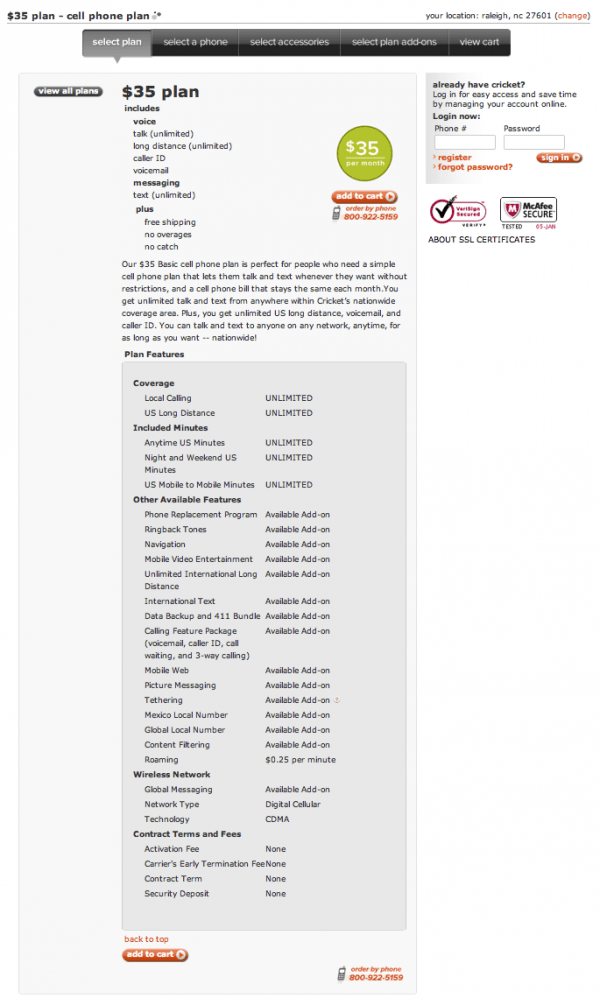 And now, an extremely cheesy commercial for ConsumerCellular….
http://youtu.be/k_RGWc4CUPY
What are your thoughts on this service and ones like this? Do you have any services you like to use to save money on your monthly cell phone bill? Leave a comment below!
Latest posts by Amanda Miller
(see all)