I'd like to have a show of hands of how many of our readers use Facebook.
::slowly raises hand::
Ok, good. Now that we're all sitting at our desk/couch/phone raising our hands to a screen, put them down, you look pathetic.
::slowly puts own hand down::
On a serious note, a LOT of us use Facebook and whether you shoot your nose up in disgust at the mere mention or idea of this social networking site or watch every Facebook keynotes (::raises hand again::), you know the site exists and what it's all about.
If there's one thing I've noticed about Facebook users it's that users only show site loyalty when change is afoot. Facebook users fear change like the plague. It's a fascinating sight (or perhaps site) to watch.
In September of 2011, Mark Zuckerberg and the team at Facebook up on their annual Facebook developers conference (F8) and announced probably the most new and intense changes to come to Facebook including the now buzzed about Facebook timeline (which I suspect was swiftly designed and implemented to keep up with Google+).
Personally, I love the timeline. It took me a good month to love it, because as a devout Facebook user site change strikes me like a bowling ball in the gut, but this was a change I was excited for. Change I could believe in? In summary, I was pumped for this.
Perhaps it had something to do with Andy Samberg impersonating Zuckerberg for the first 8 minutes of F8?
http://youtu.be/v_vz6Me_TIY
Or perhaps because I'm so shamelessly self-involved that the idea of my Facebook page showcasing myself even more made me giddy inside.
As a developer on Facebook I was able to activate the new timeline feature back in the fall whereas most users are now getting the option to make the switch. The only thing is, once users make the switch, there's no turning back. Soon, the switch will be made for all on a mass scale but for now, users are in control of making the switch themselves.
Since there's no turning back to the old layout after making the switch many Facebook users are running around like chickens with their heads cut off in fury. Some have resorted to mindless bitching on news feeds and status updates (to which I've now blocked. Those updates and anything to do with Tim Tebow) and some are joining groups or "liking" pages that dislike the Timeline.
Nothing brings a community together quite like a common enemy. The common enemy: Facebook. The community: Facebook. Bring it together, folks. Walk it off. Or disable your account.
Before I go off on a rant about how easy it would be for users to just not use Facebook anymore if they don't like the changes let me take a second to breathe. And maybe watch that Andy Samberg video one more time.
http://youtu.be/v_vz6Me_TIY
Ok, we're back. What many users need to be aware of is that scammers are taking advantage of this new timeline hatred and numerous pages are popping up all over Facebook that claim to deactivate the Timeline all together if you simply "like the page first."
SCAM ALERT!
First off, if you like a page on Facebook and a box pops up in front of you asking permissions of you, you should know this is an app, and if you accept the conditions they sometimes have the ability to post on your page as you, access your information and even contact your friends. It still amazes me how many people opt into apps that they don't know anything about. But, this is sweeping Facebook right now.
All these pages are doing are allowing scammers access to user data. You will NOT BE ABLE TO DEACTIVATE THE TIMELINE. Fact. Get used to it.
Inside Facebook says that they have spotted 16 Timeline-related scam pages totaling more than 71,000 likes. Many of these pages and apps appear on the first page of results for the phrase "timeline" – Source.
A scammer page may look something like this: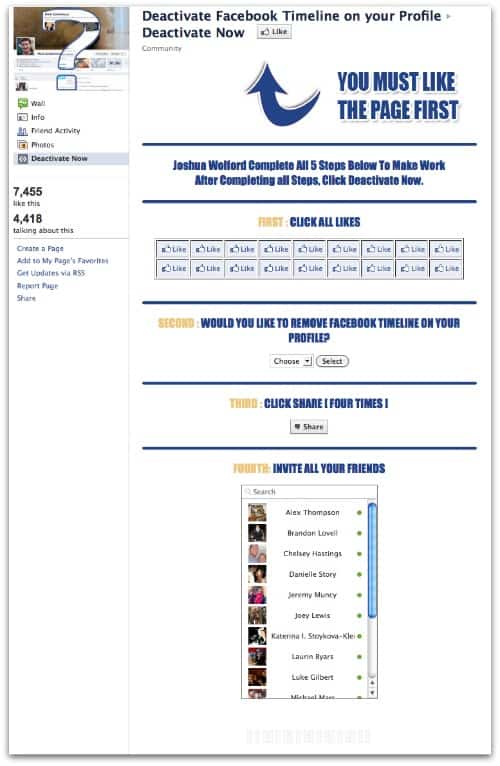 –
Source
.
Or maybe something as shady as this: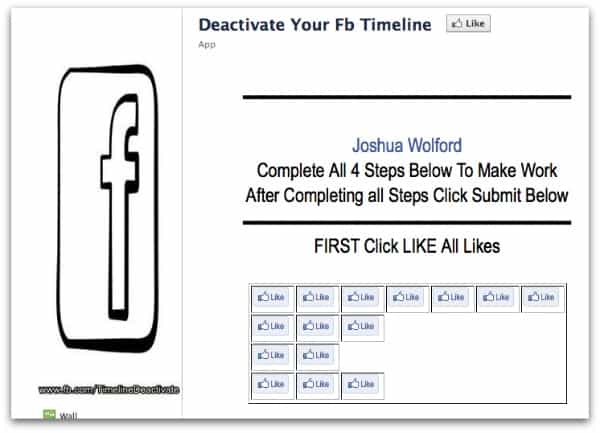 –
Source
.
Don't put your (and your friends') personal information in the hands of scammers just because you're unhappy with the new Facebook changes (which in all fairness were announced and showcased MONTHS ago). If you don't like the changes, don't use the site, but most of all, just don't get scammed.
Latest posts by Amanda Miller
(see all)