Date This Problem Happened: December 21, 2011
State You Live in: Illinois
Race/Ethnicity: Black or African American
Age Range: 51-65
Total Amount of Fee Paid: $550
Company Name: Nationwide Financial Consulting
Company Address:
4952 Warner Ave.
Suite 100
Hunting Beach, CA 92649
Company Telephone Number: 877-717-0940
Website of Company: nationwidefinancialconsulting.com
Consumer Statement:
On December 20, 2011, I received via my cell phone a call from Allison Duhanci who identified herself as a Senior Consultant for Nationwide Financial Consulting.
She stated that she had received my request for information regarding a Home Modification Loan. My husband and I both have spoken with financial institutions about lowering the interest rate on our home mortgage.
I requested she send me an email regarding the company and she did. I checked the Better Business Bureau and the company was not represented by the BBB but it appeared the company was legitimate with few complaints.
On 12/21/11 I paid via check a $550.00 fee for their service and was told I would hear from Allison Duhanci by 12/27/11 however that never happened. This is a very crafty young lady who appears to have a lot of knowledge about banking and loan modification. I hope she and her scam can be stopped she has the potential to deceive a lot of people. I really need my money back and hope you can advise on how this can happen.
Consumer Action Taken:
The 2nd week of Janurary 2012 I telephoned Allison Duhanci (877 717-0940) who said she was working on my Modification Loan and would call me back later that day. The next day I called again and Ms. Duhanci answered the phone and when I identified myself she hung up. I tried calling everday since that day and the telephone number is disconnected. I attempted to send an email however the email address
(Allison.D@nationwidefinancialconsulting.com) is now invalid.
Consumer Documentation: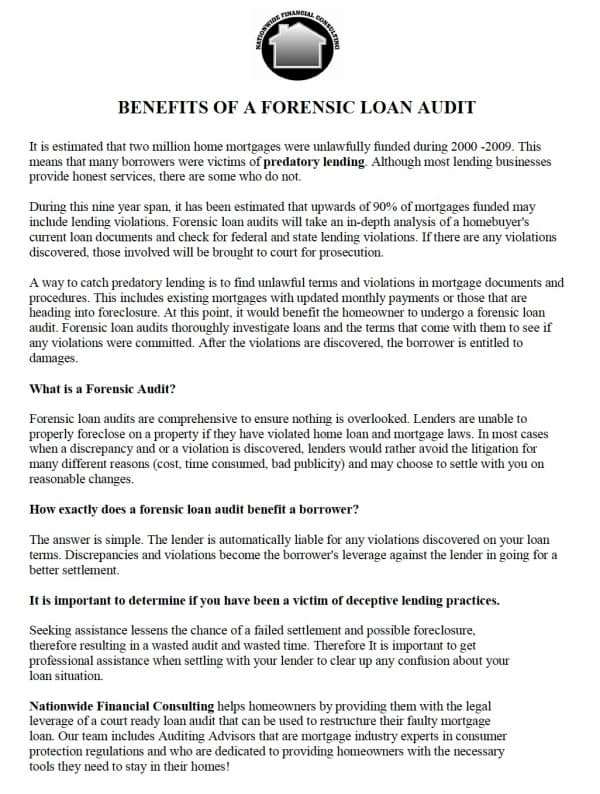 ---
If you feel you've been financially hurt by a debt relief company and deserve a refund, read these step-by-step instructions on how to proceed to attempt to get your money back.
If you do get your money back, come back and leave a comment about it. I'd love to praise companies that step-up and do the right thing for people.
Scam reports are submitted by consumers like you. If you would like to file a scam report, please click here.