A tipster (send in your tips here) sent me the following message:
NAS has recently declared bankruptcy and has been ordered to sell their accounts. They don't tell their customers, but any that are not sold by the deadline will be s.o.l. They tried to sell them to their other company, FCS, but are not able to.
I deciphered that NAS was Nationwide Asset Services but I'm not sure who FCS is.
According to court documents, Nationwide Asset Services did file a chapter 11 bankruptcy on November 29, 2011. On April 20, 2012 their attorney requested court permission to sell "the Debtor's Book of Business, toll free number, website domains, Debt Software license, and intellectual property" for $170,000. The buyer is listed as Brite Solutions. – Source
It appears there are about 1,600 clients involved in this transaction. Here a sample of the client's as they are described.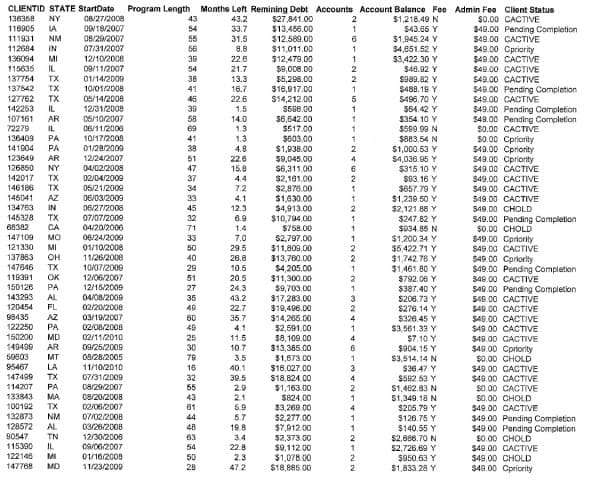 Some of the data does not appear to make sense. For example, the first client says they have 43.2 months left in a 43 month program which they started 8/27/2008.
What's interesting as well is it looks like there may be many clients enrolled in states where the company is not licensed.
As an example, the client listing shows consumers from Minnesota but Minnesota says only the following companies are licensed: PREFERRED FINANCIAL SERVICES, TOUCHSTONE PARTNERS, NEW ERA DEBT SOLUTIONS, CAREONE SERVICES, SUPERIOR DEBT SERVICES, UNITED DEBT COUNSELING, PACIFIC DEBT, DEBTMERICA, J. HASS GROUP, FREEDOM DEBT RELIEF.
It will be interesting to see how Brite Solutions deals with taking on clients in states they do not appear to be licensed in like Minnesota. I wonder what will happen to those consumers? It sure seems like a lot of liability to take on for Brite Solutions.
Sincerely,

You are not alone. I'm here to help. There is no need to suffer in silence. We can get through this. Tomorrow can be better than today. Don't give up.
Do you have a question you'd like to ask me for free? Go ahead and click here.
I can always use your help. If you have a tip or information you want to share, you can get it to me confidentially if you click here.

Latest posts by Steve Rhode
(see all)