A reader sent in a screen shot of a webpage that uses the American flag and the picture of President Obama to essentially sell foreclosure assistance services.
It's been a while since we played "Do They Comply" where readers leave comments if they think the advertisement does or does not comply with regulations.
This page is for Foreclosure Advisers, foreclosureadvisers.com, AKA Blacknote Group at 1200 N. Federal Highway, Suite 200, Boca Raton, FL 33432. – Source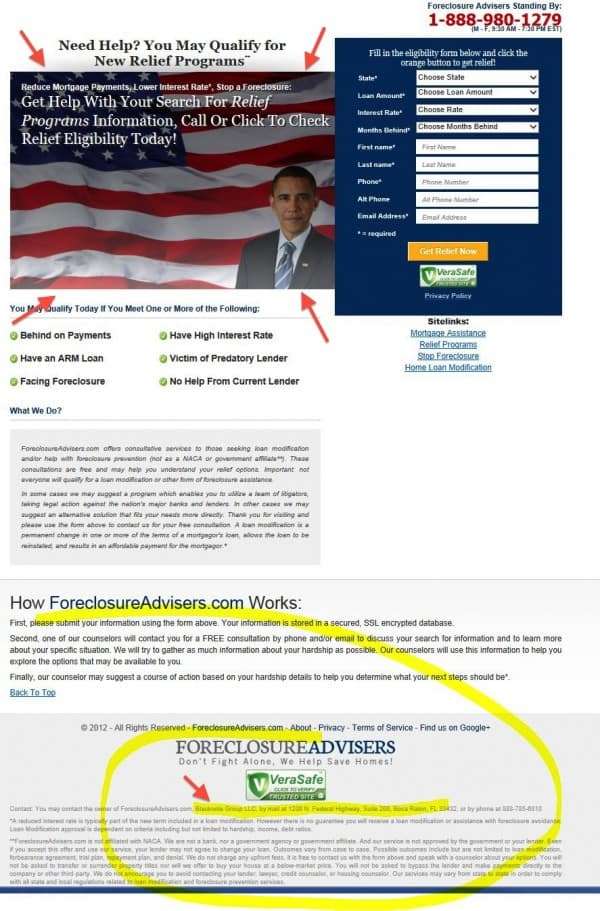 When I went to the ForeclosureAdvisers.com site just now I did not see the same landing page. I did notice in the fine print this appears to be a lead generators page. It says, "Please note that we may receive compensation from the foreclosure counselors for that introduction."
However I did find the page under their "Relief Program" page. – Source
The State of Florida says Blacknote Group, LLC is Michael J. Harper, PA, Benn Willcox, Inc, and 323 Ventures, Inc. and actually located at:
860 US HIGHWAY ONE
SUITE 205
NORTH PALM BEACH, FL 33408 – Source
And not a surprise but the Blacknote Group says they are actually a "a lead generation and customer acquisition firm." – Source
Their website is hosted on the same server as:
323ventures.com
afdcenter.com
bestpalmbeachprivateschool.com
blacknotegroup.com
butterleads.com
clicktrust.me
consumerreliefattorneys.com
debtservice.org
directfortv.com
directtvbundles.co
directtvguide.org
directtvinternets.com
directtvlogin.org
drugalcoholcenter.com
foreclosureadvisers.com
foreclosurereliefplan.com
getforeclosureassist.com
herskowitzlehrman.com
internetmoneymentors.com
lowestrefinance.org
lowrefinancerate.org
ordersattv.com
payrollxtra.com
quikloanz.com
recoveryisfreedom.com
refiguys.com
refinance-homeloans.com
streamdirecttvs.com
suemylender.com
thehoffmanlawgroup.com
theresidentiallitigationgroup.com
timetoprotect.org
tommybussey.com
upto10benjamins.com
weightlossrevealednow.com
Apparently the company specializes in generating leads for "tax advice, mortgage modification, foreclosure defense, debt settlement, local medical assistance, etc."
Tommy Bussey, CMO and Co-founder explained, "We are passionate about what we do because it works. Online lead generation from quality traffic sources is the most effective way to match prospective customers with the right product or service."
"The success of our clients is the foundation of our success," said Michael Harper, CEO and Co-founder. – Source
Bussey is also the President of 323 Ventures, Inc. – Source
I can always use your help. If you have a tip or information you want to share, you can get it to me confidentially if you click here.
Latest posts by Steve Rhode
(see all)