I thought the day of the fake looking official mailer from Washington, DC were over. I was wrong. An entity called US Debt Relief Center is sending out mailers offering debt settlement services.
An amazing reader sent in a new debt relief mailer through my I Buy Junk Mail program.
Front
This mailer and several others I've posted recently are sent from the same postal permit 1297 in Sacramento, California.
This one does not identify the send on the outside of the mailer and says it comes from 1425 K Street, Suite 350, Washington, DC 20005. That same address appeared on the site before here. That address is actually a virtual office address. – Source
The Inside
The inside of the mailer provides payment examples, says the offer is for debt settlement services, says the settles can be 40-70%, and say the provider is neither a government agency nor a private debt relief provider. If they are not a government agency or a private debt relief provider, then was is US Debt Relief Center?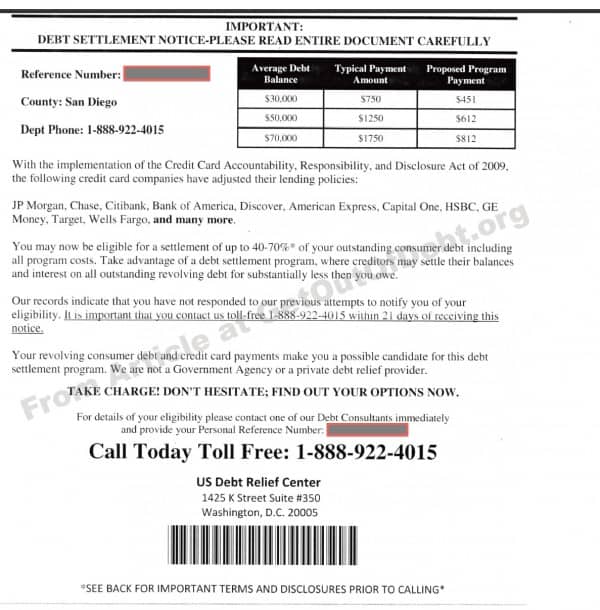 Starting with the basic information a search of The District of Columbia business registration records could not locate any company licensed by the name US Debt Relief Center.
A broader search online located a company called US Debt Relief Center in San Diego which the BBB reports as being believed to be out of business. – Source
A listing for a US Debt Relief Center in Washington, DC does also exist with the BBB but at an address at 1718 M Street, NW, #364, Washington, DC 20036. The BBB warned:
Prior BBB correspondence sent to the previously listed company box number of 198, in Washington, DC has been returned by the Post Office as not deliverable as addressed/unable to forward. A call to the listed telephone number resulted in the information that this was only a call center and the address for the firm was not known to them.

Consumers are advised to be wary of solicitations from unknown parties, and to note that this entity is not affiliated with the US Government. – Source
The DC BBB also reported they believed a Michael Phillips was responsible for the organization.
Disclaimer
The disclaimer provides an explanation why the entity who sent this might claim to be neither a government entity or a debt relief provider is because they say they are a lead generator.
The disclaimer also says the company has offices in the District of Columbia and California. Besides the office in California the BBB reports is out of business, I could not locate another entity.
On the front of the mailer we heard some grand terms about settlement offers, "You may now be eligible for a settlement of up to 40-70%." But the back provides an interesting qualification to that estimate if you thought it included all the debt.
"All percentages and numbers are for illustrative purposes only and based on successful completion of all program terms and payment of all fees. Estimates, do not include referred consumers who do not complete program in full."
So we have no clue what percentage of enrolled consumers do fully eliminate their debt and what the total cost of the service is including fees.
The disclaimer goes on to say, "Estimates based on above results achieved by consumers during the preceding six month period of this mailing, and calculated pursuant to statistical data collected from the companies that US Debt Relief Center refers consumers to." So they appear to say they refer to more than one company.
The also say, "We do not guarantee that your debts will be lowered by a specific amount or percentage, or that you will be debt-free within a specific period of time." That all seems to contradict, in my opinion, the illustrative example of the sales pitch side of the mailer.
My Opinion
Given the lack of information or even ability to confirm the identity of the entity sending this mailer I would be wary. Anyone receiving such a mailer can follow my free online guides to check out the company more thoroughly.
Sincerely,

You are not alone. I'm here to help. There is no need to suffer in silence. We can get through this. Tomorrow can be better than today. Don't give up.
Do you have a question you'd like to ask me for free? Go ahead and click here.
This offer was able to be reviewed because a kind reader sent it in via my I Buy Junk Mail program.

If you receive a credit or debt relief offer in the mail, do some good and let me pay you for it. Click here.
Want to See More Mailers?
Want to see more mailers I've reviewed as part of this program? Click Here.

Latest posts by Steve Rhode
(see all)