In an effort to help state governments deal with bounced and bad checks, some states have outsourced the dealings with the checks to for-profit debt collectors like American Corrective Counseling Services in California. ACCS has relationships with about 150 county District Attorney (DA) offices. In return for the referral of cases to ACCS, the local DA offices get a cut of the money collected from the consumer.
ACCS has been sending letters to consumers (See sample letter), approximately two million a year, that certainly appear to come directly from the state or local DA office. But the fact is these letters are not sent from the state, but are instead used as a scare tactic.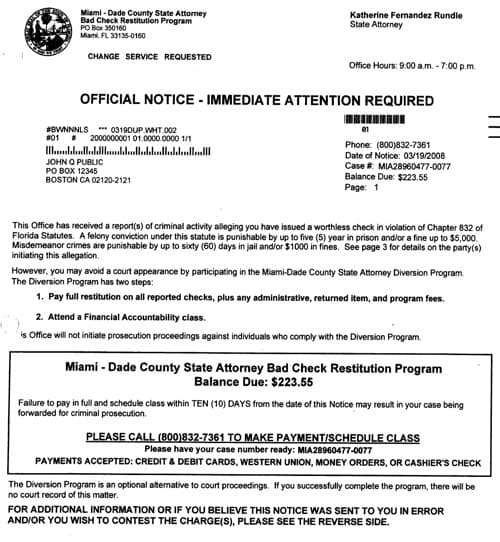 The letters certainly appear that the consumer receiving it will be subject to criminal prosecution but in many part of the country, that is simply not true.
Contracts between ACCS and the DA offices say that "The principal business of ACCS is the provision of educational seminars, consulting, and administrative support services to State and County prosecutors' offices that have adopted a pre-trial misdemeanor bad check diversion program."
And does ACCS not only intentionally threaten legal action, which it has not authority to undertake, but the primary reason for doing this is to sell the consumer a counseling session.
Again, according to the ACCS contract: (See contract here)
Seminars ACCS will conduct all Diversion Program Seminars. In that regard ACCS will provide qualified instructors to conduct the Seminars, provide its proprietary Seminar materials to class Participants, lease the required facilities to conduct Seminars, monitor the attendance at the Seminars, and communicate directly with Seminar Participants regarding scheduling, attendance, and related administrative details. Classes shall be scheduled in convenient location within XXXX County and will normally be help on Saturdays. 8:30 a.m. to 4:30 p.m. Instructors will typically hold advanced degrees in a counseling related field (e.g. psychology or social work). ACCS will continue to develop and refine its class curriculum and educational material, and will conduct ongoing training and evaluation of all ACCS instructors. ACCS will provide its "Checks & Balances" Class as the Seminar for Participants. The class is designed to remove many of the behavioral rationalizations surrounding the writing of bad checks, as well as focus on deficiencies in the areas of personal finance, communication, and stress management. Class size will average from 12 to 25 Participants. An ACCS "Checks & Balances" Personal Study Program may be utilized in lieu of a live class if participant volume is not sufficient to hold a live class or for those Participants who are incapable of attending class due to a valid medical reason or if the Participant lives outside a reasonable distance from the class site."
The useless and worthless class that consumers are scared into attending costs them $140-$160 plus a series of other miscellaneous potential charges.
What makes this situation so disturbing is that it seems that the District Attorney offices that are outsourcing these collections and classes are renting their official State Seals to a private company and knowingly allowing the private company to scare consumers with criminal action to force the consumer to pay a fee for a useless class.
For more information about this situation, see the excellent work by Propublica on this issue.
Latest posts by ProPublica
(see all)