Today I'm going to review the Citibank Platinum Select Mailing that is going out. The front of the envelope looks like the image below.
Front of Mailer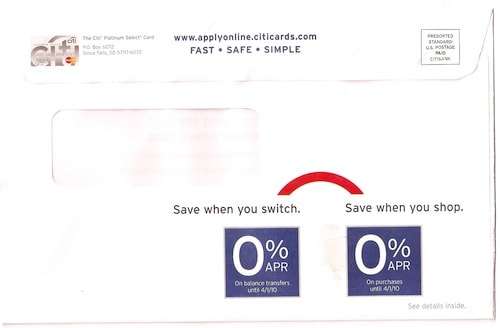 Back of Mailer
I have to give Citibank props for doing a good job on making the envelope direct and accurate. Much better than other offers I've seen. The claims on the front of the envelope are backed up by the terms and conditions included.
Now for the letter inside. Here is the top part of the first page.
You will notice that the second paragraph begins with "You are eligible to apply". This does clearly state that you are not pre-approved, but that this is an offer that you can apply for. The next claim made is that there will be no interest charged on purchases and balance transfers until April 1, 2010, a full year from the mailing of this offer.
In the next paragraph Citi goes out of their way to point out that the 0% offer does not extend to cash advances and that payments are applied to lower APRs on your account before higher interest charged. (From the online terms and conditions "We apply your payments to low APR balances first. You cannot pay off higher APR balances until you pay off lower APR balances. That means your savings from any promotional APR offer will be reduced if you make purchases or cash advances that have higher APRs.") The purpose of this is to maximize the interest charged to you. So if you do get this card and take a cash advance on it, all the money you send will be applied to the 0% part of your bill while the really high cash advance part will be building up interest. This paragraph also makes it clear that there is a fee of 3% charged on the balance that you might transfer. There is no limit on this fee. So if you transfer $10,000, you will pay a fee of $300 to do that.
Citi then introduces a reward or benefit program to us called Extra Cash from Citi. It is presented as a no fee benefit for the Citibank Platinum Select MasterCard with a bribe, excuse me, bonus of 100 bonus dollars in your Extra Cash benefit to get you excited to complete the application.
The Extra Cash program isn't really cash. It is a reward program that can be redeemed for rewards from merchants. The balance in your Extra Cash Account really isn't cash. Here is what the Extra Cash terms and conditions says.
Extra Cash from Citi has no cash value, may not be assigned, transferred and/or pledged to any third party. You have no property rights or other legal interests in Extra Cash. You are responsible for any personal tax liability that may be related to the participation in the Program.
Just keep in mind that your balance you build up is the Extra Cash program is not a cash back benefit. You will need to convert your virtual dollars earned into rewards or gift cards.
Extra Cash may only be used for savings on select goods and services purchased through extracash.citi.com. Extra Cash may only be used to pay for a specified portion of the total charges of each good or service. The entire remaining balance of charges for any goods and services, including any related taxes, shipping charges and/or applicable fees, must be charged at the time of transaction to an eligible Citi® credit card. Please refer to extracash.citi.com for the current pricing of goods and services and the amount of Extra Cash that can be used to purchase them at the Program Website. Upon confirmation and full payment, the amount of Extra Cash you have used will be subtracted from your Program Account.
But when you apply for this card, unless you read the fine print, you won't actually get the Extra Cash benefits. Again, back to the fine print.
To activate your Program Account so that you may use your Extra Cash from Citi, you must complete a customer profile at extracash.citi.com. Once your profile is submitted, you consent to be bound by all the terms and conditions as stated herein. You further signify agreement to these terms and conditions (as they may be modified from time to time) when you make any purchase through the Program.
And while the Extra Cash from Citi rewards program does give you some benefits that you might find useful. Using the rewards comes with limitations. Let's just look at the terms for using a Extra Cash gift card for travel.
TRAVEL

The Extra Cash from Citi may be used for saving for hotel and other travel reservations depending on factors including, but not limited to, the location, length of stay and desired travel dates. Extra Cash is applied to the most competitive, unrestricted published prices offered directly from participating hotels, resorts, condos and cruise lines. Extra Cash is applied at the time of transaction for instant savings at the point of purchase.
In general, when a transaction includes travel, one of the travelers must be at least 18 years of age and must have a major credit card in his/her name at the time of check-in to cover any incidental charges incurred during the stay. The actual minimum age requirement is always determined by the travel supplier and may vary. It is the sole responsibility of the traveler to verify minimum age requirements.
It is your responsibility to review and verify the accuracy of all documents and correspondence with regard to names, dates, and room and/or cabin category. You will be responsible for any errors or omissions not brought to the attention of Program Manager within 24 hours of receipt of those documents or email confirmation.
It is the sole responsibility of the traveler to determine and obtain all necessary documentation required for travel. Travelers are responsible to know what legal documents are needed to enter different countries.
All reservations are based on availability and are limited to what is available for booking on the Program website at the time of transaction.
Transportation to/from the hotel, cruise, airport, condominium or resort, if required, is not included. Prices displayed on the Program website DO NOT include, merely by way of example and without limitation, any applicable hotel service or resort fees, charges for optional incidentals (such as mini-bar snacks or telephone calls), fuel surcharges or regulatory surcharges. The supplier will assess these fees, charges and surcharges either at check-in or upon checkout.
Tax Recovery Charge: Taxes charged on Program Manager are a recovery of applicable transaction taxes (e.g., sales and use, occupancy, room tax, excise tax, value added tax, airport surcharges, airport fees, etc.) that Program Manager pays to the vendors (e.g., hotels, airlines, etc.) in connection with the purchase.
Just keep in mind that $100 of Extra Cash benefit might not be redeemable for a trip you want to take unless it conforms to the terms and conditions of the program. While you might get all excited about the Extra Cash from Citi program, there is no way to predict how many of the dollars that you will earn by using the card will be able to be redeemed to fit your needs. Additionally, cash advance amounts are not eligible for rewards according to the terms and conditions.
The offer shouts that it is 0% for one year on purchases and balance transfers but what happens after the first year. What will it go to? The terms and conditions block, as shown below. But the mailer seems to actually leave out some important information about rates.
The online terms and conditions offered are more descriptive. Here is what they tell us. "Your application is a request for an account with APR 1, APR 2 or APR 3, in that order. We determine your APR based on a review of your application and credit history."
0.00% for 12 months from date of account opening for APR 1. After that, 7.74% variable.

0.00% for 9 months from date of account opening for APR 2. After that, 11.74% variable.

0.00% for 6 months from date of account opening for APR 3. After that, 15.74% variable.
There is no way to know what the Prime Rate will be a year from now so the interest rate will be adjusted according to the following formula. "The purchase and balance transfer APR equals the Prime Rate plus 4.49% for APR 1; plus 8.49% for APR 2; or plus 12.49% for APR 3."
I have no explanation why there is such a difference between the offers 9.99% variable rate and that offered for the exact same card on the Citibank website.
Unfortunately, there is no way for you to know what the criteria is or what interest rate you may receive without applying.
Let's look at the other APR information. The mailed offer is really light on details. You need to refer to the online offer to see more information.
For example, in the mailer the balance transfer APR is promoted as being 0% but does not provide the details that depending on which APR level you are approved for, the terms of the balance transfer differ from what is disclosed online.
Balance transfer APR:

As long as balance transfers are completed within 12 months from date of account opening, 0.00% for 12 months from date of first balance transfer for APR 1. After that same as for purchases for APR 1.

As long as balance transfers are completed within 9 months from date of account opening, 0.00% for 9 months from date of first balance transfer for APR 2. After that same as for purchases for APR 2.

As long as balance transfers are completed within 6 months from date of account opening, 0.00% for 6 months from date of first balance transfer for APR 3. After that same as for purchases for APR 3.
Let's Look at Fees
The fee section of the terms and conditions is always one of the special "gotcha" areas to read carefully. Here is what this offer tells us.
Balance Transfer Fee: 3% of amount transferred with no cap on the fee.
Overlimit Fee: $39
Annual Fee: None
Cash Advance Fee: 3% of the cash advance.
Late Fees:
$15 on balances up to $100
$29 on balances of $100 up to $250
$39 on balances of $250 and over
This overlimit fee always irriates me. They let you go over your "limit" and then charge you for doing so. And then we have the cash advance fee. Not only are you going to be charged a huge interest rate for a cash advance, of 21.99%, but you will also be charged 3% of the cash advance as a fee. And don't forget, your cash advance will not be paid off until all the lower interest debt is paid off so your cash advance of $3,000 will actually be $3,090 with the cash advance fee, and then you will be charged 21.99% variable until it is paid in full. Actually the cash advance interest may be higher. It is calculated as All cash advance APRs equal the Prime Rate plus 16.99% (never lower than 21.99%).
If you are late on the card, not only will you have to pay a late fee of $39 but your interest rate will change to a default rate. According to the terms, "All default APRs equal the greater of (1) the Prime Rate plus up to 23.99% or (2) up to 29.99%."
I could go on and on about the terms and conditions on this card but I'll stop here. Please read them before applying.
Did You Notice
A key part of the offer is that it provides no clue about what your limit might be if you apply and are approved. You have no way of knowing if you would be eligible for a limit that is high enough for you to even do a balance transfer to take advantage of the 0% offer.
If you look at the terms in the mailed offer you will see that your credit limit may be only $500.
The bottom line on this card offer, if you are approved at the best APR1 rate and you get a limit approved that is large enough to consolidate some other debt onto this card, it might be a good offer to allow you to pay off higher interest rate debt at 0%, not including the balance transfer fee.
I would not get all excited about the Extra Cash program since we don't know what the real world benefits of the program will be for you.
As always, please review credit offers carefully and read the terms and conditions in the mailer and on the banks website before you apply. It is really boring to do but oh so important.
Latest posts by Steve Rhode
(see all)