It is important for you to meet who we helped today through this site. As I mention, all over the place, revenue from people clicking on ads and using the service of advertisers is used to help sponsor people in poverty through Kiva. Please visit or use the services of advertisers on the GetOutOfDebt.org site so we can help more people.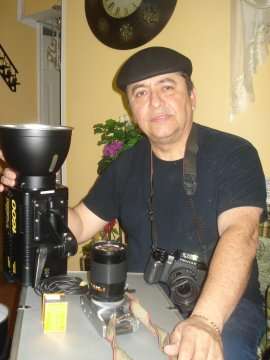 Jorge is an experienced entrepreneur who has worked very hard for what he has today. He owns a business in New Jersey that organizes social and commercial events, such as graduations, marriages, birthdays, baptisms, and musical events. He is involved in every aspect of the events, from photography to entertainment.

His first loan with ACCION USA was used to buy his first camera which he has used to take pictures of baptisms in churches on weekends. This latest loan from ACCION USA was used to buy a professional image setter. The biggest hurdles for his business have been accessing working capital and building his credit history. Thanks to his hard work and the help of ACCION USA, Jorge was able to start his business and now by upgrading his equipment, he is making his business more competitive.

Before starting his business, Jorge worked as a reporter for some time. Now, at age 60, he is looking toward a bright future for his business. He hopes to integrate his wife and two sons into the business's operations, in order to create a lasting legacy.
The reason I give money to Kiva to help people all over the world in disadvantaged places is so we can give someone an opportunity to start a small business so they can care for their family and become self-sufficient.
I'd like for you to meet all the people we have helped through the GetOutOfDebt.org site. Click here.
My goal is to increase site traffic and revenue by a sufficient amount that I could sponsor one person a day. That would be awesome! If you want to work together to help achieve that goal, join my lending team and together we can make a profound difference.
Sincerely,
You are not alone. I'm here to help. There is no need to suffer in silence. We can get through this. Tomorrow can be better than today. Don't give up.
Do you have a question you'd like to ask me for free? Go ahead and click here.
Get Out of Debt Guy –
Twitter
,
G+
,
Facebook
Latest posts by Steve Rhode
(see all)