I received the following email from a reader via the tipster (send in your tips here) line.
As I normally do, I looked into the concerns to see if the concerns held water. I've also reached out to the companies named in the reader email and asked for contact information so I can get their responses to the concerns of the consumer.
Reader Says
"Dear Steve,
Most recently I spoke with some people called My Enrollment Center (http://www.myenrollmentctr.com/), they sent me a mailer about a personal loan, I was skeptical when they tried to convince me to use a credit card modification program. The person I spoke with was named Shawn . He told me that I would be working with a law firm named Colonial Law Group. Things got stranger as we were talking, when I looked up Colonial Law Group I found these web sites, http://www.coloniallawgroup.com/, http://www.coloniallawgroupllc.com/, I was told he was calling from Boca Raton, Florida, yet Colonial is in Pittsburgh, PA. According to, their web sites and, www.corporations.state.pa.us, Colonial Law Group was created 5/15/2015. I remember being told they have been around for 8 years, yet they have no address,
Registered Office Address:
National Registered Agents, Inc.
PA
Dauphin
Mailing Address: No Address
Yet on both of the previous websites they shown an address of the below and when searched it is a virtual office.
One Oxford Center
301 Grant St., Ste. 4300
Pittsburgh, PA 15219, and very different phone numbers
1-866-866-1258 and 866-839-0065.
Next I looked up My Enrollment Center in Florida and found nothing but their contact information says. And Wyoming does not know them
Phone: 866-800-0045
Address:
1621 Central Ave.
Cheyenne, WY 82001.
Something is wrong here, I wanted a loan then they tried to sell me on this credit card modification program, things do no make sense. People should be cautious of this."
So Let's Take a Look
My Enrollment CTR
The website for My Enrollment CTR does say the company is located at 1621 Central Avenue, Cheyenne, Wyoming 82001. A web search identified that address as the same one used by Wyomingregisteredagent.com, a service that allows people to easily register new companies.
The terms for service for My Enrollment CTR says the website belongs to My Enrollment Center which makes sense but I have no idea why they use CTR in their logo instead of Center. Their choice. Whatever.
A search of Wyoming registered businesses could not find any company that began with "My Enrollment."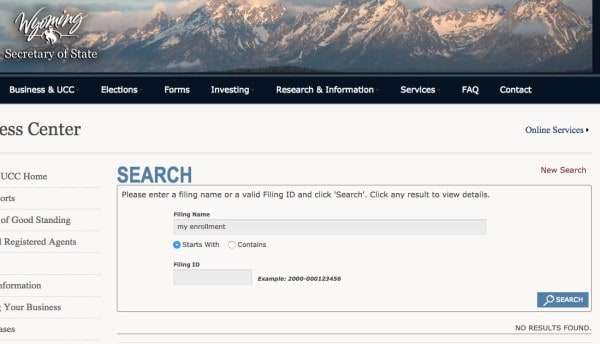 My Enrollment CTR says they offer the following services:
Unsecured Personal Loans
Debt Relief Options
Debt Consolidation
Debt Settlement
In the Debt Options section of the website they do mention both bankruptcy and credit counseling. They appear to do a better than average describing the two options. Much better than the misinformation I've seen so many times below.
The domain name myenrollmentctr.com was registered May 15, 2015 and the IP address says it is located in Texas with Softlayer Technologies. Domain ownership is hidden.
Colonial Law Group
For some odd reason, Colonial law Group does maintain two different websites. Maybe there is a good reason for it but you would think a law practice would have one primary website. This is especially perplexing since both coloniallawgroup.com and coloniallawgroupllc.com were registered on the same day, April 22, 2015. Domain ownership for both is hidden. Both domain names are on SoftLayer Technologies IP addresses as well in San Jose, California.
ColonialLawGroup.com describes the firm with no description. They do provide a list of services:
Fair Credit Reporting Act
Foreclosure Defense
Bankruptcy
The blog section of their website says it is coming soon.
Contact information: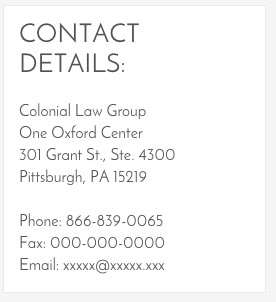 Kind of strange the fax number and email are placeholders.
The address the company gives is One Oxford Center, 301 Grant Street, Suite 4300, Pittsburgh, PA 15219. And as the reader noted, that is the address for a virtual office through Regus. – Source
The ColonialLawGroupllc.com website describes them by saying, "Colonial Law Group is one of the top debt resolution law firms in the country. Every attorney in this group has years of experience with debt negotiation as well as dedication to getting the best deal for every customer. The financial attorneys in this group recognize the huge need for experienced debt resolution help; many debtors are paying more than they need to because they lack the experience to negotiate appropriately with creditors on their own.
Sadly, many clients come to Colonial Law Group expecting to have to file bankrupcty. Debtors often lack the experience to understand that there are other solutions available to them; while sometimes this is the best solution, it can be costly and can affect their finances for years to come. That's why we're determined to ensure that every client understands all of their options and chooses a debt resolution solution that best meets their needs.
Although all of Colonial Law Group's attorneys are financial experts, they don't all come from the exact same legal background. This allows us to look at each client's situation from a variety of perspectives based on our individual experiences. We don't just hand off your case to one lawyer, either–all of our lawyers confer to help each client come up with the solution that will best meet their financial needs.
We also consider each client's personal legal circumstances. Debt management laws differ from state to state, so we make sure to take the client's location, amount of debt and similar factors into account when crafting a customized debt resolution plan for them. Colonial Law Group has the legal and financial knowledge to create the best solution for each debtor's needs, regardless of the amount or type of debt or what state the client currently resides in. Clients can be sure to settle debt more quickly and for less money when they work with Colonial Law Group."
They claim to be "one of the top debt resolution law firms in the country," but I can't say their name rings a bell with me. They list their phone as 866-866-1258.
This website is offering something called the Colonial Program, rather than individual services. The description on the program page sounds a lot like debt settlement since it says, "the debt resolution process, which usually takes between 36 and 48 months."
The full description says, "The Colonial Law Group program's goal is simple: to get the client out of debt in the least amount of time and for the least amount of money. We employ financial experts from a variety of legal backgrounds to help ensure that every client gets the help they need in order to resolve their debt appropriately.
In a nutshell, Colonial's program consists of just a few steps:
Contact us. You can call us toll-free at 1-866-866-1258. For your convenience, we also have an online contact form you can fill out. Either way, you just have to make the first move; we're eager to help.
Talk with one of our debt specialists. A debt specialist will contact you at the number you give us. Our specialists just need to ask a few pertinent questions so that they can get an idea of the best way to begin helping you.
Wait to receive our debt resolution contract in the mail. We'll get to work on creating a customized, appropriate solution for you as soon as we've collected your basic financial information. Once we've done that, we'll write up a plan and a contract for you to sign and send it to you.
Meet with a local attorney. Once we've got the paperwork for you to sign, we'll make an appointment for you with a representative who is in your area. This person will be a legal professional who can explain your agreement to you and witness your signature.
Once you've signed the paperwork, you're officially our client! You'll work with the same local attorney throughout the debt resolution process, which usually takes between 36 and 48 months. You can contact your attorney at any time if you have questions; in addition, we will schedule a call with you every 30 days. By checking in once a month, we can ensure that you know what's going on with your account and that you can bring up any questions or concerns you have. If we receive any new settlement offers, we'll make a special call right away so that you can approve or deny the settlement.
Most creditors employ the best attorneys money can buy to try to get their debt back. As a debtor, shouldn't you have equal representation? Contact Colonial Law Group today and get an attorney on your side so that you can settle your debt for less money."
The State of Pennsylvania does have a registration for Colonial Law Group, LLC that was filed on May 15, 2015.
The registration does not list a street address as the reader mentioned.
What is a bit odd about this website is it claims to be a leading law firm but the home page prominently displays a "Get a Quote" graphic.
Maybe it is just me but I'm not sure I've ever seen that message on a law firm site before.
Conclusion
Whoever the reader was who sent in the information, they did an excellent job of doing their own research. Kudos to you, whoever you are.
By the time of the posting of this article, I had not heard back from either company. So I'm left offering you the below generic advice to help others who want to do their own research.
I would recommend that anyone considering using such a company should read the following free guides.
Sincerely,

You are not alone. I'm here to help. There is no need to suffer in silence. We can get through this. Tomorrow can be better than today. Don't give up.
Do you have a question you'd like to ask me for free? Go ahead and click here.
If you have a credit or debt question you'd like to ask just use the online form. I'm happy to help you totally for free.

Latest posts by Steve Rhode
(see all)