An amazing reader faxed in a new debt relief mailer through my I Buy Junk Mail program.
Thank you so much K for sending in this mailer from Community Debt Relief in Grand Rapids, Michigan.
What struck me immediately is the BBB logo at the top of the letter. It looks like I'm not the only one who spotted that straight away. The BBB states, "On February 4, 2016, the BBB became aware that the company sent a mailing that contained the BBB Start With Trust Logo, despite the fact that the company is not BBB accredited.
BBB contacted the company about the BBB name and logo misuse on February 4, 2016 via phone and the company stated they would cease use immediately.
On February 10, 2016, BBB received a signed acknowledgment from the company agreeing to cease all use of BBB name/logo." – Source, Source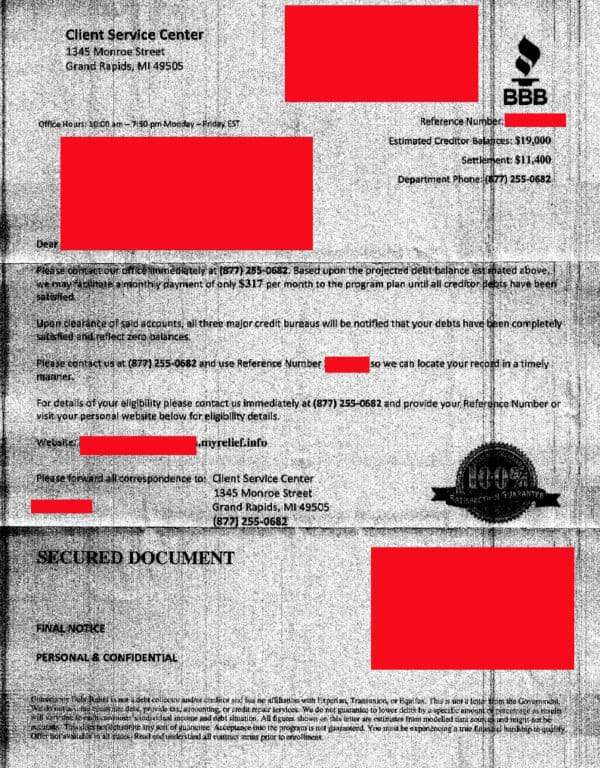 There were a couple of other red flags that stood out for me. It seems Community Debt Relief is a registered company in Michigan. They registered on August 4, 2015. The name associated with the company is Doug Philbin. But the interesting part is the company is not registered to do business in the state the consumer received the mailer in.
In light of other companies facing legal suits for sending out letters claiming they know the approximate balance of debts, it's interesting Community Debt Relief did this. There is a good argument these numbers are gained by either brokers or companies who had an impermissible purpose to access credit report information. See this and this.
While the letter noticeably makes the claim credit bureaus will be notified when "debts have been completely satisfied and reflect a zero balance," the letter does not equally state the forgiven debt make be taxable, it will be reflected negatively on your credit report, and you may be sued.
The letter also directs the consumer to go to a website at myrelief.info. That seems a bit ironic since that website is owned by a Ryan Gutshall in California and it is associated with an email address at MarkSys, a direct mail company.
You know, for a company that claims they are an expert in direct mail, I can't believe they let their client use the BBB logo on this mailer. That was an instant gotcha.

Get Out of Debt Guy – Twitter, G+, Facebook
This offer was able to be reviewed because a kind reader sent it in via my I Buy Junk Mail program.

If you receive a credit or debt relief offer in the mail, do some good and let me pay you for it. Click here.
Want to See More Mailers?
Want to see more mailers I've reviewed as part of this program? Click Here.
Latest posts by Steve Rhode
(see all)