It looks like the Department of Education is trying to specifically target companies providing student loan assistance.
If a student loan assistance company is going to login to a government computer system on behalf of a client, they are going to see the following disclaimer.
If you look at my red arrow you'll see what I think is the the gotcha part of the disclaimer for student loan assistance companies.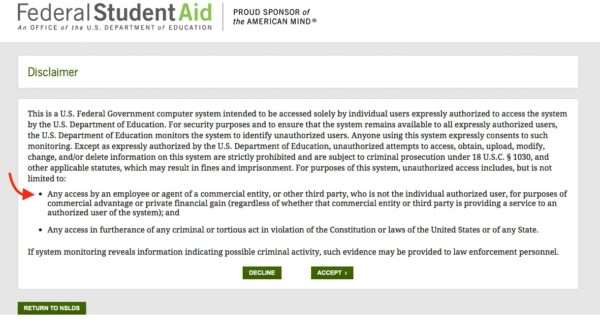 The bullet item says: "Any access by an employee or agent of a commercial entity, or other third party, who is not the individual user, for purposes of commercial advantage or private financial gain (regardless of weather that commercial entity or third party is providing a service to an authorized user of the system."
The disclaimer then goes on to say, "If system monitoring reveals information indicating possible criminal activity, such evidence may be provided to law enforcement personnel."
It would appear this disclaimer, which must be accepted now to get into the federal student loan system, would apply to both for-profit and non-profit student loan assistance companies.
Of course the bid downside here is it seems this just drives consumers back towards incompetent servicers or poorly educated DIY.

Latest posts by Steve Rhode
(see all)