A reader sent in a Beyond Debt Solutions mailer through my I Buy Junk Mail program.
The mailer does a better job than many I've seen that hide behind a personal loan offer and then consumers report being switched into a debt settlement product.
In this case the mailer says, "Settle your debts for less than you owe" right at the top left corner.
Where the mailer gets a little hazy for me is when it talks about "all the benefits of debt consolidation" and a lower monthly payment but seems to be vague on details.
If the big benefit of debt consolidation is your debts are consolidated into one thing then the settlement approach would be difficult to fall into that bucket. And when the mailer says, "lower monthly payments" that is a bit fuzzy as well since the payments prior to negotiating a settlement are most likely not agreed upon by the creditors.
The next line runs into an issue I've had over and over again. The mailer line says, "Our dedicated team helps customers find solutions to their personal financial needs." What appears to be implied is the "team" will conduct a review and provide best financial advice. What I'm concerned that may happen is the "solutions" will be a commissioned sales push into a debt settlement product.
The very fine print near the bottom says, "This is a communication from Beyond Finance, Inc. This is an attempt to facilitate a renegotiation of debts directly with creditors including credit cards and other unsecured loans."
It would be very interesting to see if Beyond Debt Solutions freely negotiates with all creditors or runs into issues like Freedom Debt Relief is accused of dealing with in this suit?
The website shown on the mailer, futureunlocked.com, is owned by Marc Goldberg of Beyond Finance in Beverly Massachusetts. Neither the envelope or mailer seem to list a physical address for Beyond Debt Solutions.
According to the State of Massachusetts Beyond finance is a Delaware corporation and was organized in 2016. Itzik Cohen is the president, VP, treasurer, secretary, and director. The registration says the company name used to be Independent Debt Relief, Inc.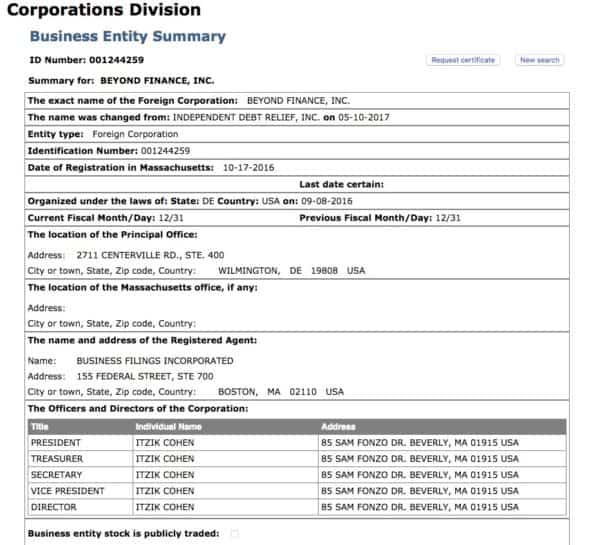 A tremendous hat tip goes to Beyond Finance for actually being registered to do business in the state where the consumer lives who received this mailer. That almost never happens. Bonus points need to be awarded for that.
The back of the mailer provides more information. It says, "Beyond Finance customers who make all their monthly program payments pay approximately 78% (including fees) of the enrolled debt over 24 to 48 months.
What the disclosure does not say if what percentage of enrolled customers actually settle all their debts. Instead the disclosure says, "Not all customers are able to complete our program for various reasons, including their ability to save sufficient funds."
Overall in my opinion the mailer is better than a lot of others I've seen but still a long way off from a full disclosure to consumers. However if you look at this as a marketing piece then it will probably make the phone ring and some of those callers will become future unhappy clients when their expectations are missed.

Latest posts by Steve Rhode
(see all)