As part of my I Buy Junk Mail offer a reader has submitted a mailer from National Debt Relief (NDR).
The sample savings shown is followed by a double ** which leads to a tiny disclaimer you have to look hard for on the front of the offer. The disclaimer says, "Estimated. Actual results may vary."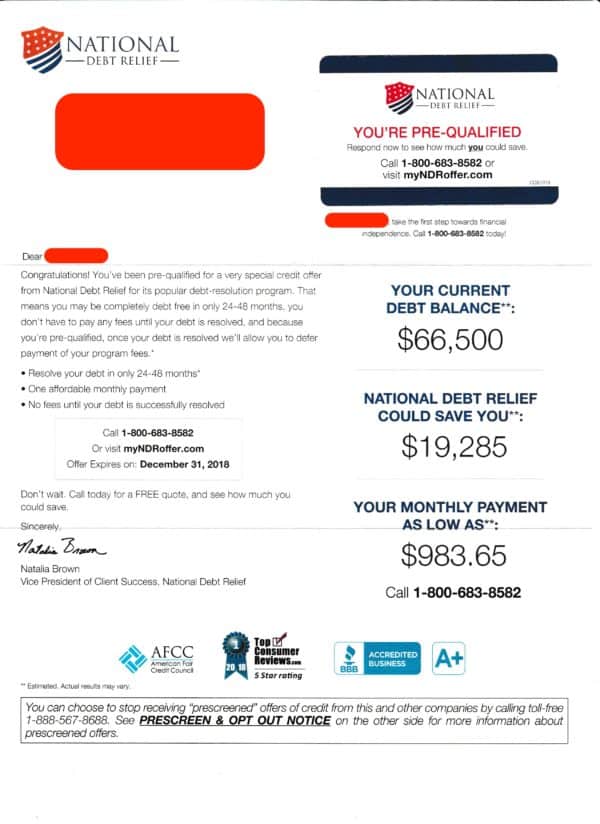 To assist readers I'm going to help decipher the fine print on the back. And there is a lot of it.
"In accordance with relevant law, you pay no upfront fees and owe nothing to National Debt Relief until your debt is resolved."
Under the Telemarketing Sales Rule (TSR) a debt relief company is limited in how they can charge fees.
National Debt Relief goes on to clarify that having your debt resolved does not mean having it paid off. They say, "Resolved" means that we have negotiated with creditors to settle your debt."
NDR goes on to say they may make payment allowances for the fees you may owe them for their service. "National Debt Relief will even allow you to make payment if its fees over time after the 90-day period (up to 365 days, paid monthly, weekly, or bi-weekly, beginning 90 days after your debt is settled)."
NDR gives some statistics about fees. However, they qualify the statement by saying it only applies to clients who complete the program. It does not indicate what percentage of people enroll but do not complete the program.
NDR says, "Clients who are able to stay with the program and get all their debt settled realize approximate savings of 50% before fees, or 30% including our fees, in 24 to 48 months."
Overall the disclaimer from NDR is better than most I've seen. They do say, "Not all creditors will negotiate debt resolution with third parties and some creditors will only negotiate under certain circumstances, such as charge-off."
As always, any considering any debt relief offer should read, understand, and be comfortable with the written terms for service. Claims made by a salesperson on the telephone may be different than what people will contractually agree to in the written client agreement.
Latest posts by Steve Rhode
(see all)