A fantastic reader sent in a mailer they received advertising a loan.
The mailer from Lightbridge Servicing came from postal permit 1935 and appears to not provide any identification on the outside of the envelope.
After looking at the mailer and comparing what the BBB has to say about the company, I'm confused.
The mailer says, "You have been pre-selected for a Consolidation Loan up to $26,000 through LifeBridge Servicing." More language in the mailer appears to give the impression the mailer is just for a loan from LifeBridge Servicing.
The mailer appears to be part of the ongoing trend for companies to send out loan mailers that can lead to debt relief switchovers. And a little digging on the LifeBridge Servicing site found just such language. They say, "Lifebridge also understands that personal loans are not for everyone, which is why Lifebridge has established partnerships with alternative solutions to assist consumers of all walks of life. If you find yourself in a situation where a consumer loan is not for you, or you have been declined a loan, don't worry, we're still here to help." – Source
This mailer was sent to me through my I Buy Junk Mail program. If you have junk mail you'd like to sell, click here. To see other mailers, click here.
Except for this glancing mention, it seems everything else on the website is geared towards loans.
LifeBridge Servicing is relatively new on the scene. The domain name lifebridgeservicing.com was first registered on 7-24-2018 and the BBB says a file was opened on the company in October of 2016.
LifeBridge Servicing says they are located at 999 Broadway, Suite 101
Saugus, MA 01906. That is also the address for the Holiday Inn Express hotel.
The BBB currently has two open alerts about LifeBridge Servicing.
The BBB says they received no postal mail in response to their concerns.
The State of Massachusetts does have a company registered to do business under the name LifeBridge Servicing, LLC. The company was registered on 7-24-2018 and says the business address is actually 92 Jackson Street, Suite 202, Salem, MA 01970. It also says the LLC Manager is a David Lugo. – Source
But here is where it gets very interesting for me.
In the initial LLC filing in Massachusetts, David Lugo said: "the service to be rendered: DEBT SETTLEMENT SERVICES." – Source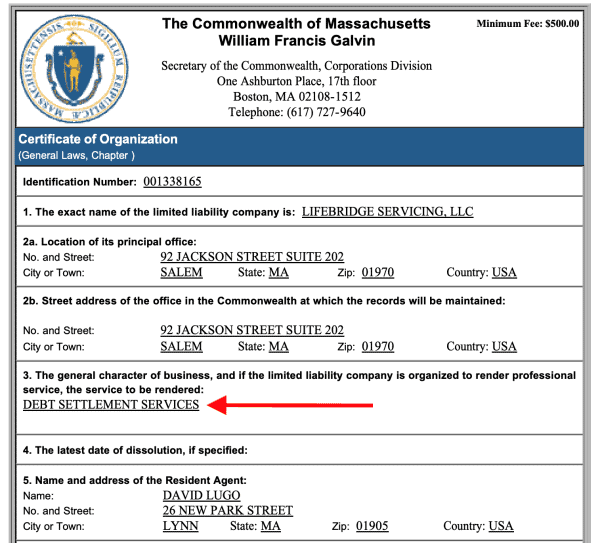 A David Lugo is also the founding manager of another LLC named Clarity Debt Solutions, LLC in Massachusetts that was registered on 9-12-2016. Clarity Debt Solutions says their purpose is to provide "Financial Services, Debt Management, Credit Services." – Source
The filing says the company is also located at the Jackson Street address as is LifeBridge Servicing.
It is not clear if LightBridge Servicing is really a debt settlement company appearing to be a loan company who actually does not make loans.
I would recommend that anyone considering using such a company should read the following free guides.
Do your own homework, ask questions, and make sure you are confident in who you are working with and what services they provide.

Latest posts by Steve Rhode
(see all)