Question:
Dear Steve,
Does anyone know what happened to Clearing Solutions? The BBB shows serious complaints and that the BBB has exhausted all forms of contact trying to reach the company.
I noticed internet complaints mentioning that Golden Financial Services used Clearing Solutions to service their clients. Between all the complaints connecting Golden Financial Services to World Law Group (who was shut down to by the CFPB) to and with Clearing Solutions out of business, one really has to wonder what is going on behind the curtain.
Other complaints show Golden Financial connected to Citadel Document Solutions. If you read the reviews and complaints, they do not represent those of a legal document help company, but clearly those of an advanced fee debt relief scheme.
Ella
Answer:
Dear Ella,
I have previous posts regarding Clearing Solutions. I have some recollection of them going out of business.
According to the State of Maryland, the company is not in good standing.
The company is listed as the subject of a forfeiture action by the State of Maryland. The associated comment says, "THE ENTITY WAS FORFEITED FOR FAILURE TO FILE PROPERTY RETURN FOR 2017."
Citadel Document Solutions says they are located at 525 B Street Suite 1500, San Diego, CA 92101. But the State of California has no listing for a business with that name.
As far as any relationship between Golden Financial Services and Citadel Document Solutions, I did not research that since I could not verify that Citadel Document Solutions is a business recognized by the State. The BBB says Jason Bouchard is the customer relations manager with Citadel.
In one consumer bankruptcy filing, there is a comment that Citadel Document Solutions can be found in Ohio care of Fresh Start. But the address used of 9800 Rockside Road, #1000, Cleveland, Ohio was also used for a Wise Debt Relief company as well.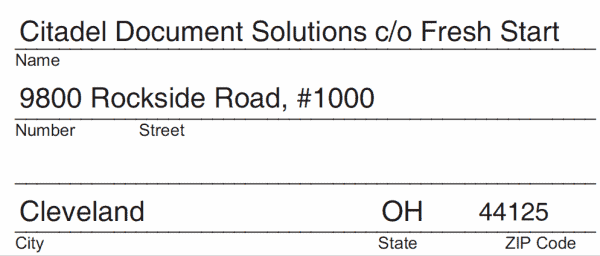 Hopefully, consumers will do their own research and ask great questions before jumping in with a company they have questions about.
I would recommend that anyone considering using such a company should read the following free guides.
Sincerely,

You are not alone. I'm here to help. There is no need to suffer in silence. We can get through this. Tomorrow can be better than today. Don't give up.
Do you have a question you'd like to ask me for free? Go ahead and click here.

Latest posts by Steve Rhode
(see all)