A kind reader sent me in a copy of the Debthunch mailer they recently received.
I have a very low level of confidence that the average consumer is going to figure out this offer at the first, second, or third glance. It took me some time to get some clarity, I think.
This mailer was sent to me through my I Buy Junk Mail program. If you have junk mail you'd like to sell, click here. To see other mailers, click here.
What Does Debthunch Do or Offer?
The outside of the mailer might indicate it is a loan offer.
But the language used is so vague that it is hard to tell if this is actually a loan offer or something else.
So let's turn to the letter in the envelope for more details.
The prominent example reads more like an offer for a debt settlement program since it lists a balance reduction and the typical 48 month period.
The example says the debt payoff is $19,600 but there is no mention of fees the consumer may pay as well or as part of that estimate.
Debthunch Suspicious Reviews
The letter shows trusted logos at the bottom but what I found curious was Trustpilot shows 139 reviews.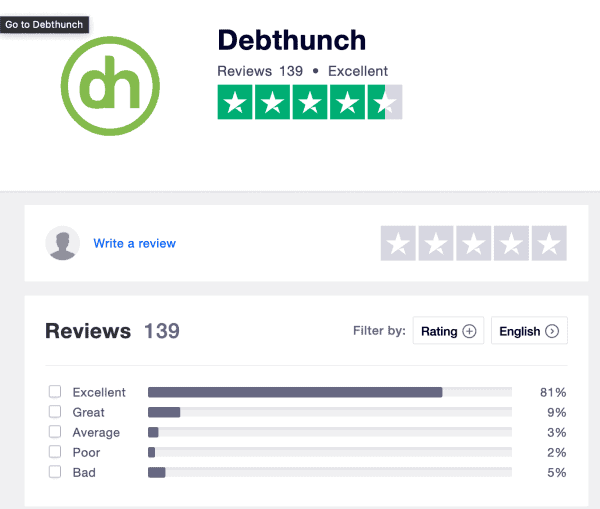 But the BBB only shows 1.
Google shows 149 reviews.

So if so many people provide reviews to Trustpilot and Google then why not the BBB. Something feels up there.
But one review on Google caught my attention.
I can't definitively say the reviews are fake, but they certainly are suspicious.
If you look at the five-star reviews on Google you will find the people making the reviewers only post five-star reviews in a burst. I went to look at their Google reviews, sorted them by newest, and it seems a bunch were posted 7 and 8 months ago and then nothing until a week ago.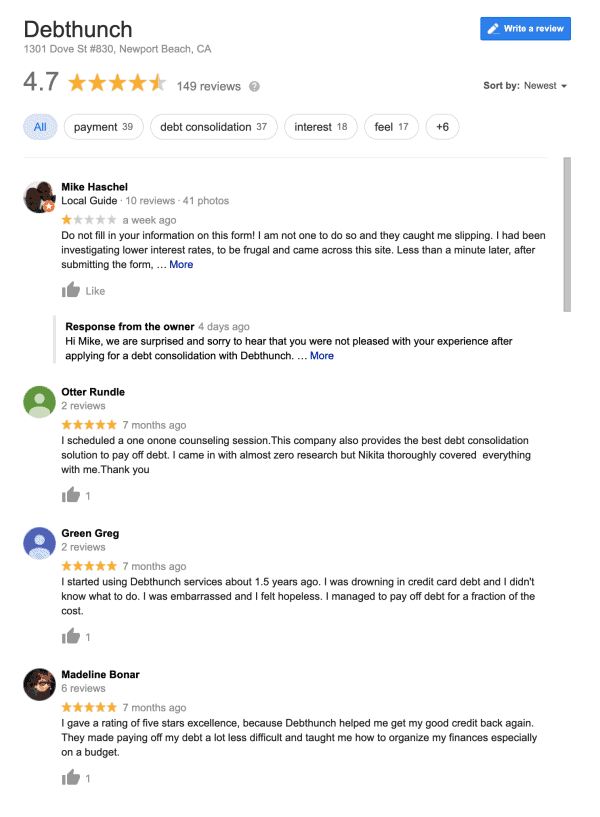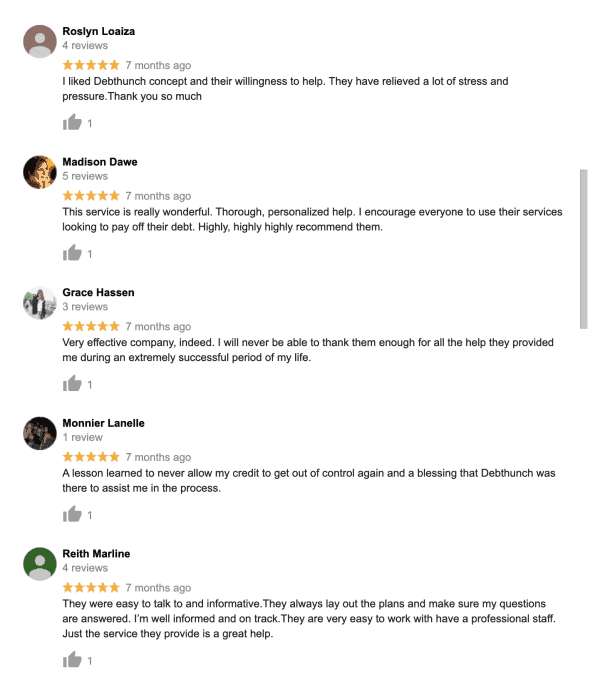 The Trustpilot reviews seem just as quirky.
I selected to only look at excellent reviews. The last five reviews were all posted an hour ago and then nothing since March 1, 2020. That was 81 days ago. And then you will notice that the reviewers generally only have one review to their name.
The Bangladesh guy that has two reviews has them both on the same day.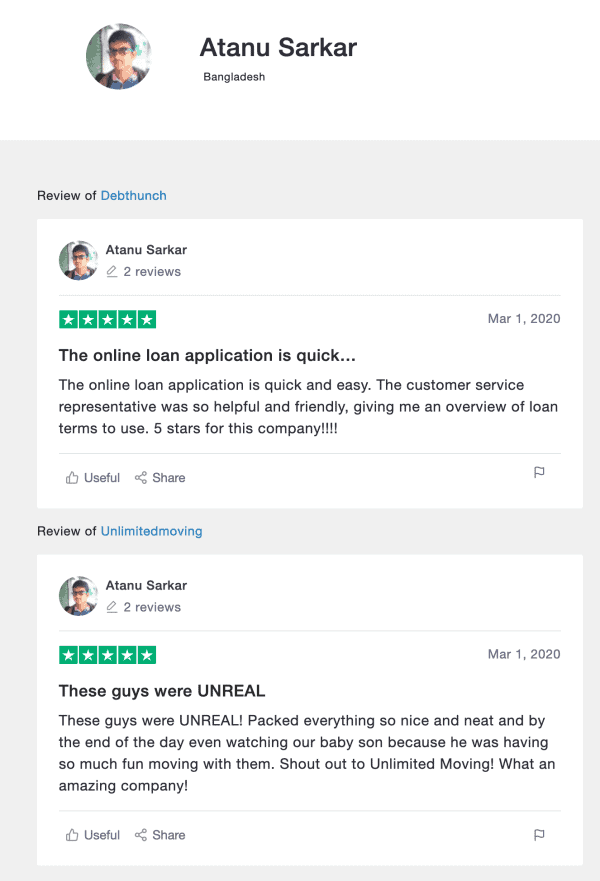 Another reviewer, Jasmine Kelley has 11 reviews spaced out but the dude above provided reviews on Debthunch and Unlimited Moving and guess what Jasmine did as well.
And Then I Found This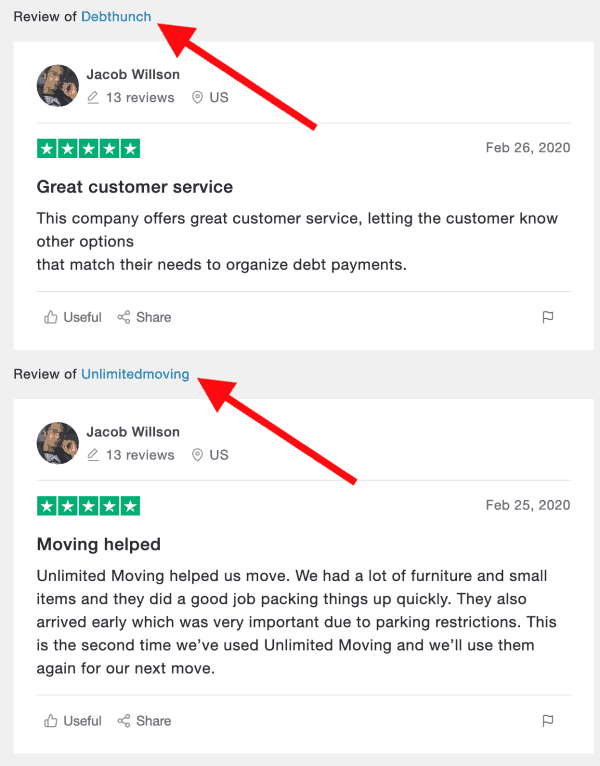 Hum.
Debthunch says "See our 5-star Debthunch reviews to get the inside scoop. REAL STORIES FROM REAL CUSTOMERS." – Source
So What Does Debthunch Actually Do?
One consumer posted this:
"What exactly does Debthunch do?
This company sent me a mailer saying I was prequalified for debt consolidation at no interest. I decided to submit my info with the special code I was assigned due to the their advertising stating that I would then be able to view my options. However, this was not the case. Instead, as soon as I hit the submit button I got multiple phone calls and emails from 3rd party debt consolidators, that wanted to offer their services. Freedom Debt Relief and Accredited Debt Relief were the two I actually talked to. My question is what does debthunch actually do? Based off of my experience, all they did was confirm my information and then send it to other debt consolidation businesses to call me and try to sell me on their services. I may as well have gone directly to the source. It might be less expensive that way."
The Debthunch response was, "Hi David, We apologize if there was any confusion on the process of Debthunch.com. Our goal is to match you with the most affordable debt consolidation solutions that provides you with the greatest savings in the shortest amount of time possible. We understand that with so many debt consolidation options, finding the smartest debt consolidation solution for you can be time consuming, confusing and costly. The good news is that we've already done the hard work for you and sought out the smartest debt consolidation solutions available. We hope you found a solution to your problem. We wish you the best! Customer Service – Debthunch.com"
Makes Debthunch sound like a lead generator. But isn't that kind of what Debthunch says, "Our goal is simple, match you with the best debt consolidation solution that provides the greatest savings and pays off your debt in the shortest amount of time possible." – Source
But if that was actually the intention then all leads should be going to bankruptcy attorneys since that is the biggest savings in the shortest amount of time and for the least expense.
Let's Go For Some Clarity About Debthunch
Debthunch says they are located at 1301 Dove Street, Suite 830, Newport Beach, CA 92660. – Source
That also happens to be the same address for "Pay Per Acquisition Direct Mail – Inbound Prospect. That company says, "We truly provide the next level in Pay For Performance direct mail lead generation. What direct mail marketing agency provides Pay Per Acquisition, Pay Per Call or Pay Per Lead Mortgage Leads, Personal Loan Leads, Student Loan Leads (Student Loan Consolidation Leads), Auto Loan Leads or Debt Relief Leads? There aren't any." – Source
A search of California registered companies found no listing for a company called Debthunch. InboundProspect, Inc. does have a listing. – Source
Scott Couto is listed as the CEO. Interestingly he appeared in another post on student loan assistance marketing.
Oddly, InboundProspect says their business is "consumer finance" on their California Statement of Information. Yet their website describes them by saying, "InboundProspect pioneered Pay For Performance direct mail marketing lead generation for the financial services industry well over a decade ago. We put our money where our mouth is by shouldering the marketing performance and financial risk for our clients as a true, world class marketing partner should. We accomplish this by providing our clients with pre-qualified, direct mail generated inbound live transfer leads on either a Cost Per Acquisition, Cost Per Call or Cost Per Lead basis."
The California lender license used on the back of the mailer, 60DBO-72167, is actually for InboundProspect, Inc.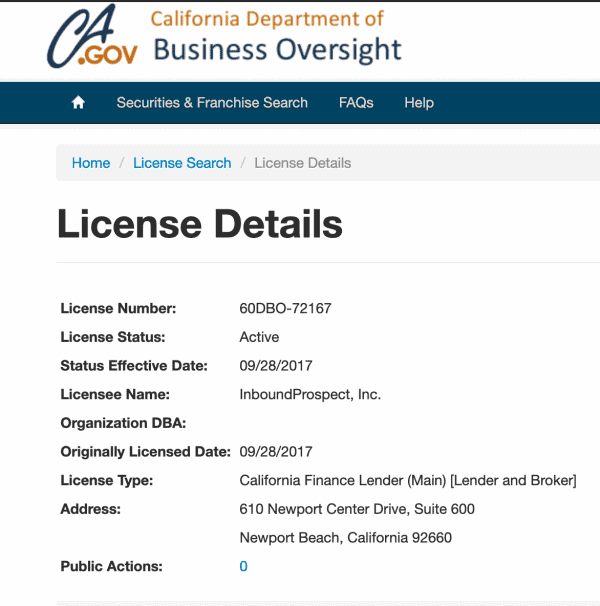 That same lender number is also used by a company called Loanhunch.
My Advice
Ultimately the best protection for consumers is to be a smart shopper. Make sure you know who you are dealing with before you hand over personal information.
I would recommend that anyone considering using such a company should read the following free guides.

Latest posts by Steve Rhode
(see all)