Accenture just put out a rather scary look at the pandemic financial challenges that have been put off or hidden by government stimulus. And this is very important information to you and me as consumers.
The report by this well respected consulting firm says that as the government stops stimulus efforts to prop up the economy, the financial pain is going to fall on the shoulders of the banking system. Bank losses are predicted to be massive and bank losses come from borrowers in trouble.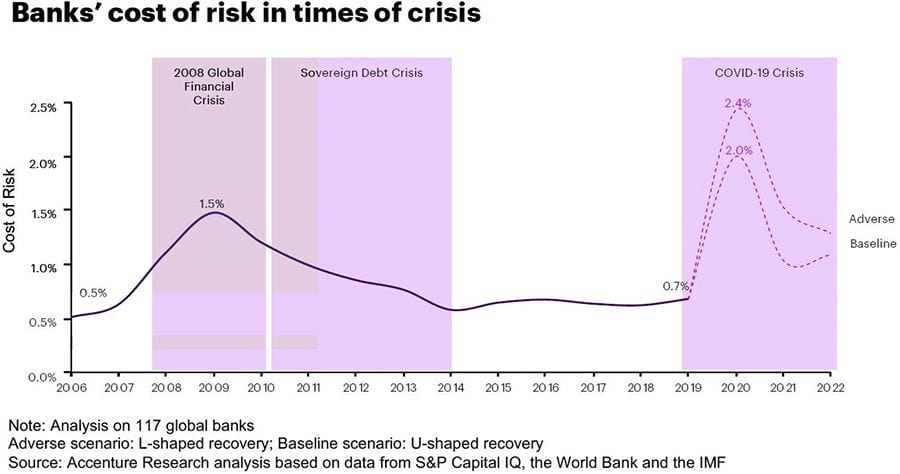 What I have observed in the past is that when banks tighten up and deal with big losses they reduce the amount of credit available to consumers. Credit becomes very tight but this time might be different says Accenture, "And though banks may be tempted to pull back dramatically on lending, demand for credit will ultimately be met, either by non-traditional lenders – such as big tech and fintechs – or by companies offering financing for their own products and services."
Consumer financial pain will lead to a wave of bankruptcy filings and people seeking debt relief help.
You can read the full statement here.
It's hard to discount warnings that the financial sky could fall but as Accenture says, "home loans in forbearance rose to 9% in June, up six points from March" and business bankruptcies are already setting records.
Surviving coronavirus with your physical health is one thing but surviving with your financial health is going to be a work in progress as the public sector takes the post-pandemic hit.
Unless Congress can agree to some stimulus package to soften the blow to us peons, it could be devastating to people and families as the banking systems try to catch us falling.
What feels like a tragedy to me is that an initial large stimulus package to hold every business and job in place, then stamp out the virus aggressively with a comprehensive lockdown, could have put us in a position to resume our lives as before. As it stands now, the recovery to a new normal is going to take many years and many sleepless nights filled with worry and fear.
Accenture says, "Banks will have to maneuver carefully to strike the right balance between rescuing individual and small business customers and protecting their own profitability and solvency," McIntyre said. "This will require difficult decisions around which credit extensions will help an ultimately financially viable customer versus delaying the inevitable delinquency."
To me, that reads that people should not count on bank programs when they run into financial trouble. One thing we learned from the 2008 financial crisis was government programs designed to keep people in their homes were imperfect and fraught with problems. Lawsuits are still going on over those efforts and scammers can out of every corner.
I suppose my bottom line here is that banks are probably going to take a big hit and we should not count on special bank programs to save us from whatever money troubles may be headed our way.
Latest posts by Steve Rhode
(see all)