Question:
Dear Steve,
What can you tell me about Rockingham Equity PMA for mortgage help?
Friend
Answer:
Dear Friend,
The name doesn't ring a bell. The most I can tell you is what I can find online.
But if you want to do your own research, I recommend you read the following free guides.
Rockingham Equity PMA or Rockingham PMA
The Rockingham PMA website says, "Rockingham Private Member Association is a comprehensive resource for homeowners who are, or who may become, behind on their mortgages." But unfortunately, it seems they go by two different versions of the name.
They say they are located at:
Rockingham Equity PMA or Rockingham PMA Location
1775 I Street NW
Washington, DC 20006
I believe that the building offers virtual offices. Since the address they list on their website does not list a specific suite number, they could be using a virtual office or maildrop at that location. – Source, Source
Rockingham Equity PMA or Rockingham PMA Business Registration
To get further clarity, I went to the DC business information center, and there was no business in the District of Columbia that had Rockingham in the business name.
A search of registered DC corporations could not locate the company as well.
On the off chance the company was using an assumed name or trade name, I searched for that and could not find a Rockingham PMA.
The District of Columbia has a search feature to go through all business types of records, and it only returns one active company with Rockingham in the name: Rockingham Condominium Association.

One piece of information I found was a video from a New Jersey attorney titled Rockingham PMA Loan Modification Fraud.
Maybe it is worth contacting that attorney to learn more about his experiences with the company.
I did find a court case that mentioned Rockingham PMA. The case was not against them, but this footnote was interesting. It says, "Plaintiff alleges that he purchased a form complaint from a company called Rockingham, PMA. He alleges that Rockingham was engaged in the unauthorized practice of law in preparing his deficient complaint, though the Court is unable to discern what import this is to Plaintiff's argument in favor of remand." – Source
Rockingham Equity PMA or Rockingham PMA Business Reviews & Job Openings
I could not find a BBB listing for the company, but reviews are listed on Google. Unfortunately, they are not all stellar.
This is an older job posting for Rockingham Equity, PMA in DC. – Source
They say they were willing to train people to work from home to help homeowners. They even said, "This job can be handled by a disabled veteran. In fact, we already have a retired Navy person who is 95% blind doing a great job holping save homes."
Another job posting asks for people to prepare documents to sue mortgage companies. Again, it is a commissioned position.
They also make this claim in the job posting, "Rockingham Equity, PMA has saved more homes from foreclosure than any other firm we are aware of in the USA." I'm personally dubious about that claim. – Source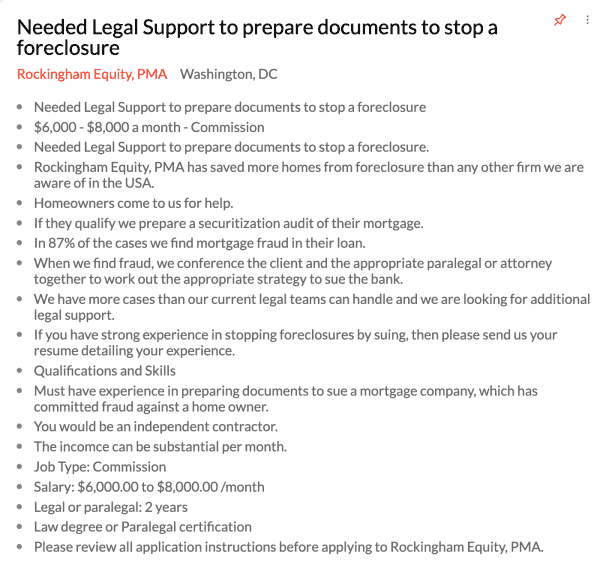 Rockingham PMA Bottom Line
At the end of the day, it is up to the individual to do their own research to determine if they want to hire any company. Therefore, I struggle with labeling any company a scam or a fraud because that certainly means different things to different people.
Someone might have grave concern that the company promising help that involves legal stuff isn't apparently registered to do business where they say they are located. Others might not care at all.
According to the Federal Trade Commission, it appears if Rockingham PMA is charging certain types of fees for mortgage assistance, there are rules to comply with. – Source
The FTC says:
"Here are some compliance highlights:
It's illegal to charge upfront fees. You can't collect money from a customer unless you deliver – and the customer agrees to – a written offer of mortgage relief from the customer's lender or servicer.
You must clearly and prominently disclose certain information before you sign people up for your services. You must tell them upfront key information about your services, including:

the total cost,
that they can stop using your services at any time,
that you're not associated with the government or their lender, and
that their lender may not agree to change the terms of their mortgage.

If you advise someone not to pay his or her mortgage, you must clearly and prominently disclose the negative consequences that could result. You must warn customers that failure to pay could result in the loss of their home or damage to their credit rating.
Don't advise customers to stop communicating with their lender or servicer. Under the Rule, it's illegal to tell people they shouldn't communicate with their lender or servicer.
You must disclose key information to your customer if you forward an offer of mortgage relief from a lender or servicer. You must give your customer a written notice from the lender or servicer describing all material differences between the terms of the offer and the customer's current loan. You also have to tell your customer that if the lender or servicer's offer isn't acceptable to them, they don't have to pay your fee.
Don't misrepresent your services. Under the Rule, it's illegal to make claims that are false, misleading, or unsubstantiated."
"You also have to tell your customer that if the lender or servicer's offer isn't acceptable to them, they don't have to pay your fee." – FTC MARS Rule
I hope that information helps you to do your own research.
Please feel free to come back here and post any updates you might have on Rockingham PMA. I appreciate any feedback since they were a mystery to me.
Sincerely,
You are not alone. I'm here to help. There is no need to suffer in silence. We can get through this. Tomorrow can be better than today. Don't give up.
Do you have a question you'd like to ask me for free? Go ahead and click here.
Latest posts by Steve Rhode
(see all)