Address:
Wise Counsel Debt Solutions
2373 Northwest 185th Ave, Suite 140
Hillsboro, Oregon 97124
1-886-738-9295
Tel: (503) 747-0268
Fax: (503) 747-8613
Warning: Address may actually be a mailbox at the UPS Store at this location. No physical street address given.
Website:
WiseCounselFinancial.com
www.mychoicedebtmanagement.com – According to BBB.
Description:
Wise Counsel has been researching and monitoring the credit counseling debt relief industry for over eight years. This research has been conducted for the purpose of providing consumers information about options that really work, and to help them avoid becoming a victim of unscrupulous pseudo-companies. While most of the companies and programs available today are legal and legitimate, they generally don't work well at all, and some may be an outright scam. So please be careful, and use proper judgment. – Source
Management
Ryan Kell – President
Joanne Kell – Vice President – joannekell@comcast.net
Contacts
info@WiseCounselDebtSolutions.com
Joanne
Ryan
Cynara
There appear to be less than four employees associated with this company. – Source
Relationships
NCA Credit Repair & Debt Solutions – Possible
Interesting Points
Company is actually Wise Counsel Financial and was previously called Advance Debt Eliminations, Inc. and My Choice Debt Management, Inc. There was also a company called Wise Counsel Financial Services in Texas and they do not appear to be related.
Appears to be most excited about a process they call debt validation which they describe as "This process utilizes powerful legal strategies & Federal consumer protection law to legally and ethically dissolve debts." – Source
But then they also are excited about "Debt Resolution" which they say is, "Debt Resolution utilizes a notice of assignment to offset debt balances by presenting new terms and conditions to the creditors involved. Resolution simply uses the same process to expertly change the terms of debt in the consumers favor. " – Source
This debt resolutions process appears to be nothing more than the much discredited novation scam. You can see an in-depth discussion about novation or assignment in this article.
Also very misleading statement about impact on credit when you enroll with them. "When you enroll into our program, there will be engagement with your eligible creditors within a strategic time period and inform them that you will no longer be making payments on the accounts and that they will need to redirect all correspondence to us. Your enrolled accounts will be unable to be reported as past due until the validation process has been completed. Once settled, they will reflect that the account was handled in a satisfactory manner and that there is no outstanding balance owed." – Source
Makes claim to be able to dissolve student loan debt through trickery, "The debt relief experts at Wise Counsel Debt Solutions offer a variety of credit counseling debt relief programs; including student loan reduction programs that can help you gain access to legal and proven processes to effectively reduce and dissolve your student loan debt." – Source
Here is what they claim to be their Debt Validation process:
PHASE #1:

Legal documentation is immediately sent to your creditor(s) by certified mail. These documents place your creditors on notice, and simply state the fact that any phone contact from them will be viewed as harassment under FDCPA law (Fair Debt Collections Practices Act), and that you will welcome communication from them only in writing.

These documents also require that your creditors adhere to certain Federal Laws, as it is your right to validate the debts as 100% true and accurate. The Debt Validation Team will want to see, in writing, how your creditors have come to the exact balances they "claim" you owe. For example, where is the original contract you signed agreeing to any interest or fees they are charging? What was the money they "claim" you owe used for exactly? There are a variety of other proprietary measures that may apply and these, too, will be researched and investigated.

If any of your creditors cannot provide the required documentation, your validation attorneys may be able to legally invalidate the debt, and have the entire balance discharged. This results in the greatest savings for you because there will be no monies paid by you to resolve the debt. The balance is at zero.

While your accounts are in this "billing audit" phase, certain laws under the Fair Credit Reporting Act (FCRA) may not allow the creditors to report the accounts as delinquent, or if they already are, they may have to stop any further negative reporting. This can work to a huge advantage to you because if any of your creditors are breaking Federal law, your attorneys can use this evidence to your benefit to further reduce your balances, eliminate your balances entirely, or even win monies that could be awarded to you in certain instances.

Also, while your accounts are in the audit process, certain laws under the Fair Credit Billing Act (FCBA) may not allow your creditors to accrue any interest, late fees, or penalties on your accounts. If any of your creditors are found to be in violation of these particular laws, the attorneys could possibly use this evidence to further reduce your bills, or eliminate the balances entirely. This is another huge legal advantage you would have when compared to a basic Debt Settlement program.

In addition to the above, your creditors are immediately placed on notice, and have received a legal "cease & desist" order to stop any phone calls to you. According to Federal law under the Fair Debt Collections Practices Act (FDCPA), your creditors may be subject to large fines of up to $1,000.00 per occurrence if they call and harass you during this process. Again, your attorneys, utilizing Federal law, could feasibly use this evidence against your creditors to further reduce your bills, or eliminate the balances all together if your creditors are found to be in violation of such law.

In summary, phase 1 takes approx 2-3 months to complete, and there will be a colossal amount of work being conducted on your behalf by the Validation Team to legally and ethically dissolve your bills. At this stage, the Vvalidation Team may be able to offer you attractive settlement offers and can provide you with a summary of your creditors that are not in full compliance with the law.

PHASE #2:

At this point, the validation process is escalated towards any of your accounts that did not validate your debts properly under law. The Validation Team will then contact all three credit bureaus for the purpose of notifying them that the debts are now deemed "invalid" by your legal counsel, and are demanding that each account be removed from your reports per the FCRA laws. This stage usually captures your creditors' attention, and they will now typically try to validate the debt at this point, offer a settlement, or get the debt out of their possession and sell it to a 3rd party collection company while they can recoup some of their losses. Any account that goes 180 days without payment must be charged off by the original creditor. When this happens, you legally don't owe that creditor any money on that specific account, and they legally couldn't take money from you even if you offered it to them.

An account that is sold to a 3rd party collection company has a much greater chance of being invalidated all together, and you are protected even more so, under FDCPA law.

Generally, a 3rd party collection company will purchase large lots of delinquent debts from the original creditors for approx 10-20 cents on the dollar. They, in turn, typically try to bully money out of the debtor and threaten lawsuit. If you were in a Debt Settlement program, things would be getting very nasty for you at this stage of the game, but if you are in the Debt Validation program, the tables are turned in your favor. Your attorneys and Validation Team will now place this 3rd party collection company into the Federal billing audit, and require them to validate the debt appropriately. Generally, these collection companies have no documentation to substantiate your debt as valid, making it very difficult, if not completely impossible for them to:

Prove you owe the exact balance they say you do.

Provide any kind of contract that states you agreed to pay them anything.

Provide any kind of documentation that shows how the debt came to be, and what was the mathematical formula they used to create your current balance.

Provide legal proof that you agreed to pay any and all of the late fees, penalties and interest that have accrued (if any), on the account. – Source
Their "Debt Resolution" process appears to be not much more than words on a page and makes no sense to me.
I did find an interesting testimonial, ""…We were completely lost and getting killed in our hugely competitive market. Real Ambition turned our marketing around and provided an impressive ROI within just a few months…"
Ryan Kell – Wise Counsel Financial" – Source
Complaints
I would be careful…..they do not explain that you will need a pot of gold to negotiate your settlement. Creditors will settle but want their full settlement immediately otherwise they will sue. If you own a home they will file a judgement against you. Do your homework, if it sounds to good to be true, it usually is. Once Ryan gets you in, he will not respond to you. The "firm" he uses is unorganized. In the meantime, your balances continue to go up and you will be served a summons in the end. – Source
Picture of Web Site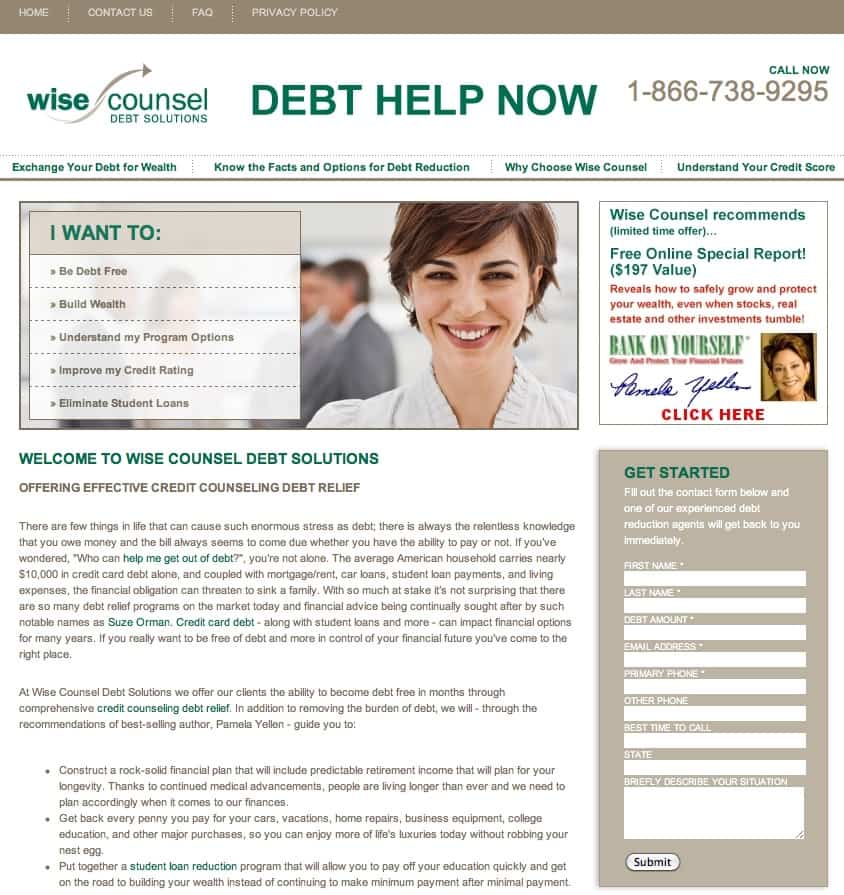 UPDATE: March 18, 2010
I have archived cached copies of Wise Counsel Debt Solutions and My Choice Debt Management since they have been taken offline. I also archived today a copy of Debt Restructuring of America and the site that was known previously as Debt Validation of America.
Is This Your Company?
If this is a review is about your company and you would like to respond to the information I've presented here to possibly put it into a broader context or make a correction, please feel free to post your response in the comments section below. I invite you to read my Debt Relief Company and Site Review Policy first.
Latest posts by Steve Rhode
(see all)